Summer Food: Cool Treats for Rising Temperatures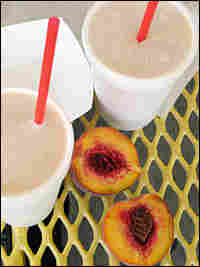 Looking for More Ideas?
Just as the Mister Softee jingle emanating from ice cream trucks provides the soundtrack for many a summer memory, so do the icy treats it advertises mean "summer food" for many listeners.
Jamie Grace-Duff of Sellersville, Pa., can't say the word "summer" without thinking of childhood vacations to the Jersey shore, home to "water ice."
It's similar to gelato or the "Italian ices" you find in Italian restaurants or in grocery store freezers. But water ice isn't as hard; it's made by mixing fruit juices, sugar or flavored syrup with water, then freezing to a smooth texture.
Grace-Duff says her favorites are the "pinks," flavors like watermelon and strawberry. Now that she's an adult, she buys water ice every chance she gets.
In Woodland Hills, Calif., Jennifer Frost has a thing for the "frosty chocolate malts" she used to get as a child in Cedar Rapids, Iowa — chocolate malted milkshakes, frozen solid and served in a paper cup.
Frost especially loves the wooden spoons that accompanied the treats, and remembers the joy she experienced when she used them as a child.
"This implement was so unique to me, so unparalleled in my short experience. Who, I would wonder, had been so brilliant as to invent this tab of wood the thickness of a tongue depressor, the length of a 6-year-old's hand, and sublimely curved at each end to roughly resemble a spoon?" Frost says. "Only a genius could've come up with such an amazing design."
A blender is necessary hardware for Kevin Jones' favorite summer treat: the peach milk shake.
And his favorite place to get them? Whitey's Jolly Cone in West Sacramento, Calif., a '50s-style restaurant, where customers drive in, park, walk up to the window and place their orders.
The menu offers usual diner fare: cheeseburgers, fries, tacos, ice cream, cherry Cokes and a variety of milk shakes.
But Whitey's peach shake is only available during July and August, when peaches are in season.
Jones says that the first time he had one, he was shocked when the peach pieces got stuck in the straw.
He describes it as "more like peaches in cream out of a bowl than a milk shake."
The peach milk shake is enough of a family tradition that it was the last thing Jones' son wanted before he started basic training. Unfortunately, he wasn't able to get one before he left because it was the wrong season.