Chilean Children Suffer From Quake's Mental Shocks
Chilean Children Suffer From Quake's Mental Shocks
Chile's capital withstood last month's 8.8 magnitude earthquake remarkably well. Most buildings in Santiago remained standing. Electricity and water services resumed quickly.
But mental health experts say the earthquake and the powerful aftershocks that followed it are having strong psychological effects, particularly on children.
In a neighborhood on the northern periphery of Santiago, the facades of the simple brick houses show few signs of the Feb. 27 quake. But the powerful shaking left many residents on edge.
Thiare Salas, 14, says her house wasn't damaged but she still can't sleep. "I lay down to sleep and I pray," Salas says. "I ask God to protect me, to protect us. ... I pray and pray and pray and nothing happens to me."
Days after the quake, local hospitals report that they had numerous people — many of them children — checking into their emergency rooms with panic attacks.
'Return To Normalcy Through Play'
At a community center in Salas' neighborhood, the staff has set up a trampoline, a jumping castle and several games in the street.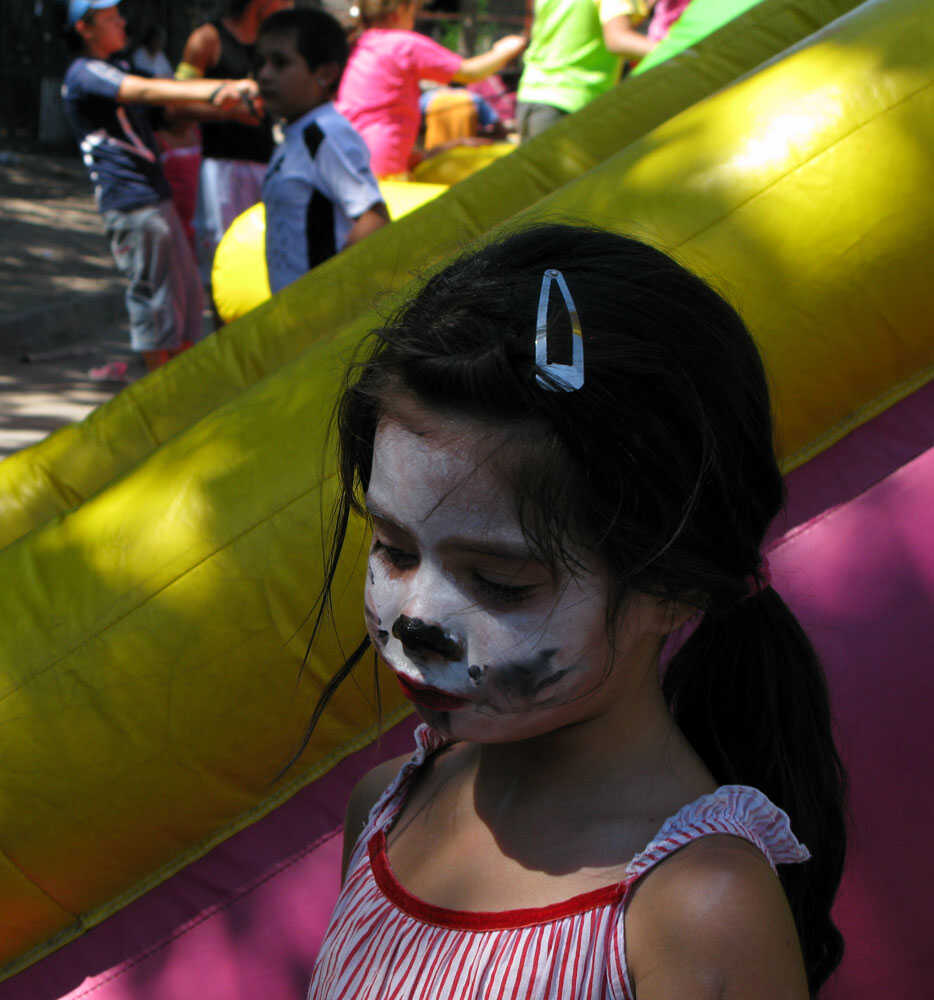 "It's very important for the community to get together and return to normalcy through play," says Marta Gazzari of World Vision, which helps fund and organize the community center. "I was just hearing the story of a mother; her kid is here. He looks totally normal but he has had severe vomiting," she says. "He's jumpy — as we all are anyway. But the mother says that bringing the child here makes a lot of difference."
The Christian charity is opening several centers in some of the hardest-hit parts of Chile, which it is calling "Child Friendly Spaces," to try to ease the burden of the quake on kids.
World Vision is also launching a nationwide toll-free help line. The phone bank staffed by psychologists will offer counseling to anyone feeling stressed, anxious or severely depressed. They are also offering advice to parents on how to help their children cope with the traumatic event.
Grace Gonzalez says the aftershocks are terrifying her 9-year-old daughter, Yaripsa. "Suddenly she'll just start yelling when she feels a quake," Gonzalez says.
The ceiling in their simple house collapsed. Her husband has propped it back up with a wobbly stick. But Gonzalez says the greatest effect has been on Yaripsa. For two days her daughter had stomachaches, Gonzalez says. She didn't want the night to arrive; she would cry and didn't want to go to bed.
Psychological Shock
At a public health clinic in the south of Santiago, psychologist Maria Carolina Aguilera says the earthquake affected everyone within hundreds of miles of the epicenter.
In general, people are more irritable, more tense and more aggressive, Aguilera says. They are in a state of hyper-alert that adds to the normal daily levels of stress.
She says it is also common for people to report that the room is moving even when there is no seismic activity at all.
Basically, she says, Chile is a nation in a state of psychological shock. Some people handle that shock better than others. "If the mothers are screaming and falling into despair," Aguilera says, "the children don't feel safe, yet children expect to feel protected by their parents. So it can be even more traumatic, and in the future, it's going to traumatize them every time there's a quake."
Aguilera says one of the most important things for children — and adults — in terms of dealing with the psychological effects of an earthquake is to acknowledge that it was frightening, to talk about it and, at times, to allow themselves to cry.