Cornell, Missouri, Ga. Tech Extend NCAA Upset Trend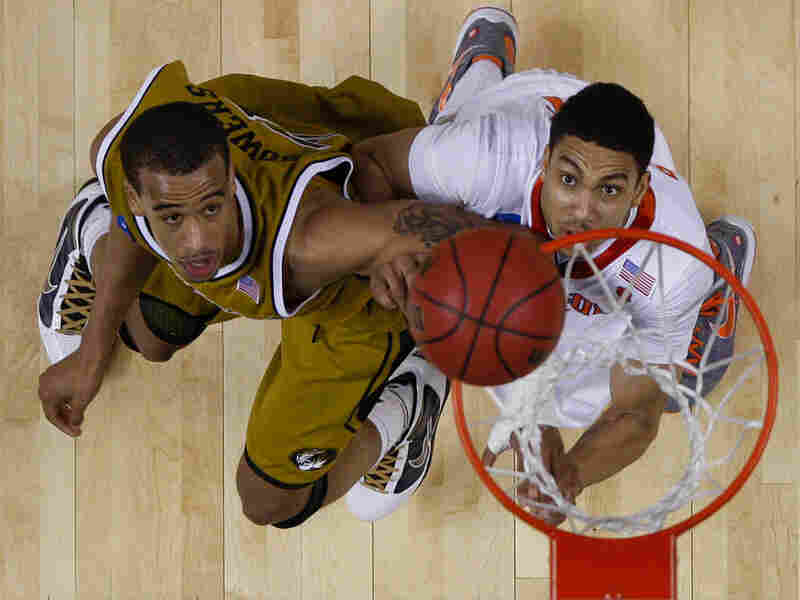 Three more underdogs have had their day at the NCAA men's basketball tournament.
No. 10 seed Georgia Tech made a remarkable 24 of 25 foul shots Friday night, en route to a 64-59 win over No. 7 seed Oklahoma State.
In earlier play Friday, No. 12 seed Cornell took down No. 5 seed Temple, 78-65 and No. 10 seed Missouri overcame No. 7 seed Clemson, 86-78.
Eight "double digit" seeds have now advanced to the second round, meaning the tournament is full of potential for the kind of Cinderella story that has charmed basketball fans in the past.
Two big surprises were narrowly averted, both involving favorites from the Big Ten.
No. 4 seed Wisconsin barely managed to fend off No. 13 seed Wofford, scoring the last four points of the game in a 53-49 win. And No. 5 seed Michigan State got last-minute help from a rarely called lane violation on a foul shot to hang on against No. 12 seed New Mexico State, 70-67.
The rest of Friday's games largely followed. No. 1 seeds Duke and Syracuse had little trouble moving to the second round. Duke took a big early lead over Arkansas Pine Bluff and coasted to a 73-44 win. Syracuse built a 35-10 advantage over Vermont en route to a 79-56 win.
No. 2 seed Ohio State handled UC Santa Barbara 68-51, and No. 8 seed Gonzaga beat No. 9 seed Florida State, 67-60.
In the two final games of the night, No. 4 seed Maryland pulled away from No. 13 seed Houston in the second half, winning 89-77, and No. 8 seed California jumped out to a 22-4 lead on the way to beating No. 9 seed Louisville, 77-62.
Earlier, after a sluggish start, No. 3 seed Pitt swamped No. 14 seed Oakland 89-66. And No. 5 seed Texas A&M polished off No. 12 seed Utah State 69-53.
In other early Friday play, No. 2 seed West Virginia recovered from a slow start to hammer No. 15 seed Morgan State 77-50. And No. 6 seed Xavier beat No. 11 seed Minnesota, 65-54.
No. 4 seed Purdue — seen as ripe for an upset by many bracket-pickers — outlasted No. 13 seed Siena, 72-64.
Thursday's play was full of the surprises and nail-biters that have made the tournament so popular in recent years.
In the biggest shocker, No. 14 seed Ohio University knocked off Georgetown, 97-83. The Bobcats, who two weeks ago were judged only the ninth-best team in the Mid-American Conference, continued their torrid run by firing early and often from behind the 3-point line.
Shortly after the Hoyas fell, No. 11 seed Washington overcame No. 6 Marquette, 80-78, on a last-second drive to the hoop by Quincy Pondexter. It was the third loss of the day for a team from the Big East, which many considered the nation's most competitive conference. Earlier, No. 11 seed Old Dominion had taken out No. 6 seed Notre Dame, 51-50.
In other outcomes that defied the oddsmakers Thursday, No. 13 seed Murray State used a buzzer-beating basket from Danero Thomas to knock off No. 4 seed Vanderbilt, 66-65; No. 10 St Mary's dumped No. 7 Richmond, 80-71; and both No. 9 seeds in action — Northern Iowa and Wake Forest — converted last-second baskets into victories (over UNLV and Texas, respectively).
Close play was the order of the day. Even No. 1 seed Kansas had to fend off a challenge from feisty 16-seed Lehigh before pulling away to win 90-74. No. 2 seed Kansas State overcame a slow start to run away from No. 15 North Texas, 82-62. No. 3 seed Baylor struggled well into the second half before subduing No. 14 Sam Houston State, 68-59.
No. 1 seed Kentucky was an exception, drilling No. 16 seed East Tennessee State 100-71.
The night could easily have produced two more big upsets. No. 6 seed Tennessee barely held off No. 11 San Diego State, 62-59, and No. 3 New Mexico survived a scare from No. 14 Montana, 62-57.
And earlier in the day, second-seeded Villanova survived a scare from No. 15 Robert Morris, finally prevailing 73-70 in overtime, while No. 7 BYU needed two overtimes to put away No. 10 Florida, 99-92. One more potential afternoon upset fizzled. No. 12 Texas El-Paso led No. 5 Butler at halftime, 33-27, but Butler roared out of the locker room and went on to a 77-59 win.
Some winners advanced in the tournament for the first time in a long time. Murray State had not won since 1988. Ohio University hadn't won in 27 years. St. Mary's last posted an NCAA victory in 1959. Baylor — enjoying one of its best seasons in many years — won its first game in the tournament since 1950. And BYU's win was the Cougars' first after seven straight first-round losses.