Jon Miller, Master Of Play-By-Play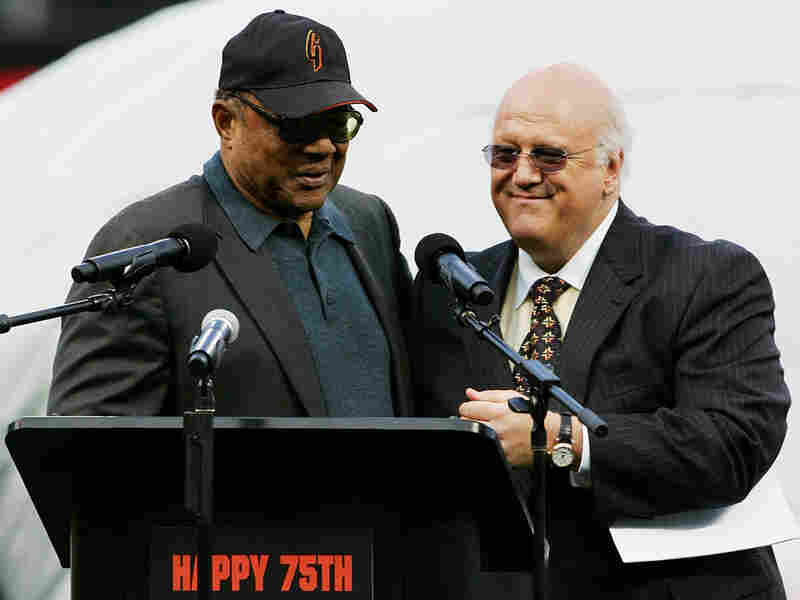 Some moments in Major League Baseball are unforgettable for fans — Sandy Koufax's perfect game in 1965, or Barry Bonds' record-breaking 756th home run. And for each moment, there is a play-by-play announcer who narrates history as it happens.
Known for lively catch-phrases and split-second calls, the best announcers — like Jon Miller, the announcer for ESPN Sunday Night Baseball and the San Francisco Giants — inform and entertain, and make it look easy.
Miller's first job is to call the game in front of him, but that's not all. "The game you're watching, the game you're attending, the game you're listening to" may be first and foremost, he tells host Neal Conan, but he puts that game in context when sharing results from games around the league. "Let's face it," he reminds Conan, "you've got two-and-a-half, three hours or longer a night where you're talking to these fans ... Sometimes your personality's going to come out."
Miller has a voracious appetite for insights into the game. Unlike Vin Scully, who prefers to work alone, he's always looking for more information. Miller works ESPN games with Baseball Hall-of-Famer Joe Morgan, and they're adding a third announcer. Right-hander and former Cy Young award winner Orel Hershiser will be joining Miller and Morgan in the booth in 2010.
But for calling games on radio, Miller thinks, "one guy is plenty."
NEAL CONAN, host:
There are play-by-play calls everybody remembers. The Giants win the pennant. The Giants win the pennant. And of course Jack Buck's call on nationwide TV when a crippled Kirk Gibson came up in the bottom of the ninth inning against the great Dennis Eckersley, and the Bash Brothers' Oakland A's in the World Series in 1988.
(Soundbite of broadcast)
Mr. JACK BUCK (Sportscaster): Unbelievable. A home run for Gibson. And the Dodgers have won the game 5-4. I don't believe what I just saw. I don't believe what I just saw.
CONAN: Play-by-play man Jon Miller advises that we also consider Vin Scully's call of that same play on the radio side. He calls it the greatest piece of tape he's every heard.
Jon Miller is with us from a studio in Phoenix, where he's getting ready to do games for ESPN's Sunday Night Baseball and for the San Francisco Giants. Jon, nice to talk to you.
Mr. JON MILLER (Sportscaster): Neal, it's a pleasure to visit with you and it was great to hear Jack Buck, one of my all-time favorites. But I have to set the record straight. Jack Buck was on CBS Radio.
CONAN: Oh.
Mr. MILLER: Vin Scully was on NBC television. It was a great call. But the greatest call I ever heard from Vin Scully was his radio call of Henry Aaron breaking Babe Ruth's all-time home run record.
CONAN: And what made it so good?
Mr. MILLER: It was a vivid description, a fundamentally sound description. He captured the moment and gave you a great picture on the radio of where the ball went, who went after it, where it ended up. And then he let the crowd roar. But what was really superb about it was after a long period where he never said a word, he just let you hear what was going on in the ballpark, the fireworks and the roar and getting ready for the ceremonies, because they stopped the game right in mid-game, four ceremonies on the field.
But then he came back and he summed up the scene. And that was what I thought was the greatest moment in the history of sports broadcasting, not just baseball broadcasting, where he talked about a black man in the Deep South being cheered by 50,000 people. What a moment. What a great moment for that city, what a great moment for the country, what a great moment for the world, he said. And when you heard it, it made you emotional, brought tears to your eyes. So it transcended mere baseball and a great record being eclipsed, and he had the larger picture in mind.
CONAN: We want to ask our listeners to talk with us this afternoon about the best moment of play-by-play they have ever heard. Give us a call, 800-989-8255. Email us: talk@npr.org. You can also join the conversation at our Web site. That's at npr.org, click on TALK OF THE NATION.
And that sense of history, Jon Miller, I used to listen to you doing Orioles' games when you were in Baltimore. And the sense that you were always in command of the game in front of you, but there was also you were giving us a window into the larger game of baseball - you didn't just read the scores from out of town, you gave us an idea of their meaning and their importance. The idea that the game itself was going on in the context of a country that was existing on this day, in this summer, in this season.
Mr. MILLER: I think for any baseball fan, the game itself is always, first and foremost, the game that you're watching, the game that you're attending, the game you're listening to. But every game is only significant in the larger context of all the other games being played. What's happening in the Yankee game? What's happening in the Red Sox game? What teams are inexorably headed toward the post season? Which teams are starting to fade? Which teams are starting to make a comeback and assert themselves?
So I think baseball fans, they want to know about your game, certainly, and they want to know everything that's going on in that particular game. But they also want to know everything else that's going on. And let's face it, you've got two and a half, three hours or longer a night where you're talking to these fans. And if they're fans of their team, they're sort of held captive by you. You're the link to their ballclub.
Sometimes your personality is going to come out and things that are going on in the world, in your city, in your state, whatever, they may end up on the broadcast as well. So who you are really comes out, I think, for a baseball broadcaster on your broadcast more than in any other sport.
CONAN: Vince Scully, famously, works in the booth alone. When you do games for ESPN, you do games with the great Hall of Fame baseball player Joe Morgan. And that's another insight to the game. But do you prefer to work with a partner? Or do you prefer to work alone?
Mr. MILLER: By the way, I decided that Joe is great. He's a Hall of Famer and I get so much information from him about all the finer points of the game. But I - then I decided that's just not enough for me. I need more than that. So now we're adding a great right-hander, a former Cy Young winner, Orel Hershiser, is going to join us in 2010 in the Sunday night booth.
So I just - I'm always looking for more insights into the game. So I think on television especially, fans now have been brought up with the idea they're going to get some inside info from a former player. That Vinnie still does it in the old style that takes you back, it's almost like a time capsule of the way baseball used to be covered years and years ago. I think that Vinnie is so beloved and so respected in Southern California, the fans really would not have it any other way. They don't want to hear that other guy talking. They only want to hear Vinnie's assessment of what's going on and his take on the game. That's plenty for them.
So for the rest of us, I think - for me, it's nice to have somebody else. Although I will say on radio...
CONAN: Mm-hmm.
Mr. MILLER: ...I think one guy is plenty on radio to give the view of the game to the people deciding what's important for them to know about so they can enjoy the game and so they can see the game, so they can take those descriptions and translate them into pictures, into mental images of what's going on. And I think at the same time, it's nice to have somebody else occasionally to bounce something off of or to have a little bit of a, say, a humorous line and have them go, oh, yes.
(Soundbite of laughter)
Mr. MILLER: You know, a little bit of a laugh track is good too.
CONAN: Yes, exactly. A sidekick at that point.
(Soundbite of laughter)
CONAN: You mentioned, of course, Joe Miller, a member of the Baseball Hall of Fame. I've not have the chance to speak with you since your selection for the broadcasting wing of the Baseball Hall of Fame. Congratulations, Jon.
Mr. MILLER: Well, thanks very much. And I will tell you that, as soon as they told me, I was very excited and I immediately blurted out, I accept, at least I guess...
(Soundbite of laughter)
Mr. MILLER: ...just in case...
CONAN: You thought it was a nomination.
Mr. MILLER: Just in case, maybe they were, in a couple of minutes, going to change their mind. I just wanted to make sure that I accept it right away and we didn't have any - you know, actually, I was in Cartagena, Colombia, in South America, that day. And I never got a call. I had my cell phone with me. And we were touring the city and - the Old City and all of the incredible history that's there. And then we - and we were on a ship. So we went back to the ship later in the afternoon and I thought, well, they never called. So I suppose I didn't make it. And then they called when I was back on the ship. So I was pretty excited.
And then Lon Simmons, the great voice of the Giants for - when I was a kid along with Russ Hodges, the Hall of Famer whom you mentioned at the beginning, Lon called me from Maui, Hawaii. This was one of the few calls maybe from Maui to Cartagena ever connected, I'm guessing.
(Soundbite of laughter)
Mr. MILLER: And I thought, wow, this is really cool. Lon Simmons, my idol as a kid, he's calling to congratulate me. And he said, Jon, I need a little help from you. I need a phone number at the Hall of Fame. I have a lot of people calling me very upset about your selection for this award who want to call there and protest and see if they can get it over overturned.
(Soundbite of laughter)
CONAN: Sweet fellow.
Mr. MILLER: Oh. Well, thanks, Lon.
CONAN: Yeah. It's interesting. Let's see if we can get some callers in on the conversation. 800-989-8255. Email us: talk@npr.org.
You mentioned - we're both referring to that great call about the shot heard round the world, the Bobby Thompson homerun. And everybody's heard that call. And in an odd way, the moment that I enjoyed the most it's the Giants win the pennant, I think, 13 times in a row.
(Soundbite of laughter)
CONAN: And then he says, hey, oh.
Mr. MILLER: Yeah.
CONAN: They're going crazy.
Mr. MILLER: He sort of utters an indecipherable - well you probably couldn't even call it a word.
CONAN: No.
Mr. MILLER: It's just, it was a oh-oh-oh, or whatever it was. I don't know. But the great thing was, is that you - when you remember that the Giants were 13 and a half games out with 44 games to play and that -from that point on to the season, that's the only time anybody's been that far out and still came back to - or still come back to win the whole thing. And then they had the playoff the best of three. They ended up tied. And then it's the bottom of the ninth, they're down by three.
So they're - after all of that and it still looks like they're not going make it. And now it's - they get a run, they got two men on, and then he hits the homerun. And I thought the reason that has stood the test of time that we still play it and it still kind of captures your imagination is because he captured all of that, not just the great comeback in the ninth inning, but from 13 and a half games out and the long winning streak and going 37 and seven down the stretch to catch the Dodgers in historic fashion. He captured all of that. And that was just one of the greatest moments, I think, in sports broadcasting. And obviously, it is because it's still out there and we still play it, what, almost 60 years later.
CONAN: Let's get Ken(ph) on the line. Ken's calling us from Memphis.
KEN (Caller): You have talked about some legendary broadcasters. And there's one that's still around (unintelligible) barely Ernie Harwell in Detroit. I can remember listening to him call, I think, it was Kirk Gibson's homerun in the ninth inning that won the series for the Tigers in '68.
CONAN: Kirk Gibson again with a different team.
KEN: That's right. And, you know, that's a real gentleman who knew how to place a ballgame in proper context and to identify with the people in the stands. I mean, the man is loved in the state of Michigan.
Mr. MILLER: Nobody, I think, in their market, in their area has ever been more beloved than Ernie Harwell in that part of the country. And I think that Ernie, not only is a great baseball broadcaster, but he was a genius of the medium of baseball on the radio. He had the humility to understand what the service he was providing was all about.
I remember Ernie came into my booth one time years and years ago when I was a young broadcaster and he saw that I had this little three-minute egg timer, like a mini hourglass. And he said, oh, that's the Red Barber idea to make sure that you give the score over and over. I said, yeah, absolutely. And he says, what is it, a two and a half-minute, three and a half, three-minute egg timer? I said, well, I'm not sure. But I just try to give the score before the sand runs through. And he said, that's a great idea. He says, I actually try to give the score every 60 seconds.
And I remember thinking, wow, that - it must seem like that's all you're doing through the night is just giving the score. And he says, well, we all want to believe that everybody's tuned in from the very beginning and to the very end and they've heard all of your stories and anecdotes all through the night, but the fact of the matter is, at any moment, the majority of your audience may just have tuned in. They need to know the score.
Ernie also said he would not tell a story, an anecdote, a funny aside, if he couldn't fit the whole story in between pitches or between batters. And I actually said to him, I said, Ernie, as a baseball fan, I want to hear every story you have, short or long, and I think everybody else does too. He says, no. The people tune in for the game. They never tune in for me. So if I can enhance their enjoyment of the game with little asides and whatnot, so be it. But never get in the way of the game.
So I don't even think I appreciated all of that. I was too young. But over the years, I became convinced that Ernie was a genius of the medium. Nobody understood the service being provided and how to do it better than Ernie Harwell, a treasure. And one of the thrills for me on this Hall of Fame nod in Cooperstown was a letter I received from Ernie, and it made me cry, it was very beautiful. And I'm so sad that Ernie is on his way out because we're not ready for him to go yet.
CONAN: Ken, thanks very much for the call. Appreciate it.
KEN: Thanks.
CONAN: We're talking with play-by-play man Jon Miller. You're listening to TALK OF THE NATION from NPR News.
And here's a tweet. This is from T.S. Sinti(ph): I've never heard it, but Scully's call of the ninth inning of Koufax's 1965 perfect game reads like prose.
Mr. MILLER: Indeed. The baseball writer and the sportswriter from San Francisco, Charles Einstein, the late Charles Einstein, he used to, every so often, put out a book - you've probably seen it, Neal, you know, the old used bookstores called the "Fireside Book of Baseball." And it was...
CONAN: Yeah. Also wrote a wonderful novel called "The Only Game in Town." But anyway...
Mr. MILLER: All right. Well, in the "Fireside Book of Baseball," he would, every few years, take the best - what he thought were the best articles and columns written about baseball and put them in a book, in an anthology. And one year after Scully's remarkable call of Koufax's fourth no-hitter, the perfect game, he put a transcript of the entire ninth inning as is. And he put in there it says: nothing has been edited. No hesitations, nothing has been cleaned out of here. I haven't cleaned it up in any way. This is literally the way he did it as it was happening live.
And people just cannot - could not believe that. It reads as though he spent hours, you know, sweating blood trying to get it just right. And I remember asking Vinny about it because at one point or two - maybe probably two or three times in the inning, he says: It's 8:43 p.m. or 9:42 p.m. in the City of the Angels. And Sandy Koufax, you know, and he - it kind of gave you chills. And he said well, I only gave the time like that, he said, I got a lot of praise for that in the papers the next day.
But we had called the station after the eighth inning and said: Can you put a tape up and if he gets the no-hitter, we can give it to him and he'll have it as a souvenir, as a little bit of a memory of a great night. So they put the tape on. And he thought during the inning: I'm going to put the time and a few things about the night so years from now, Sandy may hear this and he'll - it'll bring back some of the memories of this - the feel of that night. And he said, that's all I was doing. I was doing it for Sandy. So...
(Soundbite of laughter)
Mr. MILLER: But it was beautiful. And I think at the end, he summed it all up, you know, Sandy Koufax, who's name will always remind you of strikeout, tonight did it with a flourish. He struck out the last six in a row and 14 in the game.
CONAN: Let's get Jay(ph) on the line. Jay is calling us from Cincinnati.
JAY (Caller): Yes. Good afternoon. You know, I wanted to bring up a point of a gentleman who probably did have a few hours to think of his call, Jim Nantz with Tiger's first win at the Masters. And, you know, there it is, a win for the ages. And I'm wondering, you know, is a guy like Nantz thinking about, you know, do you believe in miracles and how am I going to top that or at least how am I going to put myself into that category. What do you think?
CONAN: Do you think of - if you're - if something is approaching magic, do you work on your phrasing ahead of time? I don't know. Jon Miller?
Mr. MILLER: Well, I know people talk about that. And I think some people have done it and probably it has worked out well for them when they thought what they would say for the historic moment in advance. And people ask me about it at various times when I was about to broadcast an historic moment in the game. I was around Mark McGwire at the time that he was about to catch and pass Roger Maris for the single season homerun record and I was doing the Giants games when Barry Bonds was hitting a million home runs.
But I always - I remember thinking, well, that would probably be smart. But then I thought, well, who knows what the moment is going to be? Our job is to try to capture that moment. And when McGwire hit number 62 to pass Maris, it was a line drive. It was the shortest homerun he'd hit all year and it just barely crept over the wall in leftfield in St. Louis and it didn't even look like it was going to be a homerun. So how could you plan that out in advance?
CONAN: Yeah.
Mr. MILLER: So I think, for me, that just - I just can't do it. I've thought of some great things to say on the way back to the hotel or on the way back to the airport after the game - like, man, I should have said that. What an idiot. Oh, that would have been great. So...
CONAN: Jay, thank you. We just want to end with this email from Deborah(ph) in Williams, Oregon. I remember Jon when I was a new teacher at Hayward High School and he was the sports editor for a student newspaper, The Agrarian. He was very generous with his spare time. He helped my yearbook staff on many a deadline. His journalism teacher, Eleanor Crantz(ph) and I are very proud of his many accomplishments and are listening today.
Mr. MILLER: She was a person who set me in the right direction.
CONAN: And...
Mr. MILLER: Eleanor Crantz, she was an all-time great.
CONAN: Jon Miller, thanks very much. This is TALK OF THE nation from NPR News.
NPR transcripts are created on a rush deadline by Verb8tm, Inc., an NPR contractor, and produced using a proprietary transcription process developed with NPR. This text may not be in its final form and may be updated or revised in the future. Accuracy and availability may vary. The authoritative record of NPR's programming is the audio record.