In Iowa, Obama Recalls Health Care Promise
As a candidate in 2007, Barack Obama outlined his plan to overhaul the nation's health care system in a speech in Iowa City. He promised to sign a comprehensive bill into law in his first term. President Obama returned to Iowa City on Thursday to celebrate the health care law he signed this week.
RENEE MONTAGNE, host:
This is MORNING EDITION from NPR News. I'm Renee Montagne.
Washington's health care battle is over but the shouting is not. The last piece of overhaul legislation crossed the finish line last night when the House approved some final fixes to the main health care bill that was passed over the weekend.
The job of selling the new law to a skeptical public is far from over though. President Obama traveled to Iowa yesterday to highlight some of the benefits that law would provide.
As NPR's Scott Horsley reports, it was also a kind of homecoming.
SCOTT HORSLEY: President Obama will always have a soft spot for Iowa.
President BARACK OBAMA: This is the state that first believed in our campaign.
(Soundbite of applause)
(Soundbite of cheering)
HORSLEY: In his first road trip since the passage of the landmark health care law, Mr. Obama returned to Iowa City, home of the University of Iowa, where he first spelled out his plan for universal health care as a rookie candidate for the White House in 2007.
President OBAMA: When I came here three years ago, I told the story of when Lyndon Johnson stood with Harry Truman and signed Medicare into law.
HORSLEY: At the time, Mr. Obama had quoted Johnson as saying history shapes man but leaders also have to have faith that men can shape history. Iowa City resident Mary LaRue remembers that Obama campaign visit three years ago. She was impressed by the novice candidate, but a little worried he might get pushed around in Washington. Those fears gave way this past weekend when the health care law cleared Congress. LaRue says the president and his team got the job done.
Ms. MARY LARUE: I was holding my breath all day long about that and I thought it was great.
HORSLEY: That success turned the campaign slogan of potential, yes we can, into a celebration of accomplishment - yes we did.
(Soundbite of crowd)
President OBAMA: Yes we did.
HORSLEY: The president defended the new health care law as a common sense middle of the road measure that builds on the existing private insurance system. He cataloged some of the benefits that will take effect later this year, including tax breaks for small businesses that provide insurance to their workers, a ban on insurance companies dropping policyholders when they get sick, and a provision that will let young adults stay on their parent's policies up to age 26.
Mr. Obama also playfully rebutted the apocalyptic warnings of some Republicans about what would happen when the new law was passed.
President OBAMA: So after I signed the bill, I looked around to see if there were any...
(Soundbite of laughter)
President OBAMA: ...asteroids falling or...
HORSLEY: No cracks opened up in the Earth, he joked. It turned out to be a pretty nice day. The president's middle of the road approach drew some criticism in this otherwise friendly crowd from those who say the new law doesnt go far enough. One heckler asked loudly why it doesnt include a public insurance option. Mr. Obama answered bluntly: because we couldnt get it through Congress.
He conceded the new law is not perfect, but said it will ultimately extend health insurance to an estimated 32 million people.
Mr. OBAMA: It doesn't do everything that everybody wants, but it moves us in the direction of universal health care coverage in this country, and that's why everybody here fought so hard for it.
(Soundbite of applause)
HORSLEY: And that fight isn't over just because the bill is now law. Polls show voters are still deeply divided over the legislation and Republicans promise to campaign against it in the upcoming mid-term elections. Embolden by the law's passage though, and the consumer protections that will begin to kick in before the November elections, Mr. Obama says his attitude towards Republican threats is: go for it.
Mr. OBAMA: If they want to have that fight, we can have it. Because I don't believe that the American people are going to put the insurance industry back in the driver's seat. Weve already been there. We're not going back. This country's moving forward.
(Soundbite of cheering)
HORSLEY: Once again quoting Lyndon Johnson's words from the Medicare signing ceremony, Mr. Obama said yesterday: This generation has proven Americans still have the power to shape history.
Scott Horsley, NPR News, Washington.
NPR transcripts are created on a rush deadline by Verb8tm, Inc., an NPR contractor, and produced using a proprietary transcription process developed with NPR. This text may not be in its final form and may be updated or revised in the future. Accuracy and availability may vary. The authoritative record of NPR's programming is the audio record.
House Gives Final Approval To Health Care Overhaul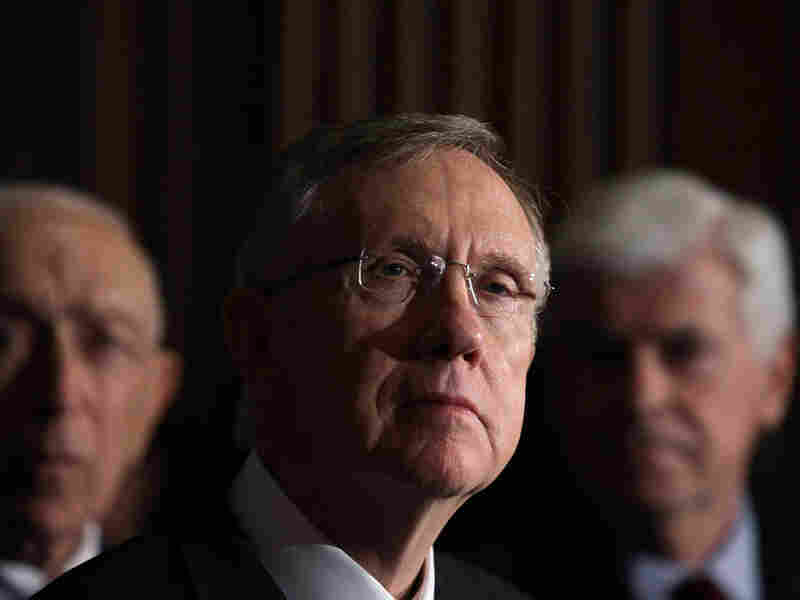 Follow That Bill
Sunday: House passes Senate health bill; Houses passes budget reconciliation bill containing compromise amendments to the health bill. Both pass with no Republican support.
Tuesday: Senate opens debate on the budget reconciliation bill; any changes to the language mean the bill has to go back to the House. President Obama signs the health bill into law. More than a dozen states file suit arguing, among other things, that the insurance mandate in the new health care law is unconstitutional and Congress has no authority to force people to buy insurance.
Wednesday: To reassure the anti-abortion Democrats, President Obama signs an executive order reaffirming that no federal funding in the health law will go toward abortion.
Thursday: Senate Republicans find language in reconciliation bill regarding student loans that violates process rules. After the provisions were stripped from the bill, the Senate voted to pass it.
The changed reconciliation bill was sent back to the House, which passed the measure Thursday evening, clearing the way for Obama's signature.
— Kathleen Masterson
Capping a bitterly fought battle over the top item on President Obama's domestic agenda, the House gave final approval to the health overhaul Thursday, after the Senate made changes and returned the measure earlier in the day.
The House voted 220-207 for the bill, which now heads to Obama for his signature. No Republicans supported the measure.
Democrats who were eager to put the long fight over health care behind them had hoped a Senate vote would finish the job. But Republicans identified problems with two provisions relating to Pell Grants for low-income students that violated the rules of the budget reconciliation process, which Democrats were using to speed the bill's passage and block a filibuster.
The provisions were stripped from the bill, and the Senate passed it on a 56-43 party-line vote. No Republicans voted for the measure, and three Democrats also opposed it.
Under reconciliation rules, the legislation had to get kicked back to the House because of the changes.
Shortly before the Senate vote, Obama delivered a message to Republicans who said they will try to repeal his health care overhaul: "Go for it." Obama was at a campaign-style rally in Iowa to bolster support for the new law and explain what it means to average Americans.
A Barrage Of Amendments
The Senate vote followed a nine-hour marathon session stretching past 2 a.m. Thursday in which Democrats defeated 29 Republican amendments, any one of which would have sent the legislation back to the House.
Although Obama signed the health care bill into law Tuesday, the package of changes sought by the House still needed to get through the Senate. So Republicans sought to gum up the process by issuing the barrage of amendments.
One by one, Democrats voted down GOP proposals that, for example, would have rolled back cuts to Medicare and barred tax increases for families earning less than $250,000. They also defeated an amendment that would have prohibited federal money for the purchase of Viagra and other erectile-dysfunction drugs for sex offenders. Sen. Tom Coburn (R-OK) introduced the amendment, saying it would save millions of dollars. Sen. Max Baucus (D-MT) called the proposed change "a crass political stunt."
"There's no attempt to improve the bill. There's an attempt to destroy this bill," Senate Majority Leader Harry Reid said.
"The majority leader may not think we're serious about changing the bill, but we'd like to change the bill, and with a little help from our friends on the other side we could improve the bill significantly," answered Senate Minority Leader Mitch McConnell (R-KY).
Democrats noted that nearly every reconciliation bill has been subject to last-minute revisions.
Republicans And 'Armageddon'
Obama's trip to Iowa City, Iowa — where as a presidential candidate he announced his health care blueprint — was the first of many appearances around the country to sell the overhaul to voters before the fall congressional elections.
"Three years ago, I came here to this campus to make a promise," Obama told the crowd gathered at the University of Iowa, "that by the end of my first term in office, I would sign legislation to reform our health insurance system."
The president said there had been "plenty of fear-mongering and overheated rhetoric" about the health care overhaul.
"Leaders of the Republican Party, they called the passage of this bill 'Armageddon,' the end of freedom as we know it," Obama said. "So, after I signed the bill, I looked around to see if there were any asteroids falling," he said to laughter and applause.
"But from this day forward, all of the cynics and the naysayers will have to finally confront the reality of what this reform is and what it isn't," the president said.
Threats And Intimidation Tactics
As Congress wrangles with legislative details, discontent over changes to the nation's health care system has spilled over into threats of violence against lawmakers who voted for the overhaul.
The FBI is investigating at least four incidents in which bricks were thrown through the windows of Democratic offices in New York, Arizona and Kansas, including Rep. Louise Slaughter's district headquarters in Niagara Falls, N.Y. And at least 10 members of Congress reported receiving threatening e-mails, phone calls and faxes.
House Speaker Nancy Pelosi said at a news conference Thursday that intimidation tactics "must be rejected," adding that such behavior has "no place in a civil debate in our country."
Some of the worst threats targeted Michigan Rep. Bart Stupak, an anti-abortion Democrat who cast a key vote for the overhaul in exchange for an executive order prohibiting federal funding of abortion. One man called Stupak's office to say he hopes the congressman gets cancer and dies, while a female caller said "millions of people wish you ill" and "those thoughts will materialize into something that's not very good for you."
House Republican leader John Boehner of Ohio said in a statement that while many Americans are angry over the bill's passage, "violence and threats are unacceptable."
"That's not the American way," he said. "We need to take that anger and channel it into positive change."
Later, House Minority Whip Eric Cantor went on the offensive, saying Democratic leaders were "reckless to use these incidents as media vehicles for political gain."
Cantor said his own campaign office had been shot at and that he had received threatening e-mails this week, but didn't elaborate. He said he would not release the e-mails "because I believe such actions will encourage more to be sent."
Material from The Associated Press was used in this report