Taliban Hits Airwaves in Southeastern Afghanistan
Taliban Hits Airwaves in Southeastern Afghanistan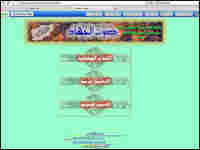 The Taliban has hit the airwaves in southeastern Afghanistan through a new radio station called "Voice of Shariat."
The station, which broadcasts in Pashto most evenings, can't be heard in Kabul. But it's on the air in parts of American-dominated Paktia province, as well as Paktika, Logar and Ghazni provinces.
The station, which operates out of the back of pickup trucks, is gaining a following, even as the Afghan government is trying to shut it down. Those who've heard it say the programming plays on people's frustations with the Afghan government and, not suprisingly, omits any reference to suicide attacks.