Michigan State, Duke Join NCAA Final Four Field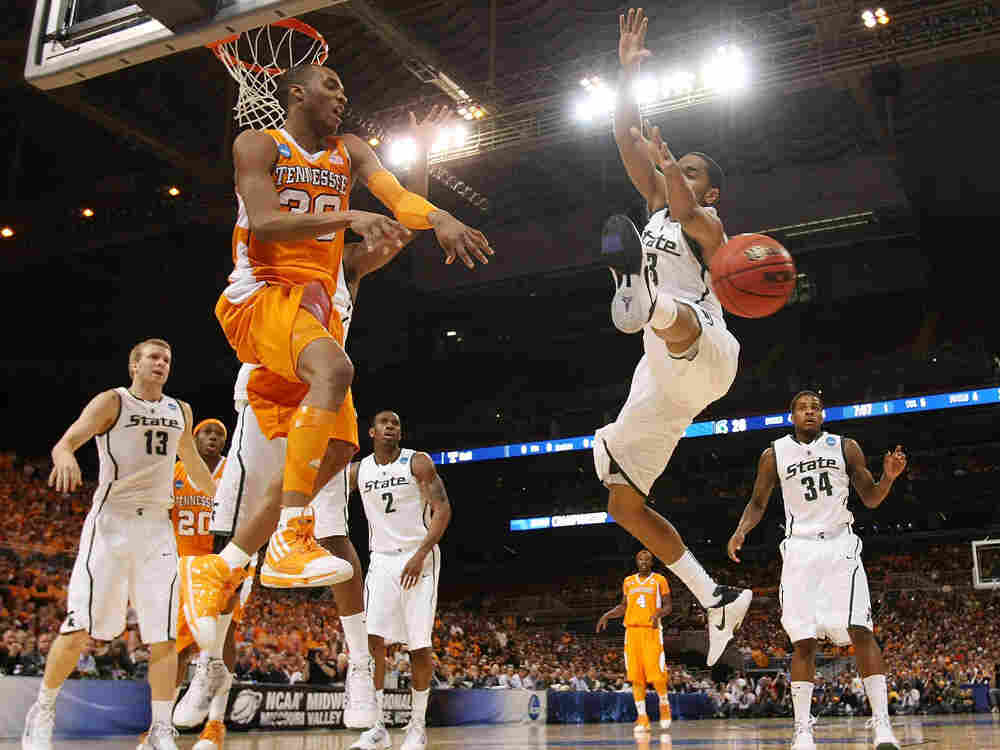 No. 1 seed Duke and repeat visitor Michigan State will join West Virginia and Butler in the Final Four of a frenetic men's college basketball tournament littered with upsets and unexpected success.
The ACC champion Blue Devils — the only No. 1 seed to survive — scraped past Baylor 78-71 Sunday on the strength of a late rally fueled by offensive rebounds and 3-point shots.
Heard On 'Morning Edition'
Sports
Final Four: Michigan St., Duke, West Va., And Butler
Final Four: Michigan St., Duke, West Va., And Butler
Michigan State, which lost in last year's final to North Carolina, edged Tennessee 70-69 on a last-second free throw by senior captain Raymar Morgan, giving the Spartans of the Big 10 their sixth Final Four appearance in 12 years.
Duke will face West Virginia next Saturday in Indianapolis, while Michigan State squares off against Butler.
Duke Pulls Through
Duke's victory came after a bruising game that was tight until the last few minutes. Then the Blue Devils capitalized on second chances to hit key shots from long distance and pulled out to a 10-point lead with less than two minutes left.
Nolan Smith led Duke with 29 points, while Jon Scheyer chipped in with 20. The Blue Devils got just 5 points and 3 rebounds from the third member of their "Big Three," senior forward Kyle Singler.
Baylor, playing out of the Big 12, kept it close with 22 points from leading scorer LaceDarius Dunn and a standout game from 6-10 Ekpe Udoh, who had 18 points, 11 rebounds and 6 assists — as well as several blocked shots.
Deja Vu For MSU
The Spartans were an unlikely finalist in last year's tournament and an even more unlikely Final Four competitor this year.
Not only were they a No. 5 seed in the same bracket as overall No. 1 seed Kansas, they lost star guard Kalin Lucas to a torn Achilles tendon earlier in the tournament.
But Coach Tom Izzo seems able to win with a variety of players and styles. After grinding out wins earlier in the tournament — including a buzzer-beating basket to squeak past No. 4 seed Maryland in round two — the Spartans cooled off red-hot Tennessee.
The loss was a bitter end to a great run by the No. 6 seed Volunteers, who had never before reached the Elite Eight — but who also had regular season victories over two of the tournament's top seeds, Kansas and Kentucky.
The Volunteers led 41-39 after a crisply played first half, but Michigan State managed to slow the pace of the game a bit in the second half, and overcame foul trouble to pull out the win.
Durrell Summers led Spartan scorers with 21 points, while Morgan finished with 13 points and 10 rebounds. Tennessee star Wayne Chism had 13 points, but faltered a bit in the late going, missing a layup and a 3-point shot in the final minutes.
Butler Did It; So Did West Virginia
The last time West Virginia was in the Final Four was 1959. The last time Butler got there was never.
But both schools punched their ticket for the championship rounds Saturday.
West Virginia got a remarkable performance from substitute point guard Joe Mazzulla and help from Kentucky's poor outside shooting to send the Wildcats home, 73-66.
Butler used gritty defense and timely outside shooting to beat No. 2 seed Kansas State, 63-56.
Butler, playing out of the lightly regarded Horizon League, entered the tournament as one of many so-called "mid-major" schools looking to scale new heights.
That they did. After surviving a second-round scare against Murray State, the Bulldogs knocked off No. 1 seed Syracuse on Thursday.
Saturday, the Bulldogs used a nearly identical formula, taking a 27-20 halftime lead — then seeing it evaporate — and finally regaining control in the final minutes to end Kansas State's hopes.
Butler's Gordon Hayward scored 22 points and pulled down 9 rebounds to lead the Bulldogs.
Against Kentucky, West Virginia did not make a basket from inside the 3-point line in the entire first half. But the Mountaineers — not known as a good outside shooting team — made nine 3-point shots en route to a slight halftime advantage.
Meanwhile, Kentucky missed all of its 3-point shots in the first half — eventually starting the game 0-for-20 from beyond the arc — and made fewer than half its foul shots.
Even so, the Mountaineers needed a career high 17 points and an outstanding floor game from Mazzulla to maintain control of the game. And Mazzulla was playing largely because starting point guard Daryl "Truck" Bryant broke his foot in practice earlier in the week.
Big East tournament champ West Virginia had not made it to the Final Four since Hall of Famer Jerry West — the guy used as the model for the NBA logo — took the Mountaineers there in 1959.