President Bush, Karzai Meet at Camp David
President Bush praised Afghan President Hamid Karzai's leadership at the conclusion of their two-day meeting at Camp David. Karzai returned the warm sentiments, but dismay in Afghanistan is increasing over civilian casualties from U.S. and NATO operations.
Afghan ambassador to the United Nations Zahir Tanin talks with Alex Chadwick about repeated requests by the Afghan government that NATO alert them to bombing raids. We also hear from State Department Undersecretary for Political Affairs Nicholas Burns, and from political science student Mohammad Tahir Qadiry about what Afghans would like their president to discuss at Camp David.
Afghan President Meets Bush at Camp David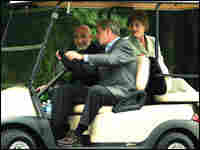 Dennis Brack-Pool/Getty Images
President Bush said history called the U.S. to action in Afghanistan as he praised Afghan President Hamid Karzai's leadership Monday at the conclusion of a two-day meeting at Camp David.
Karzai, Afghanistan's first democratically elected president, is dealing with an upsurge of civilian killings, a booming drug trade and the resurgence of the Taliban.
Despite the problems, he thanked the United States for its steadfast commitment to his nation.
"We have a long journey ahead of us, but we have traveled so far," Karzai told journalists at the Bush family's Maryland retreat.
"History has called us into action" in Afghanistan, President Bush said. "It's important we get this right."
Karzai referred to the "massive achievement" that has been made in Afghanistan since the Taliban were toppled in 2001.
He acknowledged that the Taliban continue to pose a threat to average Afghans, but that they present no threat to the government itself. "It's a force that's defeated, it's a force that's frustrated," he said.
But eliminating the Taliban "will take time. We are realistic about that," he said.
Karzai also admitted that production of poppies — the raw ingredient in heroin — has yet to be eradicated in Afghanistan.
"Afghanistan is committed to fighting it, because this evil is hurting us," Karzai said.
During his visit, Karzai sought support and reassurance from Mr. Bush, who in turn wants Karzai's government to exert and extend its power.
The security and sporadic rule of law in Afghanistan set the tone for the summit — a point underscored by the ongoing captivity of 21 South Korean aid workers.
They were abducted by the Taliban on July 19 and are now believed to be in central Afghanistan. The captors took 23 people hostage and have killed two of them.
The Taliban seek the release of some prisoners being held in Afghanistan in exchange for the release of the hostages. The Afghan government has refused, and the U.S. also opposes conceding to such demands. The crisis has put considerable pressure on Karzai and raised more doubts about his ability to usher in some stability.
Qari Yousef Ahmadi, who claims to speak for the Taliban, said the lives of the hostages rest in the hands of Karzai and President Bush.
"Karzai and Bush will have responsibility for whatever happens to the hostages," Ahmadi said.
Karzai arrived on a misty Sunday afternoon in the Catoctin Mountains. He was greeted by Mr. Bush and first lady Laura Bush, who led him through a cordon of Marines and sailors.
The Afghan president chatted briefly with a few of Mr. Bush's top aides, then he climbed into the front of the Bushes' local transporation — Golf Cart One — while the first lady got in back.
For dinner, Karzai joined the first family for some all-American fare: fried chicken, mashed potatoes, green beans, cheese and garlic biscuits and pineapple upside down cake.
Karzai and Mr. Bush have met regularly, including sessions at the White House, in each of the past five years. This is the first time Bush has welcomed Karzai to his getaway at Camp David, where an invitation signals the president's commitment to a foreign leader.
Afghanistan is still dominated by poverty and lawlessness. Stability has been hindered by the lack of government order, particularly in the southern part of the country.
From NPR reports and The Associated Press