How Much Oil, Gas Is Out There?
How Much Oil, Gas Is Out There?
President Obama's reversal of a ban on drilling off most U.S. shores could put new oil and natural gas platforms in waters along the southern Atlantic coastline, the eastern Gulf of Mexico and part of Alaska. Ben Cahill, a manager at PFC Energy, offers his insight on how much oil or natural gas is actually out there.
ROBERT SIEGEL, host:
For a sense of how the new offshore drilling policy might look to the oil and gas industry and how companies view the opportunities offshore, we're joined by Ben Cahill, head of the Petroleum Risk Manager service at PFC Energy. And that's a Washington, D.C. consulting firm. Welcome to the program.
Mr. BEN CAHILL (Petroleum Risk Manager, PFC Energy): Thank you.
SIEGEL: And first, what do we know about how much more oil or gas might be found under the Gulf of Mexico or off the Atlantic Coast?
Mr. CAHILL: Well, there's a lot that we don't know about how much is actually there. Most of the estimates for the areas that are currently off-limits are very preliminary, and they're based on simple surveys that were done by the U.S. geological service and other government agencies decades ago. So in terms of what that means for the resources under the ground, we're really at the very preliminary stages of determining what's actually out there.
SIEGEL: Now, do you say the Gulf and the Atlantic Coast look very different as areas for potential drilling?
Mr. CAHILL: Well, the eastern Gulf of Mexico is relatively close to a very heavily explored area. That's the Gulf of Mexico, which is managed by the Minerals Management Service of the government. There's been active exploration and production there for decades. There are lots of companies that are active there. The fact that the eastern Gulf of Mexico is so close to an area that has, you know, significant reserves is promising in terms of what might actually be there.
The Mid-Atlantic and South Atlantic states offshore of Virginia - Delaware, North Carolina, South Carolina - those are areas where there's really been very little exploration, to none at all. So it's much more difficult to say what might there.
SIEGEL: And the Arctic areas that are now opening up.
Mr. CAHILL: Right. In Alaska, there are two areas in particular, the Chukchi Sea and the Beaufort Sea, which are off the north coast. And those are areas that are really viewed by the oil and gas sector as having lots of potential. Those are areas that were just recently opened to new leasing back in 2008. And you saw a lot of activity there.
SIEGEL: Now, I would assume that, say, in the Gulf, given the history of drilling in the - in other parts of the Gulf of Mexico, that there's more infrastructure nearby to work with, say, than there is off the Atlantic Coast.
Mr. CAHILL: Exactly. And that is a big factor for oil and gas companies. I think there is a perception out there that oil and gas companies can simply sign leases, develop resources, and that's all they need to do. But there's actually a very complicated supply chain involved - you know, engineering companies, companies that contract rigs out, infrastructure, all of those bits and pieces that you need in the supply chain in order to be able to sell your oil and gas and make money. So being able to operate in a new area that's close to all that infrastructure is a big plus for the industry.
SIEGEL: So it sounds like the thought of drilling 125 miles, say, off the Atlantic Coast without a lot of existing infrastructure would be very, very capital intensive. Does the price of oil have to be especially high to make that kind of operation profitable?
Mr. CAHILL: Well, deep-water exploration activity anywhere around the world is expensive. You need special rigs to be able to drill very deep wells. You tend to have to build infrastructure to tie back any discoveries that you made. So you're definitely looking at a different cost threshold. It's simply more expensive to operate there. The fact that the new plan for Florida would potential restrict drilling to only areas that are 125 miles out or farther does introduce some of these cost calculations. And that's something that companies would consider, certainly, before they would decide to bid on a block that's not far out.
SIEGEL: But is it a knock-out blow, in your view, saying you can drill off Florida, but only 125 miles offshore?
Mr. CAHILL: I don't think it's a knock-out blow. The industry operates in deep water in many reasons around the world - you know, in the Gulf of Mexico, in Brazil, in West Africa. That's a hurdle that can be overcome. It just forces companies to think about what they view as the price of oil moving forward as they make these calculations about whether or not they want to operate there.
SIEGEL: So your sense of what the policy announced today looks like, to the oil and gas industries, would you say it's a two cheers? Two-and-a-half cheers? One cheer for this policy?
(Soundbite of laughter)
Mr. CAHILL: I would say maybe two mildly enthusiastic cheers. I do think that the eastern Gulf of Mexico will be intriguing to people in the industry. I think the fact that the Obama administration is willing to make some concessions on offshore drilling is certainly promising to them. It shows that the administration doesn't want to shut off access entirely to new areas. But, you know, there are certainly still significant areas that are still off-limits, like the Pacific Northwest, like the coast of California. Some of the industry will be disappointed with those restrictions.
SIEGEL: Ben Cahill, thanks for talking with us.
Mr. CAHILL: Thank you very much.
SIEGEL: Mr. Cahill is head of the Petroleum Risk Manager service at the Washington, D.C. consulting firm PFC Energy.
NPR transcripts are created on a rush deadline by Verb8tm, Inc., an NPR contractor, and produced using a proprietary transcription process developed with NPR. This text may not be in its final form and may be updated or revised in the future. Accuracy and availability may vary. The authoritative record of NPR's programming is the audio record.
Obama Ends Ban On East Coast Offshore Drilling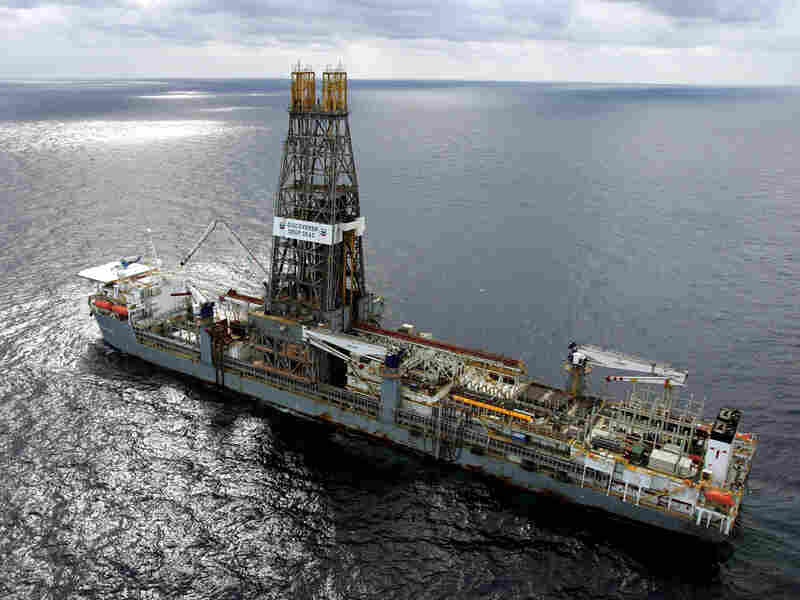 President Obama announced the end of a decades-old ban on oil and gas drilling along much of the U.S. Atlantic coast and northern Alaska on Wednesday, as part of an effort to reduce foreign imports and win support for an energy and climate bill.
The changes in policy would allow drilling on tracts as close as 50 miles to the Virginia shore, and end a longstanding moratorium on drilling from Delaware to central Florida. Exploration in the Gulf of Mexico would be expanded eastward, and swaths north of Alaska would be opened up.
"For decades we've talked about how our dependence on foreign oil threatens our economy — yet our will to act rises and falls with the price of a barrel of oil," Obama said during a speech at Andrews Air Force Base in Maryland. He also praised the military's efforts to operate ships, tanks and planes on alternative fuels.
Heard On 'All Things Considered'
Around the Nation
NPR's Scott Horsley Reports On Obama's Drilling Plan
Obama Opens Up East Coast For Offshore Drilling
"There will be those who strongly disagree with this decision," said Obama, who was accompanied by Interior Secretary Ken Salazar. "But what I want to emphasize is that this announcement is part of a broader strategy that will move us from an economy that runs on fossil fuels and foreign oil to one that relies more on homegrown fuels and clean energy."
The U.S. Geological Survey estimates that the U.S. Atlantic coast could hold as much as 37 trillion cubic feet of gas and 4 billion barrels of oil.
The administration has reportedly rejected proposed leases in Alaska's environmentally sensitive Bristol Bay, and a moratorium on drilling off the West Coast would be left in place.
The new policy reverses decades of precedent and is sure to anger environmentalists who have long opposed such a move. Rep. Edward Markey (D-MA), who regularly takes a pro-environmental line, urged oil companies to drill in areas they've already leased before moving on to new coastal areas.
Key Provisions
Allows oil and gas drilling along the Atlantic Coast from Delaware to central Florida.
Opens up Alaska's northern Arctic coast along the Chukchi Sea and the Beaufort Sea to exploration. Drilling would be allowed if scientists conclude the areas are suitable for offshore extraction.
Expands drilling in the Gulf of Mexico eastward, closer to Florida's Gulf Coast, by 2022 if Congress allows a moratorium currently in place there to expire.
Safeguards Alaska's environmentally sensitive Bristol Bay, which had reportedly been under consideration for drilling.
Keeps in place a ban on drilling off the U.S. West coast.
The conservation group Oceana labeled the president's move to lift the offshore drilling ban a "wholesale assault" on the oceans.
"Expanding offshore drilling is the wrong move if the Obama administration is serious about improving energy security, creating jobs and averting climate change," said Oceana senior campaign director Jacqueline Savitz. She added that the U.S. should instead focus on expanding wind and other renewable forms of energy.
Political observers say the changes to oil and gas drilling policy are likely aimed at swaying some members of Congress to support a comprehensive energy and climate bill — one that would encourage alternatives to fossil fuels — that is the next major piece of legislation on the administration's agenda.
White House officials hope Wednesday's announcement will attract support from Republicans. During the 2008 presidential campaign, Sen. John McCain (R-AZ) adopted the slogan "Drill, baby, drill" in reference to the perceived need for more domestic exploration to reduce dependence on foreign oil.
Obama hinted at the about-face in policy during his State of the Union speech in January, in which he said he was open to the idea.
Oil companies have been waiting for years for the green light to expand drilling outside the Gulf of Mexico. Aside from safeguarding Bristol Bay — effectively designating it a protected zone — Obama's plan offers few other concessions to environmentalists.
But actual drilling is likely years away, as individual state legislatures and governors would still need to approve exploration and drilling off their coasts and determine how near to shore they would allow it. Those states that permit drilling could get a chunk of the revenue, if Congress approves.
In Alaska's northern Chukchi and Beaufort seas, scientists would first study the area to determine whether it is suitable for drilling before new leases would be issued. An expansion of drilling in Cook Inlet to the south would also be allowed to go forward. The changes would be administered by the Interior Department.
The proposed expanded area in the eastern Gulf of Mexico, however, will effectively be on hold for years, as the moratorium on drilling there doesn't expire until 2022.
Congress had prohibited drilling off most of the U.S. coastline for decades, but that ban expired two years ago, clearing the way for the changes.
The first ban on drilling — for much of California's coast — was put in place by Congress in the early 1980s. Over the next decade, lawmakers expanded the ban to the rest of the Pacific coast and much of the Atlantic seaboard. Executive orders issued by Presidents George H.W. Bush and Bill Clinton strengthened the prohibitions. But President George W. Bush lifted the presidential directive on the ban in 2008, and months later, Congress allowed it to expire.
Obama's speech included some provisions meant to placate environmental groups. The Environmental Protection Agency and the Transportation Department is finalizing increased fuel efficiency standards on new cars, and the president announced that more hybrid vehicles will be added for service in the government fleet.
"Already, we've made the largest investment in clean energy in our nation's history," Obama said. "It's an investment that's expected to create or save more than 700,000 jobs across America: jobs manufacturing advanced batteries for more efficient vehicles, upgrading the power grid so that it's smarter and stronger, and doubling our nation's capacity to generate renewable electricity from sources like the wind and the sun."
NPR's Scott Horsley and Christopher Joyce contributed to this report, which includes material from The Associated Press.