Post Quake, People Returning To Haiti's Capital
Post Quake, People Returning To Haiti's Capital
For years, Haitian governments have paid lip service to the need to decentralize their country.
Port-au-Prince tripled in size over the past three decades, as people flocked to the capital in search of jobs in the hemisphere's poorest country. The metro area reached well over 2 million people before the Jan. 12 earthquake.
After the quake, more than half a million fled to other parts of the country, and the government vowed to take the opportunity to shrink the city to a more manageable size.
But now, less than three months after the quake, there are indications the city is growing again.
Returning From The Provinces
Hard numbers are hard to come by; international aid groups are still trying to get an accurate count of all the residents in the capital's vast homeless camps. The United Nations says it doesn't have data on how many people have come back to the city since the January quake.
At one of Port-au-Prince's open-air bus depots, though, bus driver France Dupuis says it is clear to him that the human tide is turning back to the capital.
"A week after Jan. 12, people started coming back, but in small groups," he says. "But now it's a big, a big amount."
He says his bus, which runs the route from the southwestern city of Miragoane, has become especially crowded just in the last week or so.
People are heading to Port-au-Prince despite the fact that much of the capital still lies in rubble, and hundreds of thousands of people jostle for basic necessities in vast tent cities. As soon as travelers step off the buses, they encounter the smell of raw sewage and burning garbage, and the sight of plastic tarps and tents in almost every available plaza, sidewalk and courtyard.
"It's not good for them to come back, because there's no space for them to be comfortable, for them to have latrines, for them to have a place to sleep," Dupuis says. "But it's worse for them in the provinces, and that's why they're coming back."
Finding Work, Food
Lionel Desilme, a slight young man, took the bus back to Port-au-Prince. He fled the city after his sister died in the earthquake. He has returned, he says, to get work. As for shelter, he doesn't seem too worried.
"It doesn't bother me," he says, "because if everybody is sleeping in tents, then I don't mind sleeping in a tent, too."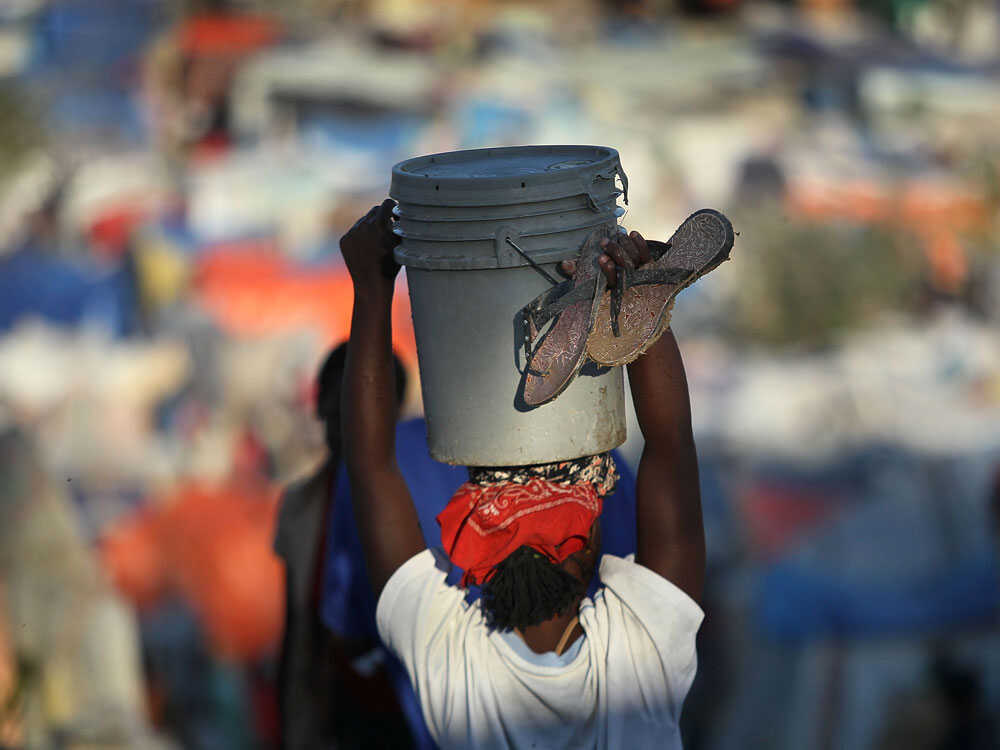 For Haitians who have long thought Port-au-Prince was too big, a reverse migration is bad news.
Haitian Sen. Youri Latortue represents the Artibonite department, or province, which received well more than 100,000 refugees after the earthquake. He says some of those people are now being lured back, because so much international aid is concentrated in Port-au-Prince.
"When they give food in Port-au-Prince, people in Gonaives and Cap-Haitien ... they come back in Port-au-Prince because they can't find food in the countryside," Latortue says.
But Antoine Renard of the United Nations' World Food Program says rations have reached 530,000 of the estimated 600,000 people who fled to the provinces.
"What we're doing is that we're actually following people to where they are settled now, and we're trying to provide the support that we can," Renard says.
At the same time, Renard is quick to point out that the World Food Program has neither the authority nor a mission to prevent people from moving back to Port-au-Prince. Haitians are still free to go where they want, he says.
A Broader Effort
But for the broader international aid effort in Haiti, shrinking Port-au-Prince remains a priority.
Bill Holbrook, country director for the American aid group Mercy Corps, says decentralization of Port-au-Prince would be "the healthiest thing that could happen to this country."
Mercy Corps and other groups are now shifting their emphasis to the countryside, with job-creation and job-training programs. The hope is to revitalize farming and light industry in the provinces, and give Haitians an alternative to seeking their fortune in the shattered, crowded capital.