Bridge Rescue Coordinators Request Navy Team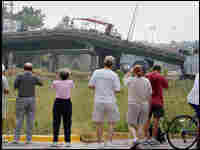 Rescue coordinators said Tuesday they would turn to the U.S. Navy to help recover victims trapped under the collapsed Minneapolis' Interstate 35W bridge after local divers spent five exhausting days without results.
Dive teams have yet to recover the eight people missing and believed dead in last Wednesday's disaster, in part because of dangerously unstable wreckage.
"Now it's time to start going through the debris," Hennepin County Sheriff Rich Stanek said. "My folks are not salvage experts, and that's why I brought in the ones that are, the Navy."
FBI dive teams had also arrived to join in the search, with technology that includes a small submarine equipped with a robotic arm. Meanwhile, work was beginning to move heavy equipment into position to eventually hoist away the tons of concrete and steel left by the collapse.
In addition to the missing, there are five known dead, with five others still hospitalized in critical condition.
The city asked residents to observe a moment of silence Tuesday evening at the minute the bridge fell, and bells at churches and City Hall were to toll immediately after.
As the recovery effort enters a new stage, teams of designers and builders were racing to meet a dawn Wednesday deadline for showing they were qualified to bid on the bridge replacement project, which the state put on a fast track.
State transportation officials hope to award contracts next month, with the goal of having a new Interstate 35W bridge standing at the end of 2008.
A severe winter could throw off the state's reconstruction schedule. But other conditions are favorable - including a construction industry with plenty of available resources to take on such a daunting challenge.
"It is doable. It is a bit fast, but this is an emergency," said Khaled Mahmoud with the Bridge Engineering Association in New York. "And if we are ever good at anything, it's responding to emergencies."
Erecting a new bridge like Minneapolis' would ordinarily take about three years, even if the design and building phases were overlapped to save time, said Bill Cox, owner of Corman Construction Inc. in Annapolis Junction, Md., a road and bridge construction firm.
From NPR reports and The Associated Press