'Zelmira': Revealing The Serious Side Of Rossini
THE HIT SINGLE
Act Two features one of Rossini's most beautiful ensembles, a quintet that finds Zelmira and Emma still determined to save Polidoro, while Antenore and Leucippo are determined to see him dead. In the production from Pesaro, it's sung by soprano Kate Aldrich, mezzo-soprano Marianna Pizzolato, bass Alex Esposito, tenor Gregory Kunde and bass Mirco Palazzi.
THE B SIDE
'Ah! se caro a te son io'
When Ilo returns, in Act One, he finds Zelmira in quite a predicament, and the two sing reassurances in the tender duet "Ah, se caro a te son io" — "Ah, if I am dear to you." Tenor Juan Diego Florez is Ilo, with soprano Kate Aldrich as Zelmira.
All sorts of successful creative artists have been subjected to a phenomenon that's been called "pigeonholing." Opera composers — including Gioachino Rossini, one of the very finest — are no exception.
In the creative world, pigeonholing happens when an artist becomes predominantly associated with a single, narrow genre, or style. It can happen to painters who are stereotyped as cubists, or impressionists, though they've actually produced works of genius that can't be put in either of those categories. Another example might be authors who become defined by their thrillers, or science fiction novels, but whose books also go far beyond those boundaries.
Often, these categorizations — justified or not — are the byproduct of enormous success, and that's what may have happened to Rossini. His comedies are some of the finest ever composed. They include gems such as La Cenerentola (Cinderella) and The Italian Girl in Algiers, which have been packing opera houses for nearly two centuries. And that's not to mention Rossini's mega-hit The Barber of Seville, which some have described as the most nearly perfect comic opera ever written. Ultimately, those comedies proved so successful that they've threatened to completely overshadow some of Rossini's finest artistic accomplishments.
Getting Serious
In 1815, Rossini began a period of about seven years in Naples, and many of the composer's greatest admirers think that his finest achievement of the period may have been a series of nine dramas sometimes called his "Neapolitan Operas." They're serious, often tragic works, and Rossini used those scores as vehicles to expand opera's traditional boundaries of form and style.
For some listeners at the time, Rossini may have gone too far. By the early 1820s, it seems that Italian audiences had grown cool to Rossini's increasingly adventurous music. Before long, he had moved to Paris, where he eventually retired from the opera house altogether at age 37. He lived another forty years without ever writing another opera.
Rossini's Zelmira appeared in 1822. It was the last of his Neapolitan operas, and perhaps the most pioneering, as well. The score dispenses with one of Rossini's signature elements, the brilliant orchestral overture. Instead, it plunges directly into a dark drama in which arias, ensembles and recitatives blend in an almost continuous musical flow, anticipating the more through-composed, Romantic style that soon came to dominate European opera.
On World of Opera, host Lisa Simeone presents a performance of Zelmira that comes straight from the source: the annual Rossini Opera Festival in the composer's birthplace, the Italian city of Pesaro. Soprano Kate Aldrich sings the title role, alongside Juan Diego Florez, arguably today's finest Rossini tenor, in a production led by conductor Roberto Abbado.
See the previous edition of World of Opera or the full archive.
The Story of 'Zelmira'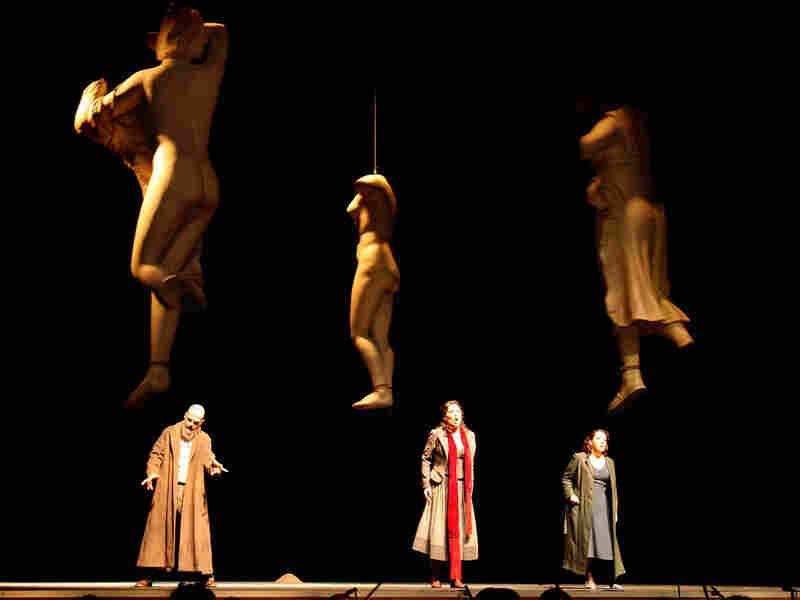 WHO'S WHO
Kate Aldrich ...................... Zelmira
Juan Diego Florez ............. Ilo
Alex Esposito .................... Polidoro
Gregory Kunde ................. Antenore
Mirco Palazzi ..................... Leucippo
Marianna Pizzolato ............ Emma

Teatro Comunale of Bologna Orchestra and Chorus
Roberto Abbado, conductor
Rossini's opera takes place on the Greek isle of Lesbos. The title character, Zelmira, is the daughter of Polidoro, the island's aging king. She's married to Ilo, a Trojan prince, who is traveling abroad as the action begins.
As ACT ONE opens, Lesbos has been overrun by a rival king named Azorre, the leader of Mitelene. Zelmira protects Polidoro by hiding him in the royal mausoleum, and then claiming that he died when his temple was burned. But the invaders accuse Zelmira of having murdered him — and she's afraid to deny it, as that might lead the enemy to believe the king is still alive.
Before long, Antenore, one of Azorre's generals, employs his brutal son Leucippo to assassinate Azorre, and then frames Zelmira for the crime. Now, she's accused of two murders, and things soon get even worse for her.
When Ilo returns, Antenore and Leucippo decide to kill him, as well. First, they convince Ilo that Zelmira really is a double murderer, and Ilo collapses in shock. Then, while he's out cold, Leucippo draws a dagger to stab him. But Zelmira prevents the murder by grabbing the knife herself. Ilo suddenly awakes and, seeing Zelmira with the blade in her hand, is convinced by the others that she was about to make him her third victim. Zelmira is arrested.
In ACT TWO, Antenore and Leucippo are beginning to suspect that Polidoro isn't dead after all. So they release Zelmira, follow her, and decide to trick her into revealing Polidoro's whereabouts. In the meantime, Ilo has already found Polidoro, who has told him all about the sacrifices Zelmira has made.
Antenore succeeds in tracking down Polidoro, who is promptly taken prisoner. But just as Antenore and Leucippo have decided to kill Polidoro, Ilo shows up with his troops. The forces of Antenore are defeated, and he and Leucippo are hauled away in chains. Polidoro reclaims his throne, and everyone celebrates as the opera ends.