Roots Of Central Nigeria Violence Deeper Than Faith
Roots Of Central Nigeria Violence Deeper Than Faith
The central Nigerian city of Jos is at the crossroads of the country's Muslim-dominated north and the mainly Christian and animist south. In recent months, renewed clashes between Muslim and Christian communities there have left hundreds dead.
Nigerian authorities are under mounting pressure to prosecute those behind the unrest. Nighttime curfews and an increased military and police presence are maintaining order — for now.
But observers warn that while religion may be the fault line for a decade of periodic fighting, underlying grievances in Jos go much deeper. The area is plagued by poverty, joblessness and fierce competition over land and scarce resources.
For generations, Jos' indigenes — indigenous people, including the largely Christian Beroms who traditionally rely on farming for their livelihood — lived side by side in peace with settlers who moved to the area, mostly Hausa or Fulani Muslims. The Fulani are traditionally herdsmen. Jos, which was a tin mining and tourism center with fertile farmland, was a magnet for migrants from all over Nigeria.
About 10 years ago, trouble erupted — for reasons including a roiling mix of politics, economics and rights to grazing lands, but which was fought along religious lines, with churches and mosques torched.
Latest Cycle Of Sectarian Slaughter
Picturesque rolling hills and giant boulders frame the farming village of Dogo Nahawa, on the outskirts of Jos, the once prosperous and cosmopolitan capital city of Plateau state.
On March 7, in the dead of night, the village came under siege.
Elizabeth Bulus, a 29-year-old Christian and mother of four, says that she heard gunshots at around 3 a.m. in the latest cycle of sectarian slaughter.
Another Christian resident, Victoria Yohanna, 28, with four children, says that this time, Fulani-speaking Muslims attacked the Christian Berom community in Dogo Nahawa.
Down a dirt track, past burned and blackened sand brick buildings, are the charred ruins of Yohanna's house. "I heard Fulani people speaking their language ... saying, 'Where are the pagans, where are the pagans? Come out,' " Yohanna recalls.
There were about 20 people, setting houses ablaze, she says.
"We ran away for our dear [lives]," she says. "All my in-laws, they just slaughter them like a goat. They cut the back of their necks, their head, their faces."
Witnesses say the attackers hacked Christian children, women and men to death with machetes, axes and other crude weapons, and rammed corpses down water wells.
Digging Deeper, Beyond Ethnicity And Religion
Experts say this second explosion of violence in as many months in the mainly Christian villages of Dogo Nahawa, Zot and Ratsat, south of Jos, was in reprisal for the murders of mostly Muslims in similar attacks in January.
But the Roman Catholic archbishop of Jos, Ignatius Kaigama, says it's too easy to blame the strife in Jos on ethnicity and religion.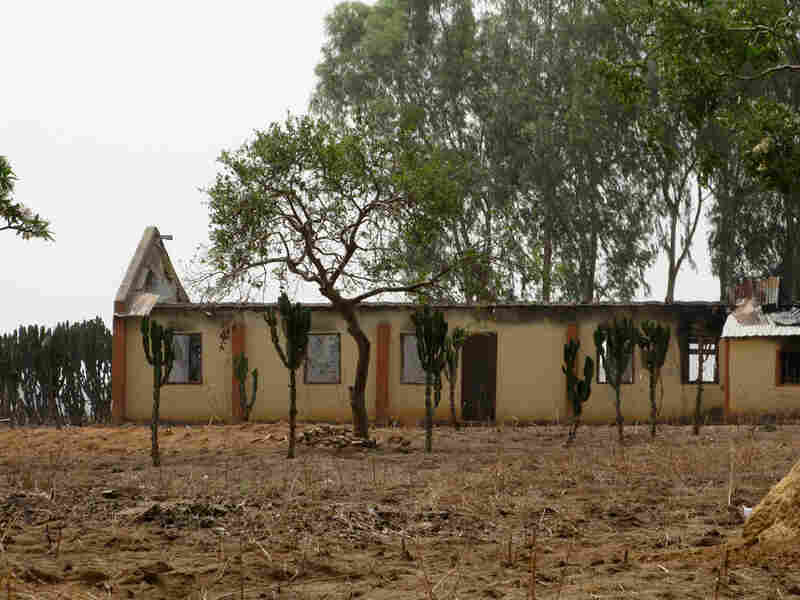 "I always insist that we should dig deeper than what appears on the surface. There are certainly social, economic, political factors responsible for this recurring crisis which we have never got at. Unless we do so, there will always be a cycle of violence in Jos and Plateau as a whole," Kaigama says.
Christian politicians control the government of Plateau state, and Muslims say that as a result, they have been marginalized and shut out from holding political office or government jobs. Christians, meanwhile, complain that Hausa and Fulani Muslims seek to seize political control. The communities also are divided along political lines, with Christians mostly backing Nigeria's governing party and Muslims supporting the opposition. In Nigeria, political power — and its system of patronage — are perhaps the most powerful resource of all.
In addition to this heady stew of social, economic and political factors, the archbishop warns that young people were being manipulated to do the bidding of others. "The youth are largely unemployed so they are a large army on the street. Then you have political opportunists and ignorant religious preachers who use these youths for their own selfish interests," he says.
Kaigama is on a committee instructed by Nigeria's acting president, Goodluck Jonathan, to come up with solutions to the grievances dividing the communities in Jos. Muslims and others are also represented.
Local Muslim spokesman Sani Mudi says the communities are polarized. Nigerian politicians in Plateau state need to demonstrate their commitment to peace in Jos, he says.
"Lack of political will and determination on the part of the leadership to bring about reconciliation is the bane of this crisis in Plateau," Mudi says.
Promoting Alternatives To Violence
Youth from across the communities of Jos pledged their dedication to peace at a recent conference, organized by Nigeria's privately run Institute for Governance and Social Research. The head of the institute, Jonas Isawa Elaigwu, planned the three-day peace gathering and said that the young people made recommendations for reconciliation.
"The youth has been used as cannon fodder. They suggested punishment of those found guilty as offenders in past cases of violence. The lack of efficacy of law enforcement has encouraged those who perpetrate violence to believe that they are sacrosanct, they are sacred cows. I believe that everybody is getting tired of violence," Elaigwu says.
The Nigerian Red Cross in the Jos area has integrated peace-building into its first aid training to help local communities, such as Daffo and Mbar, resolve conflicts.
Local Red Cross coordinator Manase Panpe says they teach participants alternatives to violence. "The targeted beneficiaries are perpetrators, inciters and victims of violent conflicts. You have the power to transform a potential conflict to a peaceful one," Panpe says.
Imagine two people on a very narrow bridge, he says. Who gives way first? They can transform that encounter into something positive.
"And at the same time they can transform the power negatively and it may result in fighting that may consume not only the two of them but may consume the whole community," Panpe says.
Mbar village youth leader Edward Silas Dikos says that the training they have been given "brings about togetherness, understanding, peace and brings about love."
Such peace-building efforts could help the villagers of Dogo Nahawa, where army and police patrols provide protection now, after the recent killings.
Yet despite increased security around Jos, and a dusk-to-dawn curfew, reports persist of isolated abductions, claiming the lives of Muslims and Christians. Death threats are circulating once again in poisonous hate text messages and people are living in fear.