Donny Hue and the Colors: 'Real Long Time'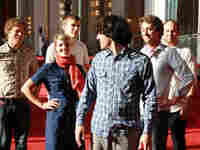 "Donny Hue and The Colors" is a psychedelic pop band fronted by Ed Donohue, with members from various cities along the east coast. While the band now calls Brooklyn home, Colors band members have previously been associated with DC's Washington Social Club and Virginia's The Carlsonics.
Their debut, Folkmote was recorded over one weekend in Richmond, VA. To keep with the photography theme, every song is saturated beyond belief. "Over those two days we cluttered the studio with organs, autoharps, melodicas, glockenspiels, and theremins," says the band.
"Real Long Time" sounds like a demented cover of The Velvet Underground's "Run Run Run" with ragtime piano and innumerable repetitions of "It takes a real long time!" To grasp all the instruments blasting through the speakers, it takes a few listens – some deep focus if you will.