Stevens Earns Kudos, Kind Words From Left To Right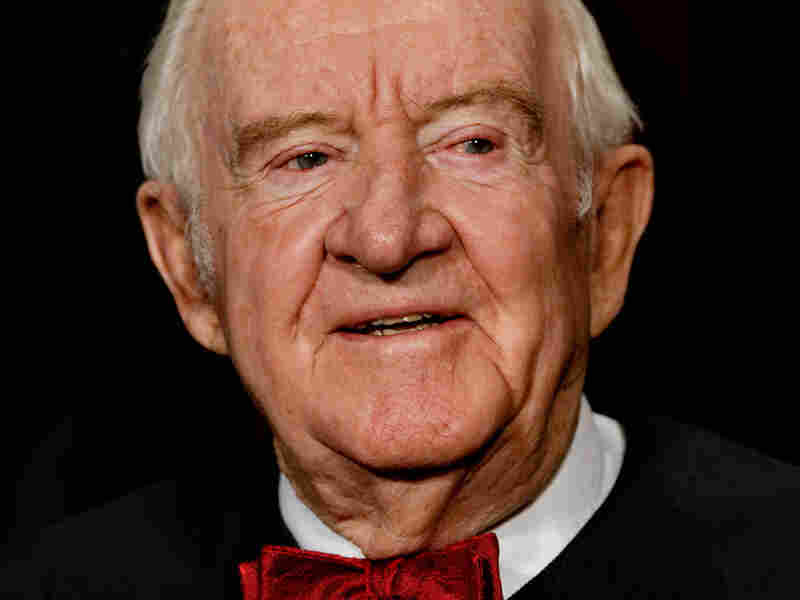 Unfettered praise and grudging respect greeted Justice John Paul Stevens' announcement that he will retire this summer at age 90 after 35 years on the Supreme Court.
Those comfortable with Stevens' role as the dean of the court's liberal bloc hailed his "leadership," his "commitment to expanding freedom" and his "irreplaceable" perspective.
From the right came admiration of his "devotion to the institution" and "historic service," coupled with caveats about "different judicial philosophies."
President Obama lauded Stevens for having "applied the Constitution and the law of the land with fidelity and restraint" and said "his leadership will be sorely missed."
"He has worn the judicial robe with honor and humility," the president said.
Heard On 'Morning Edition'
U.S.
Supreme Court Justice Stevens Retiring At 90
Supreme Court Justice Stevens Retiring At 90
Senate Minority Leader Mitch McConnell of Kentucky touched on the political differences he and many fellow Republicans had with Stevens:
"Even if Justice Stevens' liberalism has led to many decisions I oppose, I respect his devotion to the institution and the gentlemanly manner in which he always carried out his work," McConnell said.
Stevens, nominated by Republican President Gerald Ford in 1975, is the oldest and longest-serving justice currently on the court.
David Brooks, a columnist for The New York Times, told NPR's Melissa Block that Stevens typifies the shift in American history.
"That was a ... less ideological age when a Republican could pick somebody without passing them through all sorts of litmus tests," Brooks said. "He would never pass litmus tests in any ideological age for a Republican nominee."
In Depth: The Court's Liberal Leader
Justice Stevens forged unexpected majorities on a broad range of issues until the court moved to the right.
E.J. Dionne, a columnist for The Washington Post, called Stevens "the greatest justice of the greatest generation."
"He was brave, consistent and clear," Dionne told Block.
Stevens said he hopes his successor is confirmed "well in advance of the commencement of the court's next term," which begins in October 2010.
At A Glance: John Paul Stevens
Born: April 20, 1920, in Chicago, Ill. Stevens' father, Ernest, built the Stevens Hotel, the largest hotel in the world at the time.
Education: University of Chicago, A.B., 1941; Northwestern University School of Law, 1947. He served as editor-in-chief for the law review at Northwestern.
Married: Elizabeth Sheeren, with whom he has four children; they divorced in 1979. Stevens married Maryann Simon in 1980.
Military: Earned a Bronze Star while he was enlisted in the Navy during World War II
Early Career: After law school, Stevens clerked for Supreme Court Justice Wiley Rutledge and later worked at a Chicago law firm that specialized in antitrust cases.
On The Bench: Appointed to the U.S. Court of Appeals for the Seventh Circuit by President Nixon. In 1975, he was appointed to the Supreme Court by President Ford. Stevens was unanimously approved by the Senate.
Sources: News reports; Encyclopaedia Britannica; oyez.org
Following Stevens' announcement Friday, Chief Justice John Roberts, a Bush appointee, praised his colleague's "intellect, independence and warm grace." Senate Judiciary Committee Chairman Patrick Leahy, a Democrat from Vermont, said "his stalwart adherence to the rule of law is unparalleled."
While Stevens was appointed by a Republican president, he became a leader of the court's liberal wing, though he always contended that his legal and political views didn't change but that the court simply moved to the right.
Stevens' departure comes as conservatives hold a slim margin on a high court that often votes along partisan lines.
"The loss of such a great leader at a time of great change for America and the court is worrisome," said Sen. Charles Schumer, a Democrat from New York who serves on the Judiciary Committee. "Justice Stevens' greatness is marked not only by the length of his service but the enduring quality of his jurisprudence."
"In recent years the court has given extraordinary preference to powerful interests at the expense of ordinary Americans," said Michael Keegan, president of the liberal interest group People for the American Way. "Justice Stevens was a bulwark against that trend."
One who found a bit of a middle ground was Sen. Orrin Hatch, a Republican from Utah who is a former chairman of the Senate Judiciary Committee and remains a member.
"Justice Stevens has had a profound impact on the judiciary and the law," Hatch said. "He is a remarkably dedicated public servant and a profoundly decent human being."
Sen. Dick Durbin of Illinois, a Democrat who also serves on the Judiciary Committee, said Stevens' "legal legacy" includes "commitment to expanding freedom, safeguarding our rights and liberties and understanding the challenges faced by ordinary Americans."
"He has had no judicial agenda other than fidelity to the law and the Constitution," Durbin said.
McConnell also looked ahead to what are likely to be contentious Senate confirmations for a Stevens replacement, while Leahy appealed for civility.
"Americans can expect Senate Republicans to make a sustained and vigorous case for judicial restraint and the fundamental importance of an evenhanded reading of the law," McConnell said.
"I hope that senators on both sides of the aisle will make this process a thoughtful and civil discourse," he said.
With reporting from NPR's Scott Neuman, Ari Shapiro and Pam Fessler; and additional material from The Associated Press