Obama Orders Inspections Of 'Troubling' Mines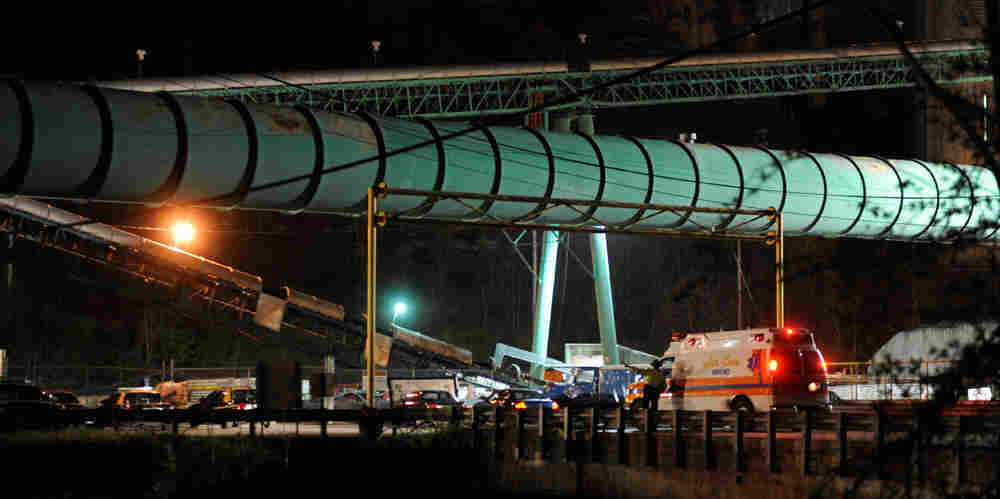 President Obama has ordered federal mine safety inspectors and enforcement officials into mines with "troubling safety records" in response to last week's deadly explosion at the Upper Big Branch mine in West Virginia.
Obama acted after receiving a preliminary report on the incident that killed 29 miners and was the nation's deadliest coal mine disaster in decades. Labor Secretary Hilda Solis and Joe Main, assistant secretary for mine safety and health, briefed the president Thursday on the mine blast and the status of mine safety nationwide.
The owners of the Upper Big Branch "should be held accountable for decisions they made and for preventive measures they failed to make," Obama said.
The Mine Safety and Health Administration rejected an NPR request for a list of the troubled mines slated for immediate inspection. NPR also requested the safety records for those mines.
"There is no list to distribute because MSHA does not give advance notice to mine operators about enforcement activity," agency spokeswoman Amy Louviere said, citing federal mine safety law.
Obama said the Upper Big Branch disaster was "a failure first and foremost of management, but also a failure of oversight and a failure of laws so riddled with loopholes that they allow unsafe conditions to continue." He noted that a federal mine safety agency investigation is ongoing, and he also ordered a sweeping review of mine safety nationwide.
Referring to mine owner Massey Energy, Obama said, "Owners responsible for the conditions in the Upper Big Branch mine should be held accountable for decisions they made and preventive measures they failed to take."
He ordered Solis to work with the Justice Department on the investigation, suggesting a review for possible criminal charges.
"The safety record at the Massey Upper Big Branch Mine was troubling," he said. "And while it's clear that there are many responsible companies, far too many mines aren't doing enough to protect their workers' safety."
The mine safety review begins immediately and will include attempts to strengthen enforcement of existing laws and to "close loopholes" that permit mine owners to file appeals of safety citations. About 16,000 such appeals now clog the mine safety inspection system.
"Safety violators like Massey have still been able to find ways to put their bottom lines before the safety of their workers, filing endless appeals instead of paying fines and fixing safety problems," the president said.
Massey Energy responded to the president by calling his remarks "regrettable."
"We fear that the president has been misinformed about our record and the mining industry in general," the Massey statement said.
Obama's characterizations of Massey are based on the preliminary report on the Upper Big Branch explosion, which harshly describes Massey's safety record. "This was a mine with a significant history of safety issues," the report concludes, "a mine operated by a company with a history of violations, and a mine and company that MSHA was watching closely."
The most troubling statistic, the report says, involves 48 "withdrawal orders" in 2009. In each case, miners were pulled from the mine for their own safety until "repeated significant and substantial violations" were corrected. These were violations "the mine operator either knew, or should have known, constituted a hazard. Massey failed to address these violations over and over again until a federal mine inspector ordered it done."
The report says these violations occur at a rate at the mine that is 19 times the national rate.
In the same year, according to Massey, the company received three safety awards from the mine safety agency. But none of those awards were given to the Upper Big Branch mine.
Also, an NPR News investigation identified 10 of Massey's underground coal mines with injury rates last year that are higher than the national rate. Miners at four of those mines were injured at twice the national rate.
Still, Massey said in its response to the president that it "believes in safety, accountability and responsibility." The company also said "some are rushing to judgment for political gain or to avoid blame."
The report criticizes Massey for routinely filing the kind of appeals of safety citations that have bogged down the mine safety system. "In 2007 alone," the report says, the Upper Big Branch Mine "contested 97% of its significant and substantial violations."
Massey says it disagrees with a number of the violations but says most are fixed the same day they are discovered.
The president directed the Labor Department to streamline the rules in the citations and appeals process that determines whether mine operators have committed a "pattern of violations," which triggers formal warnings, increased scrutiny and the possibility of forced shutdowns if violations are not corrected.
There also will be a review of the Mine Safety and Health Administration and how it operates. Earlier this week, the agency admitted that its computer system for tracking violations failed to count eight citations at Upper Big Branch in the months before the explosion. Those citations, the agency said, would have subjected the mine to greater scrutiny. But Labor Department officials also said the computer glitch was not a factor in the accident.
Obama said miners must be empowered to report safety problems, but he did not describe how that might be accomplished.
Massey Energy's board of directors issued a statement after the president spoke. "We are firm believers in accountability and will ensure that Massey Energy works with state and federal agencies to discover the cause of this terrible tragedy," the statement read.
It also cautioned against "a rush to judgment before the investigation is completed," perhaps in response to Obama's clear indication that Massey management shares blame for the disaster. "Only a thorough and complete investigation can provide the answers we seek," the Massey board said.
Yesterday, West Virginia Gov. Joe Manchin ordered an immediate inspection of all underground coal mines in his state. Manchin's order targets mines with repeated risk of combustion. An explosive mix of methane gas and coal dust is suspected of being the cause of the Upper Big Branch disaster.
"We will focus initially on those [mines] that we regard as somewhat troublesome," says Ron Wooten, the director of West Virginia's Office of Miners' Health Safety and Training.
State investigators are expected to begin their work Friday. Manchin says he wants the higher-risk mines inspected in the next two weeks.
Just three weeks ago, federal mine safety officials and representatives of mining companies and unions gathered at the Labor Department in Washington to mark 2009 as the industry's safest year on record.
NPR's Robert Benincasa contributed to this report, which also includes material from The Associated Press