Harsh Conditions Complicate China Quake Search
AP

AP

AP

AP

AP Photo

Wu Hong/Xinhua/AP

AP Photo

Ren Xiaogang/Xinhua/AP

Ren Xiaogang/Xinhua/AP
Teams searching for survivors of a powerful quake on China's mountainous Tibetan plateau were grappling with altitude sickness and a "logistical nightmare" as they worked to get excavators and supplies into the remote region where at least 617 people have died and thousands are injured.
Many survivors of Wednesday's magnitude 6.9 quake spent the night outside in freezing temperatures with their injuries still unattended, witnesses said. Rescuers exhausted from the high winds and thin oxygen levels pulled survivors and bodies from the pulverized remains of Jiegu township, about 20 miles from the epicenter in western Yushu county.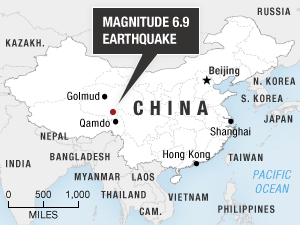 Relief operations picked up pace after workers spent most of Wednesday clearing roads and opening the nearby airport. But the region's high altitude and gusty mountain winds hampered rescue crews and even search dogs as they combed for survivors in the area, which is 13,000 feet above sea level.
"It's really a logistically nightmare for the Chinese authorities dealing with this earthquake, given [its] … remoteness," NPR China correspondent Louisa Lim reported.
Similar to the Sichuan earthquake that struck central China two years ago, many schools reportedly collapsed, killing students inside. Local officials say 11 schools fell during the quake, with one report estimating that 200 students were buried in the wreckage of one school alone.
Heard On 'Morning Edition'
Asia
Relief Workers In China Dig For Quake Victims
Relief Workers In China Dig For Quake Victims
Science
Foreshock May Have Preceded China Quake
Foreshock May Have Preceded China Quake
"We're hearing that 15,000 homes have been destroyed [and] 100,000 people have had to be moved -- virtually the entire population of [Yushu] county," Lim said.
Supplies of food, water, gas and other necessities were running low, said Pierre Deve, a program director at the Yushu-based community development organization Snowland Service Group.
Deve said he waited for hours in a line of some 100 cars at the only open gas station in Jiegu, where most shops remained shut. Local Buddhist monasteries handed out some food, while people scavenged what they could from what was left of their houses.
China's state media said hundreds of people had been pulled from the rubble alive. CCTV showed rescuers picking through the crumbled remains at night aided by flashlights fixed to their safety helmets. A group of workers found a girl who had been trapped for more than 12 hours under a heap of debris.
President Hu Jintao and Premier Wen Jiabao pledged that the government would do everything in its power to aid the rescue efforts.
Wen toured the quake zone as evening fell. A journalist at the scene said Wen climbed on a pile of rubble to address the crowd, even as relief workers continued to dig for survivors behind him. He was greeted warmly by the mostly Tibetan residents of Yushu county in Qinghai province, according to the report.
NPR's Lim said Buddhist monks were also helping clear rubble but that some at least some of the local monasteries were devastated by the quake. China's Tibetan Autonomous Region and parts of Qinghai province were the focus of peaceful anti-government protests by monks in 2008 that later erupted into violence.