Oliver Platt 'Gives' His All On Film, TV And Stage
Oliver Platt 'Gives' His All On Film, TV And Stage
Piotr Redlinski/Sony Picture Classics
To prepare for his role as a journalist in Ron Howard's Frost/Nixon, actor Oliver Platt thought back to his own experience with the Watergate hearings. His father, a career diplomat, had been stationed in Washington when the scandal broke -- and was a Nixon administration representative in Japan when the president resigned.
"I remember very clearly, we were driving out to the country, and the news came over the radio, and my parents pulled the car over," Platt says. "They told us all to listen. ... I remember everyone being totally consumed by the hearings, and I ... was conscious of my parents being obsessed by it."
During his time in Asia Platt's father, who would go on to serve terms as U.S. ambassador in Pakistan, Zambia and the Philippines, traveled on diplomatic missions with key Watergate figures -- including, on his groundbreaking trip to China, the president himself.
"He's actually just published a memoir about it called China Boys, about the opening of China," Platt says. "[My dad] literally has a home movie of Nixon getting off the plane and shaking Zhou Enlai's hand, and he's literally 15 yards away from him. So my father really had complicated feelings about [Watergate.]"
Platt says that moving with his family every two to three years helped fuel his interest in acting -- because it became a way for him to ease the transition into a new school.
"I auditioned for the Christmas pageant [at one school], and I was cast as the innkeeper who turned Mary, Jesus and Joseph away from the inn," he says. "I said my line and the place went nuts, and it must be because I said it so inappropriately, because I don't think the innkeeper turning Mary, Jesus and Joseph away from the inn is necessarily a hilarious moment. But however I said it, I got a big reaction ... and so I kept on doing school plays -- and it became this instant way to plug into a group."
After majoring in drama at Tufts University, Platt was cast in Jonathan Demme's Married to the Mob. That role led to parts in Working Girl, A Time to Kill and The Impostors, in which Platt played an actor improvising with complete strangers.
Platt has also played icons real (George Steinbrenner in the ESPN miniseries The Bronx is Burning) and fictional (gambler Nathan Detroit in a recent Broadway revival of Guys and Dolls), and he was the White House chief of staff in last summer's disaster drama 2012.
That role recalled the one that brought him probably his largest audience: In 2001, Platt signed on to guest star as Oliver Babish, the White House counsel on Aaron Sorkin's drama The West Wing. Platt, who was nominated for an Emmy for his portrayal of Babish, says it was a particular pleasure to play such an outsize character -- a brutally honest adviser to the embattled fictional President Bartlett (Martin Sheen), under investigation for concealing his multiple sclerosis diagnosis during a campaign.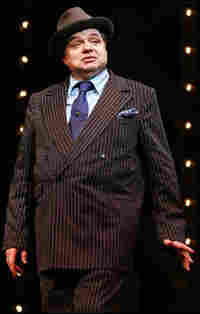 "Here you had this great man in the White House, surrounded by all of these people who were bright and educated, who had their hearts in the right place and who completely worshipped him and were loyal to him, and ... here was this guy [Babish] who recognized how much trouble [the president] was potentially in and was completely direct with him," Platt says. "The character ... cut across the current of the rest of the personalities of that show. And so all I really needed to do was to get on the horse and ride."
It wasn't always an easy ride, though. Among other things, series creator Sorkin insisted that his actors recite the words exactly as they were written in the script.
"There's this nice little lady who sits behind the camera ... and she would tell you afterward if you literally got an 'a' or a 'the' or a 'but' wrong -- and you'd have to do it all over again," he says. "And that Oliver Babish, he was a talky fellow -- there were some lengthy speeches."
In Platt's latest project -- Nicole Holofcener's film Please Give -- he plays Alex, a married, middle-aged furniture salesman who wants to expand his Manhattan two-bedroom into the apartment next door. Before he and his wife, played by Catherine Keener, can knock down the walls of the new unit, however, he has to wait for his next-door neighbor to die. Holofcener has said that she wrote the role of Alex with Platt in mind -- which, he jokes with Terry Gross, must be due to his "struggling schlub" quality.
"He has a kind of marvelous cluelessness, which I think on a certain level allows him to get away with the things he does in the movie," Platt says. "Not that he actually gets away with them. ... I think he's just as surprised by what happens to him in the movie as anybody else is."