Mixed Picture One Year After Serve America Act
Mixed Picture One Year After Serve America Act
AmeriCorps Application Submissions
So far this calendar year, AmeriCorps has seen a jump in applications.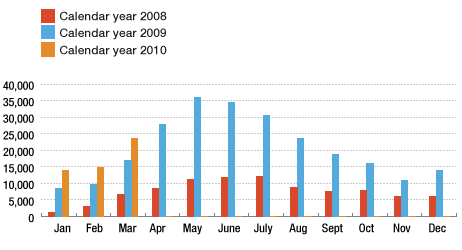 A year ago Wednesday, President Obama signed one of the few bipartisan bills enacted in his administration so far: the Edward M. Kennedy Serve America Act. The law creates more volunteer opportunities and triples the size of the AmeriCorps national service program. But a year after the legislation was signed, the money is just starting to trickle out.
This summer, Jessica Bromelkamp, with the nonprofit group Earth Force, will work with disadvantaged middle-schoolers as part of the Summer of Service program, which was created by the Serve America Act. It gives participants up to $500 to help pay for college. Her group is sharing in the $2 million in grants handed out this year for the Summer of Service program.
Jean Manney, a program associate with Innovations in Civic Participation, a group that spearheaded the idea, says the goal is to teach at-risk kids how to become active in their communities.
"We're also looking at leadership skills and trying to promote academic skills, too, in terms of public speaking and critical thinking and literacy," she said.
But Summer of Service is the only program created by the Serve America Act, where grants have been awarded so far. Several others are just getting off the ground. For example, $50 million has been set aside to fund nonprofits with innovative ideas for solving social problems, but that money won't start going out until June.
Patrick Corvington, the new head of the Corporation for National and Community Service, says it takes time to get the ball rolling. His agency is still on track to triple the number of AmeriCorps slots to 250,000 over the next eight years.
"We'll meet those numbers because people want to serve," he said. "We're seeing a record increase in the number of organizations who are applying for more AmeriCorps members.
"We're seeing a record number of young people who want to become engaged in service."
In fact, the agency says applications for AmeriCorps have tripled over the past year. Corvington says even more importantly, there's a new attitude about volunteering and national service.
"I have to confess that in my early parts of my career, I was one of those who thought, volunteers, well, I guess I'll have them stuff some envelopes and do those kind of things," he said. "When I talk to executive directors today, they see volunteers as a critical resource to them."
He says the Serve America Act encourages such thinking among those seeking government grants. It's also pushing nonprofits to do a better job of measuring the impact of their work.
But how well all this plays out remains to be seen, says Howard Husock, director of the Social Entrepreneurship Initiative at the Manhattan Institute, which advocates free-market thinking. He says the $50 million social innovation fund, for example, could identify creative nonprofits as models for the rest of the country.
"Those can start to become the new normal for hidebound bureaucratized federal programs," he said. "The danger is that these bright young stars are themselves going to get captured and become bureaucratized."
He says he also worries about the impact on the nonprofit world of the government deciding who gets all of these new AmeriCorps volunteers. But, like others, he's still waiting to see how the new law is actually put into effect.