Trucking Rivals Fight Lobbying Battle Over Legislation
Trucking Rivals Fight Lobbying Battle Over Legislation
Comparing the effort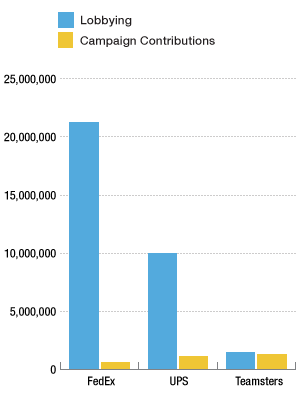 One reason Americans' trust in Congress is at historic lows is that they think lawmakers pay too much attention to special interests. This problem is so obvious that corporate lobbyists are using it against each other.
This is about the never-ending battle between Federal Express and UPS and a legislative provision to knock out one of FedEx's competitive advantages: its nonunion truck drivers.
The FedEx lobby campaign has some off-beat Web videos, tagging the provision with that modern epithet, "bailout."
The videos feature a long-haired dude representing UPS.
"As you can see, I'm here in the nation's capital, and I'm lookin' for my bailout," he says. "I mean, everyone else is gettin' one. Why not me?"
The provision isn't a bailout that would throw taxpayer money at UPS. What it would do is make it easier for unions to organize the truck drivers at FedEx Express, the part of FedEx that ordinary consumers use.
FedEx Express is an airline top to bottom. It avoids the labor law that regulates UPS and other trucking companies. So while UPS drivers all belong to the Teamsters union, the law for an airline such as FedEx Express makes it much harder to unionize.
The provision would effectively reclassify FedEx Express drivers as nonairline employees.
"It really boils down to this: When you receive a delivery from a FedEx driver, it's not a pilot, it's a driver," said Ken Hall, who directs the Teamsters unit for delivery-truck drivers. "They don't fly in or land their airplane and deliver the package. It's a driver, just like everyone else in the country receives them."
Maury Lane, director of corporate communications at FedEx, said the legislation was written "by UPS, for UPS and benefits only UPS."
"Who it hurts is the consumers, and it hurts taxpayers, and it actually takes a lot of people's confidence out of government," Lane said. "You know, this is one of those crazy things that you see in Washington, and when you learn more about it, you really can't believe what's going on."
UPS spokesman Malcolm Berkley said it's FedEx that's committing lobbying malpractice.
"Once again, the American public and Congress is being fed a bunch of lines by a company that will do anything to maintain its special interest," Berkley said.
But the fight involves more than just the content of the provision. FedEx also attacks the way congressional Democrats moved it forward. It's in a big aviation bill that has funds for a long-delayed overhaul of the air-traffic control system.
The House passed the bill last year. Now it's a must-pass item in the Senate, but Republican Sen. Lamar Alexander of Tennessee, FedEx's home base, said he'll block the whole thing if the FedEx language is in it.
The lobbying dollars are flying on this one. It's a top priority for all three players. Since January 2009, UPS and the Teamsters together have spent $11 million on Capitol Hill. FedEx has spent $21 million.
Lane said FedEx has done polling.
"We found out that 9 out of 10 Americans don't like special-interest legislation like this, and that Congress, you know, with the very low popularity it has, should stay away from these kinds of things," Lane said.
But Congress can't stay away. In fact, back in 1996, senators were arguing this precise issue, but in reverse.
Language to protect FedEx Express from the unions was put into a must-pass aviation bill, which Massachusetts Democrat Edward Kennedy tried to block.
"Federal Express will have another weapon to turn its back on the legitimate rights of workers and workers' rights," Kennedy said at the time. "And that finally is what this is all about."
Kennedy failed, and 14 years later, the two companies, the Teamsters and Congress are at it again.