Venezuela's Chavez Tightens Grip On Judiciary
Venezuela's Chavez Tightens Grip On Judiciary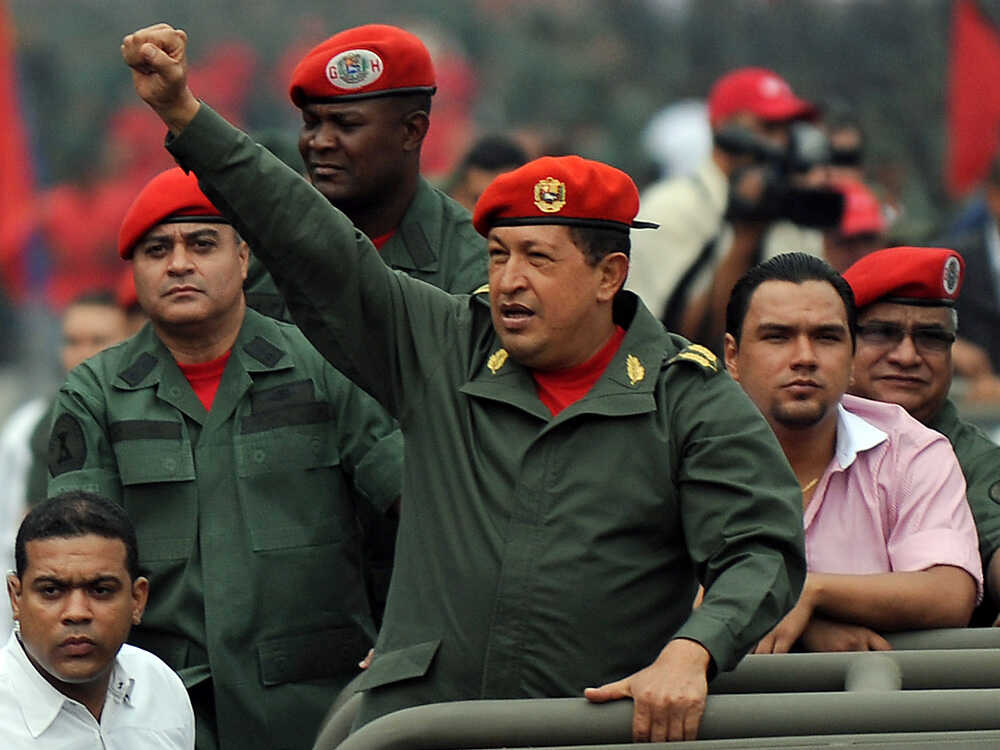 Juan Barreto/AFP/Getty Images
In a move that has drawn criticism as an attack on judicial independence in Venezuela, President Hugo Chavez has jailed a criminal court judge. Her transgression, critics of Chavez say, was straying too far from what the government wants.
Human-rights groups say the independent-minded judge, Maria Lourdes Afiuni, was jailed on trumped-up corruption charges after she allowed the release of a former banker who had once benefited from his ties to the government.
Just 15 minutes after her ruling on Dec. 10, intelligence agents stormed Afiuni's court, arresting her and her entire staff.
In a televised speech the following day, Chavez said Afiuni, 46, deserved a maximum 30-year jail sentence "in the name of the dignity of the country."
Chavez, elected to office in 1998, is known to his opponents for his increasingly authoritarian rule and his vocal opposition to U.S. foreign policy.
Sitting in a tiny cell in an overcrowded women's prison near the capital, Caracas, Afiuni told NPR she knew the ruling she handed down might anger the president, and she doesn't hold out much hope that she will be freed.
She was arrested Dec. 10 after granting a conditional release to Eligio Cedeno. The former banker had been held for nearly three years without a hearing. He was accused of evading currency controls.
Suggesting that Afiuni had been bribed, prosecutors accused her of corruption and abuse of office for having freed Cedeno. The state has yet to present evidence against the judge.
Afiuni was rounded up by the national intelligence service, along with her court bailiffs, clerks and secretaries.
One of Venezuela's top constitutional experts, Carlos Ayala, said Afiuni's detention showed how far the government was prepared to go to quell dissent and demonstrated Chavez's iron grip on the judiciary. "Judges are scared in Venezuela, about deciding independently," he says.
In the past, Ayala said, judges were fired for issuing rulings the president did not like.
"Nowadays, judges are afraid that they not only can be dismissed, and lose their jobs, but they can be put in prison after Judge Afiuni's detention," he says.
Ayala says Chavez's political opponents in Venezuela face similar challenges and that the intelligence service has arrested increasing numbers of the president's most critical adversaries.
Student leaders and two opposition politicians who publicly denounced the president and held a protest demonstration are among those who have been recently imprisoned.
"In Venezuela, there is a grotesque inequality under the law," says former judge Juan Carlos Apitz.
In 2003, Apitz was fired for issuing a ruling Chavez publicly condemned on national television. The Inter-American Court on Human Rights ruled that he should be reinstated, but Apitz remains banished from the bench.
Those who oppose government policy in Venezuela cannot hope to get a fair hearing, he says. Apitz says the government has packed the judiciary with its supporters "who fervently back the president and his political agenda."
Juan Barreto/AFP/Getty Images
The same charge was made in a new report published by the human-rights branch of the Organization of American States.
It is not unusual for judges in Venezuela to publicly express their admiration for the president.
In 2006, some Supreme Court justices chanted the slogan of Chavez's self-proclaimed Bolivarian revolution, promoting participatory democracy, socialism, regional cooperation and helping Venezuela's poor majority.
The president of the Supreme Court, Luisa Estela Morales, recently called the separation of powers "hateful" and "divisive."
Meanwhile, the mother of Afiuni, the imprisoned judge, says she prays that a higher power will free her daughter. "I am full of anguish, especially since I hear that a Supreme Court judge will be making the final ruling on this matter," says Elina Mora. "I don't see any legal way out of the dilemma."
Speaking in her tiny prison cell, Afiuni told NPR she keeps herself busy studying other prisoners' case files.
Afiuni said she landed in jail on a presidential whim, and it is up to Chavez whether she will ever be freed.