Chicago Wants To Soup Up School Menus
Chicago Wants To Soup Up School Menus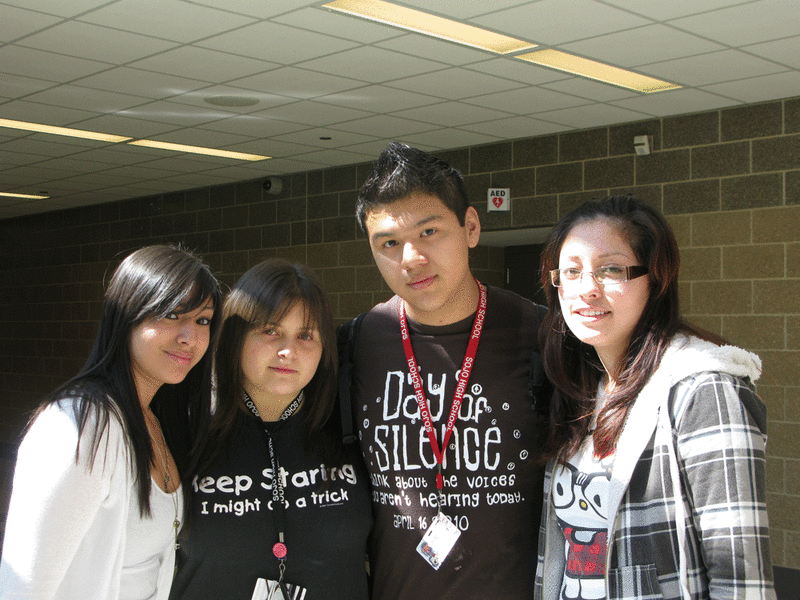 Chicago Public School students can say goodbye to doughnuts, Pop-Tarts and daily doses of nachos and greasy pizza.
The Chicago Board of Education on Wednesday adopted new nutritional standards for school breakfasts and lunches, promising that next year the meals will be tastier and much healthier. With the move, the school system becomes one of the largest in the nation to attempt to equal or surpass the U.S. Department of Agriculture's "gold standard" nutritional guidelines.
Students have themselves to thank for the changes. Their complaints about nasty nachos, mystery meats and oddly colored chicken patties in part prompted the school board to make changes to the 120,000 breakfasts and 280,000 lunches it serves students every day.
'Nasty And Disgusting'
"We had nachos, pizza with cheese and grease all over it," said Jessica Ortega, a senior at Chicago's Social Justice High School in the city's Little Village neighborhood.
"I would have to say [the food is] nasty and disgusting -- freezing cold, rotten at times. I mean, the fruit is sometimes rotten," added Teresa Onstott, a sophomore at the school.
Sophomore Brian Damacio says much of what's served in the school cafeteria is difficult to stomach.
"I couldn't eat the pizza; I tasted it once and I got really sick," Damacio said. "And the chicken patties, they got like spots on them, so I stopped eating that."
These students say they dislike not only how the school lunches taste, but also the fact that the daily servings of nachos, pizza, hamburgers and hot dogs are unhealthy -- high in calories and sodium -- and contributing to an already-serious childhood obesity program in Chicago.
The students said the school meals make them feel sluggish and tired and affect their performance not only in the classroom but also on the track and volleyball court, and in other after-school activities, too.
"You need food in your body to keep you focused," said sophomore Theresa DeLaRosa. "That's what keeps you going in the day, and if you don't eat, you're blank."
Need For A Nutritious Meal
These students were so upset with the poor quality of their cafeteria food, they went before the Chicago Board of Education last month to urge it to make school meals healthier.
Roughly 80 percent of Chicago's 400,000-plus public school students live in poverty and qualify for free or reduced-price meals. Onstott reminded board members that school is often one of the few places students are able to get a nutritious meal.
"Parents rely on schools to give their children nutritious meals, not tan-colored slop, hard bread and juice full of sugar in some nonbiodegradable and hazardous plastic bottles," Onstott told the school board last month.
Although Chicago school officials say current meals are not all that bad, they agreed there's room for improvement.
New Fare
The new nutritional standards make Chicago one of the largest school districts in the nation to try to exceed federal "gold standard" guidelines.
Louise Esaian, who heads Nutrition Support Services for Chicago Public Schools, says beginning next fall, a greater variety of vegetables will be offered in school lunches, with more dark-green and orange veggies and fewer starchy ones.
Nachos will be served once a week instead of every day, and there will be more whole grains, too. And, Esaian says, the days of doughnuts and Pop-Tarts for breakfast are numbered.
"No breakfast items that will be served will contain any dessert or candy-type ingredients," she said.
The vendor getting the $61 million contract to supply breakfast and lunch to most of Chicago's 650 public schools says the company is already working to buy as much fresh produce from nearby farms as possible -- and it's taste-testing some of the new menu items in some schools.
The students at Social Justice High School, for example, say they like the new vegetarian pizza being offered there, as well as other new items.
But Chicago Schools CEO Ron Huberman joked during Wednesday's board meeting that no matter what the schools do, student complaints about cafeteria food probably aren't going to end anytime soon.