In 'Enron,' Raptors And 'Star Wars' And Song (Oh My!)
In 'Enron,' Raptors And 'Star Wars' And Song (Oh My!)
Some Troubling Scenes From 'Enron'
'We Got Great Share Price'
'Everything I've Ever Done'
Over the past couple of years, we've become accustomed to hearing about the failure of corporate giants on television and in newspapers. But on Broadway?
Enron, which opened at the Broadhurst Theatre this week, tells the infamous story of how the Texas company went from being one of the world's leading energy corporations to Chapter 11 bankruptcy.
If it sounds dull, think again. The play's 29-year-old British playwright, Lucy Prebble, makes a point of adhering to an ancient stage adage: Thou shalt not be boring.
"I don't want to write a play about finance that's boring, because that's what people expect," Prebble says.
But that isn't to say there wasn't colorful material to work with.
"They hired Cirque du Soleil to perform at their company parties," she says. "So, I thought, can we bring that flamboyance to the stage?"
In Enron, Prebble has created a highly theatrical work, using songs, dance and videos, alongside convicted felons Jeffrey Skilling, Kenneth Lay and Andrew Fastow.
Director Rupert Goold says Prebble uses just about every device in a playwright's tool kit to bring the culture of Enron to the stage.
"It needs theatricality. It needs metaphor. It needs big images," Goold says. "And a lot of them came out of Enron itself, which was such a sort of strange and warped organization, linguistically as well as economically. And so the raptors that feature in the show -- even the references to Star Wars that we extrapolate out in the show -- were very much in Enron anyway."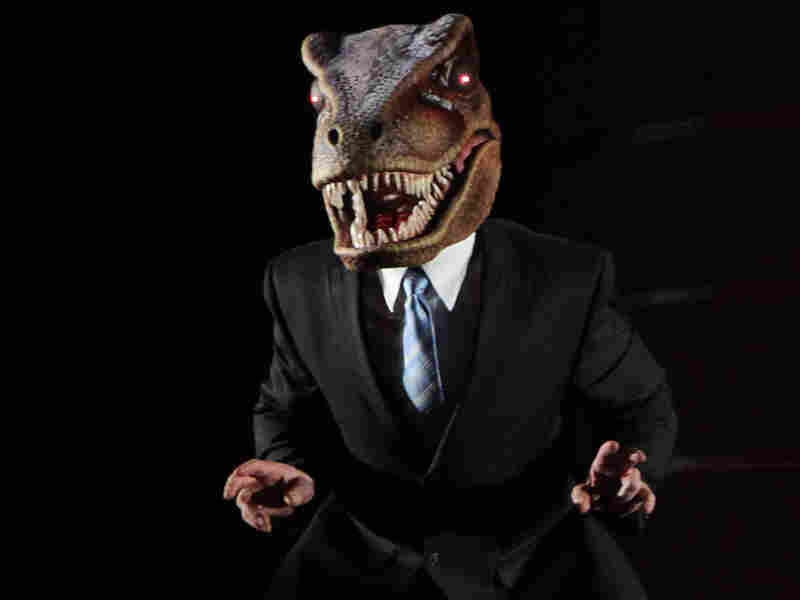 That's right, raptors and Star Wars.
Enron's raptors are a whimsical embodiment of the dummy corporations Fastow, the company's chief financial officer, set up to mask the company's unprofitability. In the play, they live in Fastow's office and voraciously eat up the company's debt.
Prebble says one of her chief challenges and motivations as a dramatist was to find ways to take complex and often deliberately opaque financial concepts, and make them clear for an audience.
That's why the play doesn't shy away from bold theatrical choices like using a light saber dance -- a la Star Wars -- when California's electricity is deregulated and Enron's traders jack up prices with disastrous results for the state, but lots of money for the company.
In this case, though, it's OK to take the Star Wars references a bit more literally.
"They named their trading strategies things like 'Death Star,' " Prebble says. "I mean, the most tasteless, immature thing you can imagine. But when you've got that material there, then of course you go, 'Well wouldn't it be great, then, to portray it with a dance?' "
The razzmatazz of numbers like "The Trading Song" helped make the play a hit in London, and while Goold hopes its success will be replicated in New York, he does notice a difference in perception.
"When we did it in England, it was a play that had some slightly Broadway-ish values," he says. "But now we're on Broadway, strangely, it feels like a show that has a kind of cerebral, kind of challenging heart."
That's because, aside from the dinosaurs and laser beams, the Enron story is really about people and the emotions that made them behave the way they did.
Prebble sees Skilling's story of reinvention from a frustrated nerd to an invigorated CEO as "the tragic journey of an anti-hero."
"He physically reinvented himself," she says. "He lost all this weight and got LASIK on his eyes and all of this sort of stuff. And then who ends up going to prison for 24 years and drinking too much and screaming at people in the street?
"I just thought, 'That is an arc!' "
Prebble doesn't let anyone off easy in this story of corporate chicanery -- not the characters or the audience watching them.
"There's absolutely no argument that what Skilling and Fastow and Lay did was terrible and wrong," Prebble says. "However, is there also something in us -- which means that we are bound into this boom and bust situation -- that we constantly create these bubbles out of excitement and fervor and then destroy ourselves? And it happens again and again and again."
At the end of the play, there is a moment when Skilling challenges the audience and says, "It's not just me, you know. It's also you."
Prebble says you can feel the audience's response -- and it's just a little uncomfortable.