The First Lady Of Bass Highlights L.A.'s 'Beat Scene'
The irritable Icelandic volcano Eyjafjallajokull caused a worldwide ruckus when its ashy belches grounded planes and altered travel plans around the globe. With its geological middle finger raised to the world, the volcano did not win any friends. That is, except for British DJ and radio host Mary Anne Hobbs.
The renowned champion of razor-sharp electronic music and host of BBC1's Experimental Show traveled to California for the Coachella Music and Arts Festival, but got stranded in Los Angeles after clouds of ash disrupted air travel. Without a return ticket back to England, Hobbs cooked up an impromptu tour and broadcast her show, temporarily renamed the "Volcano Refugee Party," from Los Angeles.
Hobbs considers Los Angeles her second home, and she spends much of her airtime curating the bellowing bass and vinyl-scratching beats that thrive in this sprawling city's musical underground. Insiders call the scene "beat music," a diverse smattering of music unified only by the computers, samplers and the pulsing rhythms blasting from the speakers. From across the Atlantic, Hobbs has scrutinized the "beat music" emanating from a club called Low End Theory, a weekly producers' showcase in the Lincoln Heights neighborhood in Los Angeles.
The First Lady Of Bass
As the "first lady of bass," as electronic music magazine XLR8R calls her, Hobbs' mission is to hear things that have never been heard before. She connects listeners and musicians together. Hobbs even helped the fast-breaking Flying Lotus — a.k.a. Steve Ellison, the great nephew of jazz couple John and Alice Coltrane — connect with Radiohead's Thom Yorke, who contributed to Ellison's new album of broken beats, jazz skronking and 8-bit bleeps, Cosmogramma.
"They kind of are my children in a way," she says about Low End Theory's regulars, many of whom she has helped to break out in the U.K.
Hobbs adds that great music is never defined by genre.
"[Great music] is something that will touch the core of your soul," she says. "You can find that in any of the residents at Low End Theory."
Hear five songs from L.A.'s "beat music" scene, selected by the "First Lady of Bass" herself, DJ Mary Anne Hobbs.
The First Lady Of Bass Highlights L.A.'s 'Beat Scene'
Incredibright
from Only Mountain LP
by TAKE
It's the color of TAKE's music that appeals to me. However you'd describe it when you see a fractal of light and it's shining through a crystal and you see a whole iridescent spectrum of lights, that's TAKE's music. That's kind of a visual interpretation of the way he sounds. He is one of the primary talents of the L.A. scene, and he's only just released this album. I think he's the next artist to break on a big level, as well.
Doing It My Way
from Cosmic Intoxication EP
by TOKiMONSTA
TOKiMONSTA was introduced to me by Flying Lotus about 12 months ago. It's so exciting to see a girl step up and deliver the same standard of bass as all the guys are doing in the scene. She even wore six-inch stiletto heels to the "Volcano Refugee" program, and she absolutely smashed it. I've never seen a more glamorous woman kick it live. And in shoes like that! She's going to be a huge inspiration for girls who are beginning to make beats and starting to produce. She's coming with something unique, and she steps up to the plate with the boys of Brainfeeder and really delivers. She's the First Lady of Brainfeeder.
Come Down (2 Earth)
from Brotha From Anotha Planet
by Ras G
Ras G is such a powerful, profound human being. He's a mountain of a man, he's ferocious, and so are his beats. When I introduced him at the Volcano Refugee party, I said, "This boy is a stone cold killer, and he's about to destroy your radio." I've never seen a man manipulate bass frequencies in the same way as Ras. He's a powerhouse. Formidable in every sense of the word.

Brotha From Anotha Planet is available at Amazon.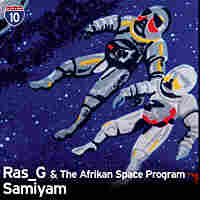 Fishsticks
from L.A. Series #3
by Samiyam
The music of Samiyam is so utterly simplistic and primal and raw. I know that he moved out to Los Angeles as a consequence of his first experience at Low End Theory. He was from Ann Arbor, he played once at Low End Theory and he immediately came to L.A. He strips it down to such a minimal sound, and what he does will move you in a way you've never been moved before.

LA Series #3 is available at Amazon.