In GM's Boardroom, Kicking Tires And Taking Names
Apparently, General Motors wasn't too big to fail. Once the largest automaker in the world, GM filed for bankruptcy in 2009. It remains uncertain when — or whether — the company, propped up by $50 billion in government loans, will stage a comeback.
In Sixty to Zero, Alex Taylor III, a senior editor at Fortune magazine, uses "fly on the wall reporting," including in-depth interviews with a half-dozen GM CEOs with whom he got pretty chummy, to provide a cogent kick-the-tires account of a disaster that was 40 years in the making. A gifted writer, Taylor is also refreshingly candid about himself as well as GM, acknowledging that on occasion he swallowed the line cast by company spinmeisters. His book is informative — and fun to read.
Sixty to Zero: An Inside Look at the Collapse of General Motors — and the Detroit Auto Industry
by Alex Taylor III
Hardcover, 272 pages
Yale University Press
List price: $26
Amassing "a pile of benefits that would make a sultan blush," Taylor acknowledges, collective bargaining agreements with the United Automobile Workers severely hampered GM's ability to control labor costs. Nonetheless, he makes a compelling case that the corporation's collapse was "caused, pure and simple, by bad management combined with ego and conceit."
Taylor takes you inside GM's smug corporate culture, with its company-bred leaders who "resolutely resisted new ideas." It had too many marketing and purchasing divisions, too many brands, too many dealerships. Unlike Toyota, GM didn't consistently develop new models that shared common components. And "it couldn't make a decent small car to save itself."
With the economic meltdown of 2008, these chickens came home to roost. Already anemic, sales plummeted and GM lost fully 40 percent of its market capitalization. According to Taylor, CEO Rick Wagoner did a lot to set things right. He negotiated a historic agreement with the UAW to reduce pension and health care costs, worked mightily to consolidate North American operations and aggressively pursued expansion in China. But it wasn't enough.
Under its new post-bankruptcy structure, GM can now break even with sales of 10 million cars and trucks a year, a huge improvement over the 16 million units of the old days. But Taylor isn't ready to predict a turnaround. The new regime, he points out, canceled an ill-considered experiment to sell cars on eBay. GM's ad campaigns have fallen flat, its deal to sell Saturn to entrepreneur Roger Penske cratered, and off-loading the Opel became a casualty to management indecision and European politics.
In a poignant conclusion to an up-close-and-personal book, Taylor reminds us that the United States needs a robust automobile industry, but doesn't yet deserve one. Turmoil at Toyota is helping, in the short run. General Motors, however, has a long way to go before it will be able to put the pedal to the metal and leave competitors in the dust.
Excerpt: 'Sixty To Zero'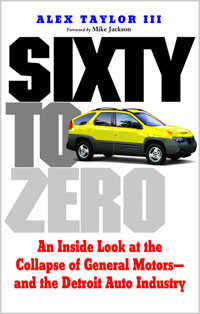 Sixty to Zero: An Inside Look at the Collapse of General Motors — and the Detroit Auto Industry
by Alex Taylor III
Hardcover, 272 pages
Yale University Press
List price: $26
Because of its size and history, its products, and its advertising, General Motors, along with brands like Chevrolet and Cadillac, is a name instantly recognizable to people everywhere. Before their eyes, and mine, this great company -- hailed as a monument to superior corporate management, technological achievement, and product excellence -- spiraled downward for forty years before it crumbled into bankruptcy in 2009 and had to be rescued by the federal government. For years, GM was the largest automaker in the world and utterly dominated the American market. Now it is struggling to justify the investment of fifty billion dollars in taxpayer money to keep it alive.
No crimes were committed in GM's fall. There were no great scandals involving phony accounting, exploding derivatives, or elaborate Ponzi schemes. The seeds of its decline were planted long ago and for years covered up by its huge profitability, its dominant market share, and the ineptness of its domestic competitors. GM's collapse was caused, pure and simple, by bad management combined with ego and conceit. Successful for so long, GM executives couldn't conceive of a world in which the "GM way" wouldn't allow them to prosper indefinitely.
In many ways, the story of GM is a tragic one. The company fell because diligent, well-meaning individuals with traditional American values of thrift and hard work couldn't do things well enough despite years of trying to keep the company competitive and safeguard it from an economic downturn. In retrospect, it is shocking. In my more than thirty years of covering the auto industry, the vast majority of GM'ers I have met have been smart, sincere, dutiful, and diligent. But in working for the largest company in the world, they became self-referential, inwardly-focused, and wedded to the status quo -- traits that persisted even when GM was on the brink of collapse. They preferred stability over change, continuity over disorder, and GM's way over anybody else's. Those personality defects turned out to be fatal.
GM's decline has been a uniquely public spectacle. No other company that I can think of has fallen so far for so long with so many people watching. The names of its executives are well known, as are their mistakes: inattention, bad judgment, and unwillingness to take risks. Their failure caused hundreds of thousands of whiteand blue-collar workers to lose their jobs and millions of shareholders to see their investments completely wiped out. It remains an open question whether GM's latest CEO, Fritz Henderson, can do what his predecessors stretching back to the 1970s failed to do and discard enough of GM's bad old ways to allow the slimmed-down, postbankruptcy GM to survive.
In other ways, the story of GM is a tale of accumulating irrelevance. Competition tightened as new market entrants arrived, technology took big strides, customer preferences changed, and GM couldn't keep up. Some GM CEOs -- Fred Donner, Dick Gerstenberg, Thomas Murphy -- couldn't see what was happening. Others -- Roger Smith, Jack Smith, Rick Wagoner -- understood all too well that GM was sick but moved either too slowly or too ineffectively to find a cure. At the end, GM was no longer a national force. It had become a red-state company; Buicks and Pontiacs were still popular in the Midwest and South but seldom seen in California or New York City.
GM had been so caught up in its insular culture that it missed what was going on in the wider world. Authors Robert Monks and Nell Minow diagnosed it succinctly in their book Corporate Governance (2008): "GM was the premier car company in the world for so long that it failed to see the need for change. The company was so used to being leader that it couldn't contemplate following others. It was this mindset, this overwhelming belief that it was GM's divine right to be the most successful automobile company on earth, that condemned the company to two decades of disaster. When GM did finally see the need to adapt, it did with wild ineptitude, spending tens of billions in the 1980s for little reward. ... GM ... became living proof of the old boxing maxim: the bigger they are, the harder they fall."
The story of Rick Wagoner, who resigned in 2009, is especially tragic because he spent a decade trying to change GM fi rst as president and then as CEO. He thought he knew what was wrong, and he believed he had enough time and money to correct it. "We're playing our own game," Wagoner used to say, "taking advantage of our own unique heritage and strengths." But time ran out on him. Wagoner was effectively fired by an Obama administration bureaucrat because GM's game wasn't good enough -- and Wagoner either didn't realize it or couldn't do enough about it.
Back in 2004, when it was still flush, GM invited automotive journalists to the south of France for a three-day "global product seminar." The idea was that writers like me would drive new cars, consume loads of free food and wine, pal around with executives, and develop favorable opinions about the company. GM did its job. The accommodations at individual villas at the Four Seasons resort were five-star, the food was spectacular, and the weather was perfectly accommodating. We dined outdoors every day, and so many executives were available for so long that I ran out of questions to ask them. That is called journalistic nirvana.
On the first morning, the writers were supposed to team up with GM executives to drive to a nearby racetrack, the Paul Ricard circuit near Marseille, for lunch. Still a little jet-lagged, I arranged to drive with Wagoner, my favorite GM executive, in a yellow Corvette. I liked Wagoner because he was smart, personable, and thoughtful and because he was important. I've spent more hours with Wagoner than with all his predecessors combined, and I've never failed to be impressed by his depth and scope.
I had first met Rick Wagoner back in the late 1980s in Switzerland, where I had landed on an around-the-world reporting trip to see how GM Europe was faring. Wagoner and his then-boss, future GM chairman and CEO Jack Smith, met me one Saturday morning for an hour-long interview. Characteristically, Wagoner remembered the meeting, but I hadn't. Early on, Wagoner could be testy when confronted with writers like me who sometimes came bearing bad news. He once greeted me at a Detroit auto show with the sarcastic salutation "Here comes Mr. Sunshine," and he accused me during an interview of being "thickheaded." But under the tutelage of public relations guru Steve Harris, whom Wagoner recruited from Chrysler, Wagoner had become more accommodating with reporters and generated an enormous amount of goodwill for himself and GM with his remodeled approach. If dealing with the media wasn't the favorite part of his work, he did a good job of hiding it.
I am not much of a sports car driver, but the Corvette was the only car available, and the fact that it had only two seats meant that Wagoner would be alone and our conversation wouldn't be interrupted by public relations people. My job was mostly to navigate while Wagoner drove, and I used the time to pepper him with questions. What an opportunity! I wanted to learn everything about life at the top of GM: the CEO's secret, special sources of information, his opinion about President George W. Bush, whom he had recently met; his views on competitors and industry trends. Since we were speaking off the record, Wagoner was responsive and candid. As for my route directions, he mostly ignored them and followed the car in front of us, also filled with journalists, which was headed in the same direction.
After two hours of driving, we discovered we had made a serious mistake: we missed the racetrack and wound up back at the hotel. It turned out I had been navigating from the wrong map, and the car in front of us, driven by Chinese journalists, was just as lost as we were. Lunch would be delayed while the CEO and I made our way to the track by way of a shortcut, meaning that I had effectively kidnapped the chairman of GM for three hours. Sure, we had been tailed the whole time by Wagoner's security detail in a separate car, but it remained behind us at a respectful distance and never stopped to ask us where we were going. That wasn't all. When the embarrassment and tension of it all attacked my bladder, I was forced to ask the head of this mighty industrial corporation for an impromptu roadside pit stop. Wagoner made the arrangements with the security detail and added helpful suggestions about how to avoid such emergencies in the future.
I learned two things from this episode. First, never underestimate the ability of a know-it-all journalist to get it wrong or to fold up like a cheap suitcase when the pressure is on. And second, at some point good manners and civility become a liability rather than an asset when running a giant company or getting lost. Those are traits Wagoner shared with most other top GM managers. Around Detroit, Ford executives were known as scrappers skilled at bare-knuckle office politics. The joke was that they looked as if they had all gotten their job in a back alley. The head guys at Chrysler -- Lee Iacocca, Bob Lutz (before he moved to GM), chief engineer Francois Castaing -- trafficked in bravado and charisma. At GM, it was the nice guys who usually finished first, gentlemen like Wagoner: the adult equivalent of Eagle Scouts. Too nice, as it turned out. Those personality traits didn't serve the company well.
Quite often over the past three decades of automotive journalism, friends and readers have asked me whether I get tired of covering the car business. I've asked myself the same question and have now and then gone off to write about other companies and other industries: aerospace, consumer products, industrial equipment. But either by events or by force of habit, I keep getting dragged back to autos. The news flow, which reached a peak in 2009 with the bankruptcy of both Chrysler and GM, is always heavy. There are new models to review, monthly sales to report, quarterly earnings to analyze. Companies rise and companies fall, and each turning point is an opportunity for a story in Fortune, where I worked for twenty-four years. Then there are sagas of larger scale and scope: the march of technology or the rise of overseas markets and the emergence of new international players. All merit coverage and space when the subject is cars, because no other industry has anything approaching its economic heft or visibility. Everyone owns a car or wants to own one or has an opinion about one. Unlike any other consumer product I can think of, cars are all around us, and most of us can tell one model and brand from another with a glance, and we know what our neighbor drives. That isn't true of mobile phones, running shoes, or soft drinks.
I've also found the industry personally rewarding to write about because of the opportunity it provides to build relationships. Despite its global scope, the auto world is surprisingly close-knit. Participants share a common passion: they got into the business because they love cars, and few voluntarily leave. Retirement before the age of sixty-five is rare -- the pull is too strong, the action too good. I have been writing about some industry figures for more than twenty years. That's not possible in other businesses.
To abuse Hemingway, covering autos is like a movable journalistic feast. You travel around the world to conferences, shows, and product launches. On press days at the important international auto shows, executives from two dozen companies will be speaking with the same group of fifty to a hundred journalists they have been encountering at various venues all year. Similar conversations will have been held at shows in Paris and New York, and the same people will be talking with one another again at Detroit and Tokyo and Frankfurt.
Covering GM has always commanded a large chunk of my time. It is big, until recently the largest auto company in the world. And it has been in the process of remaking itself for nearly as long as I have been a journalist, providing plentiful opportunities for coverage. GM's size makes reporting about it a challenging journalistic enterprise. Understanding it requires industry, enterprise, and guile. One of the key attributes is a good memory, being able to compare past promises to current achievements. Another is a thick Rolodex of sources, especially of former GM employees who have gone on to become analysts or consultants or to work for competitors. Covering GM also requires a large travel budget. I've visited GM operations in Germany, Japan, China, Chile, and Brazil, as well as the United States, all on the Fortune expense account.
General Motors wasn't the only U.S. automaker to face defining moments in 2009. Chrysler, once the most nimble and innovative company in Detroit, couldn't cope with the Great Recession either. Chrysler had been living by its wits since 1978, when Lee Iacocca arrived just in time to save it from bankruptcy. But the automaker was done in by feckless owners, a chronic shortage of capital, and the vicissitudes of the market. In a world of automotive overcapacity -- too many plants, too many models, too many dealers -- Chrysler's reasons for being, notably its trucks and minivans, were no longer sufficient. In 2009, Italy's Fiat stepped in to pick up what pieces remained of this once-vibrant company.
The story of Chrysler is a bipolar tale: moments of brilliance interwoven with spells of indifference and inattention. Like GM, Chrysler long ago understood its shortcomings but often was caught up in the moment and never fully got around to addressing them. Its product quality never rose above substandard, it remained dependent on hit products and light trucks, and it continued to focus on North America to the exclusion of the rest of the world. Those problems festered for thirty years and eventually became malignant.
Ford Motor has been on a similar roller-coaster ride, underwritten by the success of its F-series pickup, the most popular vehicle in America. With the Ford family behind the wheel, life at America's oldest automaker has been full of surprises, as executives fell in and out of favor with the royal family. Ford has seen nearly as many abrupt departures of chief executive officers in the past thirty years as GM and Chrysler combined. Some have gone quietly, some noisily.
In 2006, Ford had the good fortune to hire an experienced industrial manager, Boeing's Alan Mulally, to guide the company through a restructuring, and the good sense to borrow a wad of money before the downturn gained momentum. Ford's signal moment of 2009 was its decision not to follow GM and Chrysler to the government trough for federal loans and to try to survive without a Washington bailout. But these are early days for this latest chapter in Ford's 106-year-history, and the full measure of Mulally's success will not be known for several years.
During my time at Fortune, automobiles have been the largest advertising category. At some publications, that would be an invitation for editorial interference -- negative stories don't provide a positive environment in which to promote new models with four-color ads -- but despite my sometimes critical coverage, I never heard a word from anyone who was responsible for selling ads or otherwise worried about the bottom line. The separation between church (editorial) and state (the business side of the magazine) remained intact.
Except once. In 1990, GM was struggling during the last yearof Roger Smith's disastrous tenure as CEO, and I had prepared a harsher-than-usual article on the company. Rather than relying on my memory to tell what happened next, let me refer to an account published in the "Intelligencer" section of New York magazine in its April 2, 1990, issue. My boss, Marshall Loeb, was out of town, and that provided an opportunity for higher-ups to meddle. Whether acting on his own initiative or responding to orders, corporate editor Gil Rogin paid me a highly unusual visit one afternoon. His mission: to argue, in effect, that Time Inc.'s historic separation between church and state was an anachronism and that making sure Time Inc. didn't lose any advertising by publishing a harsh story was more important than ensuring that my journalistic product remained untainted. As a result of his intervention, I recall making a few cosmetic changes in the article, but I mostly stood my ground, and the article was published with its key points undisturbed. New York quoted a source who said, "Marshall didn't want his writer's work tinkered with. Marshall stood his ground, and the story remained intact."
The concept for this book sprang from a 2008 Fortune cover story titled "GM and Me." Much of the material in this book is drawn from articles I have written for Fortune since 1986 and, earlier, for Time from 1980 to 1985. For accounts of GM in the 1950s, 1960s, and 1970s, I have drawn on past issues of Time, as well as longer works by other authors. It is my hope that viewing Detroit through a personal lens will give readers a better understanding of the men who presided over the U.S. auto industry and add perspective to the decisions that led the industry to its current state. Unfortunately, I can't change the outcome. The decline of these companies has been a tragedy for their employees, retirees, stockholders, dealers, suppliers, and residents of cities such as Detroit and Flint and Pontiac.
GM's failure, despite the inexorable decline of its market share, wasn't continuous. Buried within those years were outstanding careers, successful products, and periods of great prosperity. There were times when GM looked like the corporate superstar that it saw in the mirror every day and times when it looked like the clueless giant that an increasing number of its critics came to recognize. Second-guessing is easy, but I was wrong about as often as I was right in judging GM and have pointed out those occasions where I blew the call. Others may have a higher batting average writing about the business. But nobody has had more fun. Covering the past thirty years of the U.S. auto industry has been consistently engaging, challenging, and intellectually rewarding.
From Sixty to Zero: An Inside Look at the Collapse of General Motors -- and the Detroit Auto Industry by Alex Taylor III. Copyright 2010 by Alex Taylor III. Reprinted by permission of Yale University Press.
Books Featured In This Story
Sixty to Zero
An Inside Look at the Collapse of General Motors - and the Detroit Auto Industry
Hardcover, 254 pages |
purchase
Buy Featured Book
Title

Sixty to Zero

Subtitle

An Inside Look at the Collapse of General Motors - and the Detroit Auto Industry

Author

Alex, III Taylor and Mike Jackson
Your purchase helps support NPR programming. How?
Food Styling
The Art of Preparing Food for the Camera
Hardcover, 398 pages |
purchase
Buy Featured Book
Title

Food Styling

Subtitle

The Art of Preparing Food for the Camera

Author

Delores Custer
Your purchase helps support NPR programming. How?