On-The-Job Training While Unemployed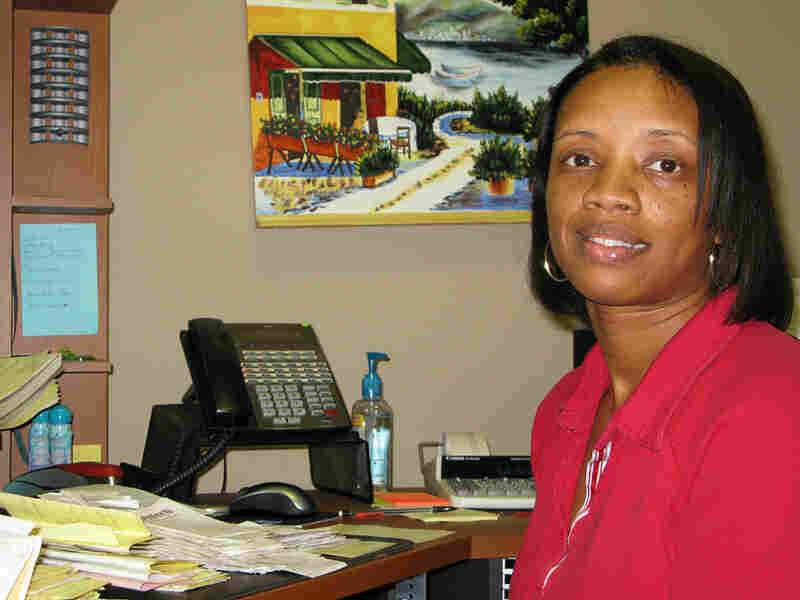 There are 15 million unemployed people in the U.S., and up until January, Melissa Brown was one of them.
Brown had worked as a clerk for an international shipping company, but was laid off in 2008. She wanted to use her accounting degree to get a job, but had little luck because there were so few openings.
When Brown did get an interview, prospective employers gave her the same response after seeing her resume: "They said: 'Well, you don't have any experience in accounting.' I could do the work, but I didn't have any experience," Brown says.
With the U.S. unemployment rate at nearly 10 percent, states are experimenting with ways to get people back to work.
One program, called Georgia Works, lets workers continue to receive their weekly unemployment benefits plus a stipend to offset travel and child care costs while they go through up to six weeks of on-the-job training. It's a tryout of sorts that enables employees to learn a new skill.
State leaders say it's an innovative way to get people back into the job market. Critics say employers are getting help for free.
Landing A Job
Brown joined Georgia Works, and after receiving her training, she landed a job at National Tax Negotiators in Fayetteville, Ga., as a full-time accountant.
"I'm actually doing something I want to do," Brown says. "I don't mind getting up in the morning, coming [and] staying late. I love my job."
Joyce Travis, the owner of National Tax Negotiators, says she hired workers in the past and paid to train them, but it didn't work out. Without the program, Travis says she might not have been able to afford to hire another employee.
"Six weeks may not seem like a lot of money, but it is a lot of money if you put your time into training that person, and you pay them good and then they don't work out," Travis says. "It really cuts into your budget."
In Georgia, the unemployment rate -- 10.6 percent -- is higher than the national average. The region is just beginning to see signs of recovery, but state officials say they have to be more innovative if they're going to get people back to work.
The Georgia Works program began back in 2003, and the state has recently been running radio ads to attract more interest in it.
A Success Rate Of Almost 50 Percent
So far, almost 8,400 employers have signed up, and about 7,800 workers have participated in training. Businesses are not required to hire workers, and those who don't get jobs will continue to receive their unemployment checks. But nearly half of the trainees -- more than 3,700 people -- now have jobs.
"The average length, the duration of unemployment in Georgia, is now at about 15 weeks. So when a person is hired within six weeks, then you've saved nine weeks of unemployment insurance benefits," says Michael Thurmond, Georgia's labor commissioner. "That has generated some $6 million in savings for our Unemployment Insurance Trust Fund."
Critics Of The Program
But there are critics. One worker's rights group says Georgia Works violates federal labor laws because employers are getting labor without having to pay for it.
"They want to call it training, which is exempt from the minimum wage, but only under very strict circumstances, and that requires that the person is receiving 100 percent training and the employer is deriving no benefit from the program," says Maurice Emsellem, policy co-director for the National Employment Law Project. "And clearly that's not the situation with Georgia Works."
Emsellem says employers should pay at least minimum wage, and he says state and federal officials should monitor the program to make sure companies are not taking advantage of workers.
But Thurmond says the criticism is unfounded and the training is legal. He says the voluntary program gives workers new skills to add to their resume and creates jobs that would not otherwise exist.
"This stimulates hiring and reduces the cost of training," Thurmond says. "It addresses the major issue facing private sector employers today."
Other states are setting up incentives for employers -- including paying companies subsidies if they hire workers who are now receiving unemployment checks.
Thurmond says he'd like to expand the program in Georgia and across the country. More than 20 states have contacted Georgia to get more information, and New Hampshire began a similar initiative last month.
The U.S. Department of Labor recently issued 10 pages of legal guidelines for states outlining what is allowed in worker training programs. But federal officials declined to be interviewed for this story.
Mark Zandi, chief economist for Moody's Analytics, says these are exactly the kinds of strategies states should be trying.
"In normal times, I don't think we would be thinking down these lines," he says. "But these aren't normal times. And we've got a big problem, and we need to figure out ways -- creative ways -- to solve it. And Georgia Works is a shot at it."