At Harvard, Kagan Won More Fans Than Foes
At Harvard, Kagan Won More Fans Than Foes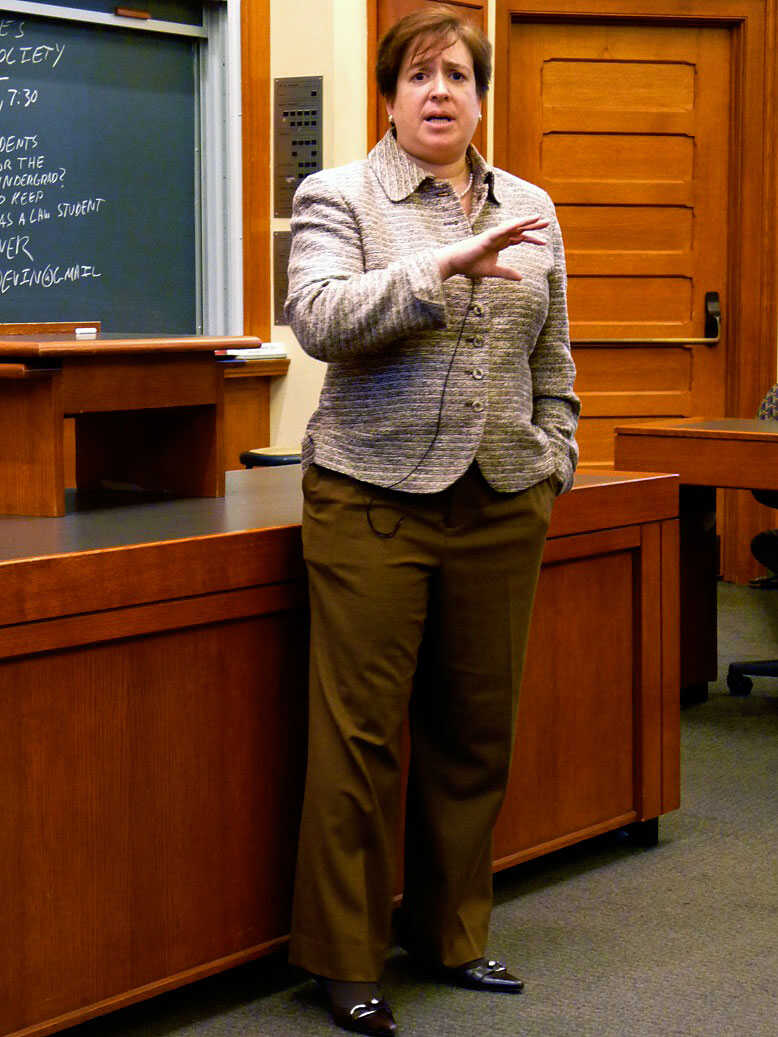 By almost any measure, U.S. Supreme Court nominee Elena Kagan was a hugely successful dean at Harvard Law School during her tenure from 2003 to 2009.
So much so that in some ways, the descriptions of Kagan as dean sound a bit like the beginning of the old Superman TV series. Instead of "Superman, who can change the course of mighty rivers, bend steel in his bare hands," the Harvard version might be:
Kagan, who can raise money by the millions.
Kagan, who can end the faculty wars over hiring.
Kagan, who won the hearts of students, promoted public-interest lawyering, and who, as the first female dean of one the oldest law schools in the country ...
Well, you get the idea.
She did indeed do all of these things. The controversy that is likely to dominate much of her confirmation hearing -- the school's ban on military recruiters because of the "don't ask, don't tell" policy -- was actually an extension of a policy that existed long before she became dean. It was not enormously controversial on campus, because faculty and student groups had long supported the ban as an anti-discrimination measure.
Kagan, however, does get lots of credit for putting an end to decades of factional faculty feuding, getting unanimous faculty approval for a new curriculum that sharply broke with the past and changing the grading system.
Most of all, she wins praise for getting faculty approval to hire an astonishing 22 new tenure-track professors, including some prominent conservatives who had served in the Bush administration.
Greasing The Process
President Obama and some of Kagan's admirers have suggested this feat shows her ability to build consensus. But even her supporters concede that her tactic was less consensus-building and more skillfully greasing the process. She did that by building key relationships with faculty members in every ideological camp and then ramming through decisions.
"She knocked some heads," says longtime conservative faculty member Charles Fried. "And she made people realize it couldn't go on because we were aging, and we weren't replacing ourselves, and we needed to grow."
Liberal Mark Tushnet, recruited from Georgetown Law School, agrees. "My own judgment is that running the place with a fairly heavy hand ... was politically necessary in order to get the faculty to move forward," he says.
She was a gracious and generous dean. "She celebrated peoples' accomplishments," says Fried. "If somebody wrote a book, she would put on a big conference about it. She'd bring people to do a panel. She'd get students to put up posters."
The school was seen as "a much more intellectually vibrant place," says former Bush administration official Jack Goldsmith, one of Kagan's faculty recruits. "People have told me it's a much happier place, too," he adds.
Kagan has far more fans than detractors at Harvard, but even they acknowledge she is something of an operator. "Elena is a master pool shark, and we are all the balls she is shooting in the pockets," says one of her fans.
Some on the left, however, say they stopped going to faculty meetings when she was dean because discussion was truncated and disagreements simply glossed over. "I think she has a political heart. She wants to do good, but she has no soul, no center of gravity, so her heart can move depending on the political moment," says one campus critic who didn't want his name used.
Minorities On Campus
While Kagan succeeded in bringing greater ideological diversity to the faculty, she was not nearly as successful in hiring minorities and women. Only 20 percent of the new hires were women, and there was not a single new African-American or Latino tenure-track professor hired.
"I think that's a very difficult number to explain," says Duke Law professor Guy-Uriel Charles. "So the question then becomes why was that not a priority."
Harvard's Charles Ogletree, an aggressive civil rights advocate, agrees the numbers are not good. "It's been unfortunate," he says, "but I don't in any way doubt her own commitment to diversity, and I see that in the unprecedented number of students of color that came to Harvard since she was the dean."
Indeed, persons of color made up more than a third of the incoming class by Kagan's last year. What's more, Ogletree says that Kagan recruited minority graduates for fellowships at the school so that they would have a place to think and write and position themselves for tenure-track positions.
Stephanie Mitchell/Harvard University
And he points to the fact that Kagan instituted new and innovative programs to attract students to public interest and government jobs, using stipends and large tuition grants as incentives.
'I Love Dean Kagan'
Kagan, in fact, was hugely popular with the students.
"Oh, they loved her," says Ogletree. "In fact, when she did not get appointed as the university president, the students wore T-shirts saying, 'I Love Dean Kagan.'"
Kagan famously did things to make student life nicer -- everything from providing free coffee and bagels to creating an ice rink.
Ogletree says Kagan got the rink idea while musing that the school needed to do something to lighten the long, dark winters for students. So she asked the maintenance department to flood the grassy area outside her window, put hay bales around it and put up lights so that students could skate at night, too.
The jerry-rigged rink soon became a gathering place for skaters and nonskaters alike.
Kagan made a point, too, of reaching out to students like Carrie Severino. "She, I think, identified some of the conservative student leaders and asked them what kinds of things she could do to help conservatives feel more comfortable on campus," says Severino, who now heads a conservative group in Washington that appears to be inching toward opposing Kagan.
The cheerful, charming Kagan so beloved by the students was not always in evidence elsewhere. Secretaries and faculty members alike have stories of Kagan screaming at people, slamming doors and chewing out subordinates in public -- a trait that she is said to have carried with her to her next job as solicitor general. She's a "yeller," concedes one of her friends with a wry smile.
Tushnet, one of her admirers, puts it this way: "Her weakness as dean was that she really didn't like people to disagree with her. But that's not something you can do at the Supreme Court."