Recipe: Minted Raspberry Iced Tea
From 'Porch Parties: Cocktail Recipes and Easy Ideas for Outdoor Entertaining'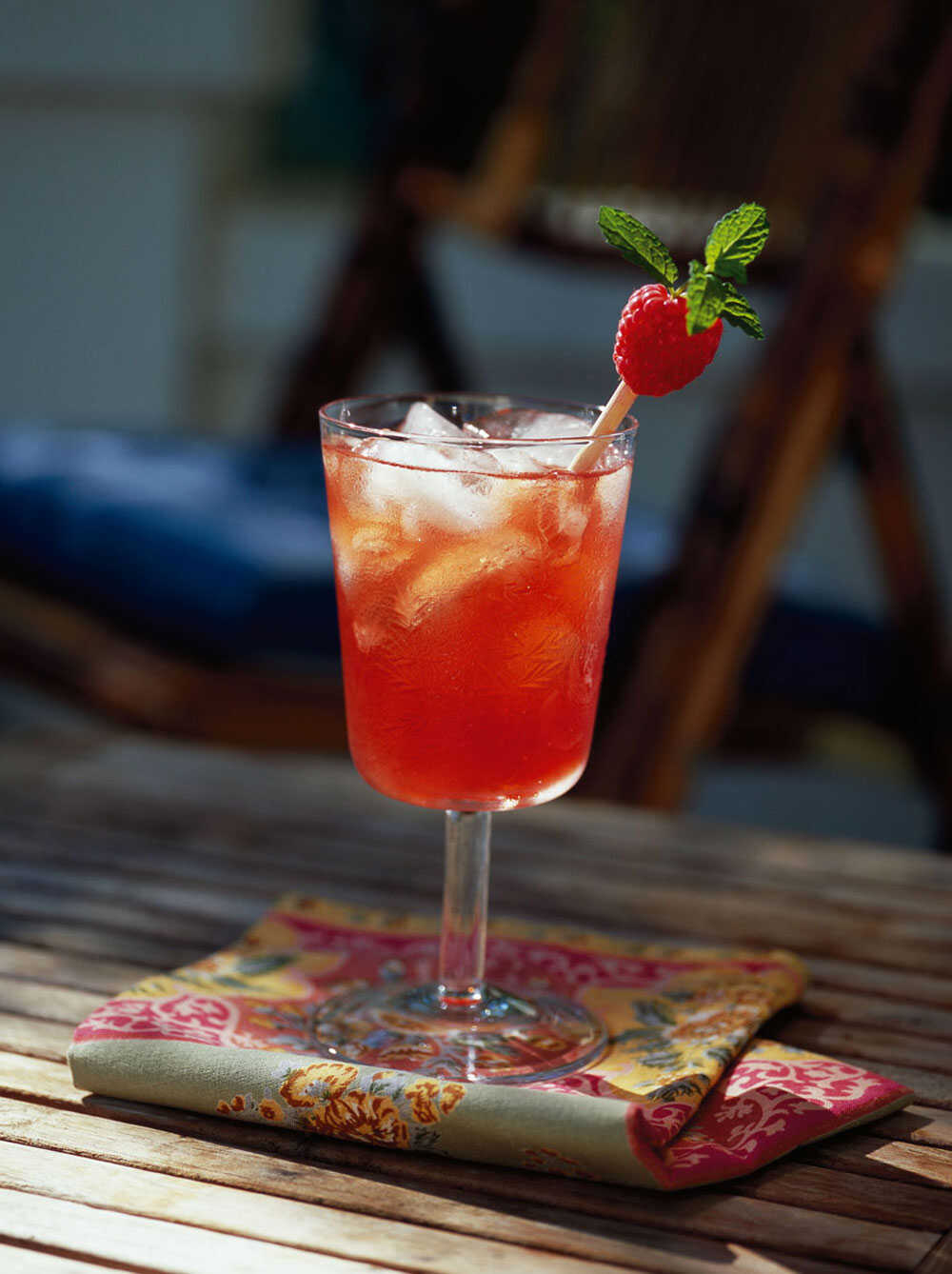 Porch Parties: Cocktail Recipes and Easy Ideas for Outdoor Entertaining
by Denise Gee
Hardcover, 144 pages
Chronicle Books
List price: $16.95
Serves 6 to 8
Oh, if I could only bottle and settle this; I'd make a fortune. This is pure liquid summer, smooth and minty with a gorgeous color. In Arnold Palmer fashion, it's also nice with to halve this tea with lemonade, and even some vodka. Note the baking soda here -- it's to help preserve the berry color.
3 cups fresh or frozen raspberries, slightly thawed if frozen
1 1/4 cups sugar
1/4 cup chopped fresh mint
Pinch of baking soda
4 cups boiling water
8 regular-size or 2 family-size black tea bags
3 1/2 cups cold water
Garnish: Fresh mint sprig with raspberries on small wooden skewer (optional)
Combine the raspberries and sugar in a large pitcher. Use a wooden spoon to crush the berries and mix with sugar. Add the mint and baking soda.
Add the boiling water to the tea bags in a large teapot or pan and let steep for several minutes. Discard the tea bags and let the tea concentrate cool.
Pour the tea into the raspberry mixture. Let stand for about 1 hour. Pour the raspberry-tea mixture through a strainer. Return the tea to the pitcher. Add the cold water. Cover and chill before serving in iced-tea glasses filled with ice. Garnish, if desired.
Excerpted from Porch Parties: Cocktail Recipes and Easy Ideas for Outdoor Entertaining by Denise Gee. Copyright 2010. Reprinted by permission of Chronicle Books.