Former Detroit Mayor Gets Up To 5 Years In Prison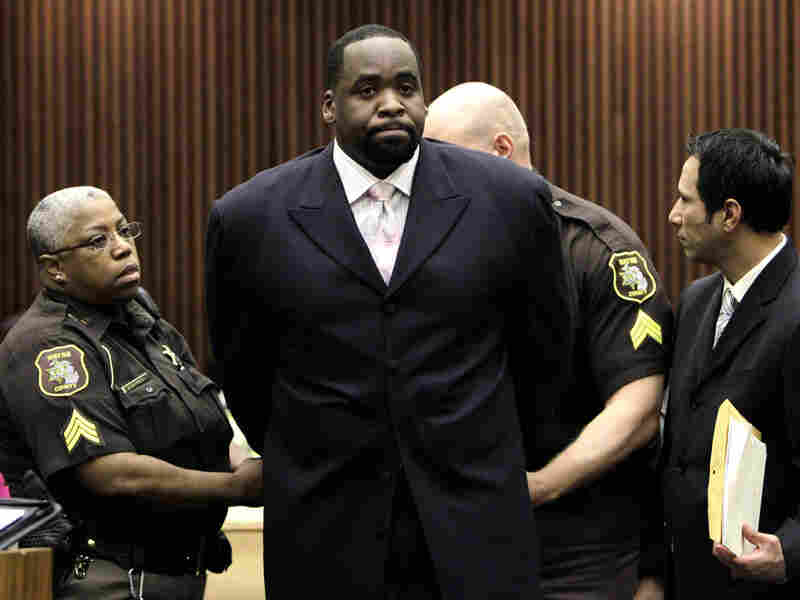 Former Detroit Mayor Kwame Kilpatrick was sentenced to up to five years in prison Tuesday for violating the terms of his probation for an obstruction of justice conviction.
Kilpatrick pleaded guilty to obstruction of justice in 2008 after sexually explicit text messages showed he had lied under oath about an affair with a staff member. He was ordered to pay $1 million in restitution to the city of Detroit.
But Kilpatrick, who moved to Texas in February 2009, claimed he couldn't afford to make those payments. That led to a series of hearings during which prosecutors presented evidence that he hid money in bank accounts controlled by his wife.
Judge David Groner ruled last month that Kilpatrick, a Democrat, failed to report all of his assets and meet other conditions of his probation. He said Kilpatrick failed to disclose $240,000 in loans from prominent businessmen and surrender nearly $23,400 in tax refunds and a share of cash gifts from two people.
On Tuesday, Kilpatrick admitted making mistakes but told the judge he's changed.
"I'm in church. I do service in my community. I'm a great father to my children. For the first time in my life I'm a great husband," he said. "I'm a new guy."
He asked Groner to show him compassion, but Groner said "that ship has sailed."
Groner said he blatantly violated his probation.
"Most substantially, most compelling is that you lied to this court, continued to lie after pleading guilty to lying to this court," he said. "Obviously there has been no rehabilitation. You have not changed. So continuing on probation is not an option. You must understand your crime and consequences now."
Groner said Kilpatrick would have to serve at least 1 1/2 years in prison, but that he would be credited for 120 days of time served from his original sentence. He is still obligated to pay back the remaining balance of his $1 million debt to the city of Detroit.
After Groner announced the sentence, a loud, collective gasp rose from many of Kilpatrick's supporters in the packed courtroom. Kilpatrick appeared shaken.
Kilpatrick, the father of three young sons, was led from the courtroom in handcuffs.
State corrections officials suggested Kilpatrick should spend less than a year in county jail. Defense attorneys wanted no jail time, saying it would hamper Kilpatrick's ability to pay the money he still owes. But prosecutors said two to five years in state prison would be appropriate.
After he was released from jail in February 2009, Kilpatrick found a job as a medical software salesman with Dallas-based Covisint. He has been making $3,000 monthly payments to the city of Detroit.
Shortly after the sentencing, Covisint said that Kilpatrick was being fired.
Kilpatrick's defense team argued that a prison sentence was counterproductive because he wouldn't be able to pay back the city. They say they will appeal the sentence.