Iowa Straw Poll Yields Limited Victory for Romney
Iowa Straw Poll Yields Limited Victory for Romney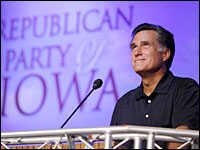 Former Massachusetts Gov. Mitt Romney won Saturday's Iowa Straw Poll, considered an early test of organizing power in the state that will kick off the presidential nominating season this winter.
Romney collected 31.5 percent of the 14,000 votes cast, but turnout was low, raising questions about how excited Republicans were about their choices. Former Arkansas Gov. Mike Huckabee placed second, with 18 percent.
The poll was also notable for its no-shows: Front-runners such as Rudy Giuliani and John McCain chose not to compete, as did candidate-in-waiting Fred Thompson.
Romney's results matched the percentage of votes George W. Bush received in the Iowa Straw Poll in 1999 — and was only a few points higher than Romney has been getting in recent polls in the state.
Rounding out the top five finishers were Kansas Sen. Sam Brownback, Colorado Rep. Tom Tancredo and Rep. Ron Paul of Texas. Paul's fifth-place finish suggests that his ability to draw crowds and Internet support may not translate into votes.