Opera Amended: Gluck's 'Iphigenia in Aulis'
From Theater La Monnaie, In Brussels
Hear An Introduction To The Opera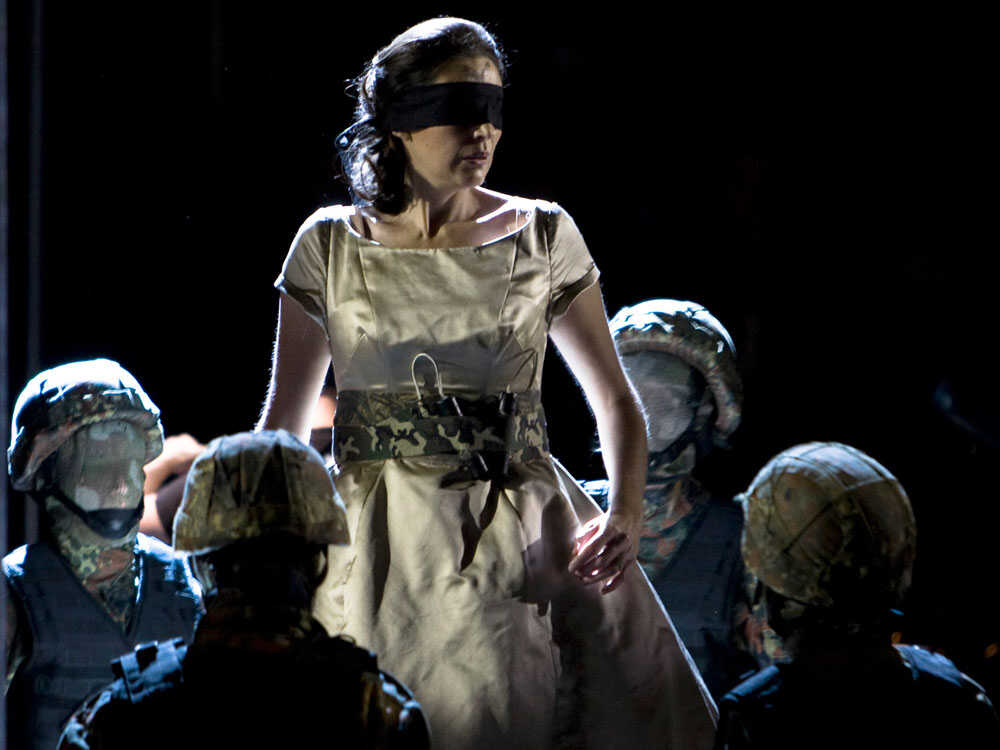 THE Single
At the end of Act Two, Agamemnon (baritone Andrew Schroeder) decides that he loves Iphigenia too much to go through with sacrifice, and begs the goddess Diana to take his life, instead.
The B Side
One of the opera's most tender moments comes in the last act, when Iphigenia (soprano Veronique Gens) sings a final farewell to Achilles.
What did the 18th-century opera composer Christoph Willibald Gluck and 20th-century jazz great Miles Davis have in common? Quite a bit, as it turns out, including a genuine disregard for the status quo.
In 1957, Davis released his album, Birth of the Cool . It was the result of his first important recording sessions as a band leader -- and it really was the birth of something new.
At the time, jazz was dominated by the up-tempo, sometimes frenetic bebop style, with its long, intricate solos showcasing the prodigious technique and improvisational skills of musicians such as Dizzy Gillespie and Charlie Parker.
But with Davis's new album, things changed. None of its tunes are much more than three minutes long -- shorter than many bebop solos. Its style was less agitated, more relaxed. It truly was "cool," and that became the name of the new school of jazz the album inspired. It was one of those rare moments when the very nature of music seemed to change, almost overnight.
Back in the 1760s and '70s opera composer Gluck did something similar. For decades, opera had been dominated by the form known as opera seria, which -- sort of like bebop -- had become a virtuoso showcase for flashy soloists: the world's great singers and their amazing vocal gymnastics.
Gluck reacted to this by going back to basics. Calling opera seria "ridiculous and tedious," he wrote dramas emphasizing simpler, more straightforward musical forms. He replaced long, technically cumbersome arias with shorter and more direct solo numbers, interwoven with highly-expressive declamatory singing, simple ensembles and choruses that played a true part in the story's action.
All of this was an attempt to make sure the music in his operas was devoted to conveying the opera's story, and its raw emotions -- not just to showing off the singers. Gluck's efforts are now known as "reform operas." And while they may not have spawned any blockbusters, they influenced composers for generations to come.
After playing a major role in establishing Italian opera on the stages of Vienna, Gluck took his reform movement to France with Iphigenia in Aulis -- the classic story of a young woman whose father summons her for a wedding, but instead offers her up as a human sacrifice. Gluck also ruffled some feathers in the process, creating quite a stir at the tradition-bound Paris Opera by suggesting that all of its performers -- from the principals to the choristers -- should be ordered to act their roles, not just sing them.
On World of Opera, host Lisa Simeone brings us a production of Iphigenia in Aulis from La Monnaie, in Brussels. Christophe Rousset conducts, with soprano Veronique Gens in the title role and baritone Andrew Schroeder as Agamemnon.
The Story of 'Iphigenia in Aulis'
Who's Who
Veronique Gens ……….… Iphigenia
Andrew Schroeder …. Agamemnon
Charlotte Hellekant …. Clytemnestra
Avi Klemberg ………..…… Achilles
Gilles Cachemaille ………. Calchas
Werner Van Mechelen ..….. Arcas
Violet Serena Norduyn ….. Diana
La Monnaie Orchestra and Chorus
Christophe Rousset, conductor
The opera's libretto is based on a play by Racine, which in turn comes from the ancient Greek story of Iphigenia, the young woman whose father, King Agamemnon, was ordered to sacrifice her to earn favors from the gods.
As Act One begins, Agamemnon and his army are stranded in Aulis. They were on their way to Troy when their ships were stopped by calm weather. Agamemnon hoped the goddess Diana might help him out, but Diana demanded the sacrifice of Iphigenia in return for her assistance.
So Agamemnon sent word back to Greece that Iphigenia should sail to Aulis on the pretense that she was to marry her beloved, Achilles. But Agamemnon then had second thoughts, and sent another messenger, Arcas, to tell his daughter that Achilles had betrayed her with another woman. Agamemnon hoped that revelation — also a lie — might prompt Iphigenia to stay home.
Still, Agamemnon defies Diana, refusing to sacrifice Iphigenia. But he knows that if his daughter does show up on Aulis, he won't be able to save her.
And she does show up. The message from Arcas never got through. So both Iphigenia and her mother Clytemnestra arrive in Aulis expecting a wedding to Achilles. Hoping to send them packing, Agamemnon tells Clytemnestra the phony story about Achilles and his infidelity. But Achilles catches wind of this and denies it all. That convinces Iphigenia, and the two sing a duet to affirm their love.
At the start of Act Two, Iphigenia's companions assure her that the wedding will happen as planned. Clytemnestra agrees, saying that Agamemnon has now agreed to the marriage.
There's a series of festive dances, hailing the bravery of Achilles. But as the celebrations end, Arcas blurts out the truth — the upcoming ceremony will be a sacrifice, not a wedding. Clytemnestra begs Achilles to save Iphigenia. Iphigenia seems inclined to respect Agamemnon's wishes, and at first, Achilles reluctantly agrees to go along with her.
But when the two men are alone, Achilles tells Agamemnon that if he's determined to sacrifice his daughter, he'll have to kill Achilles first. The act ends with an extended solo scene, with Agamemnon expressing his deep love for Iphigenia, and asking the goddess Diana to be content with his life instead of his daughter's.
But in Act Three, a chorus of Greeks angrily demands that Agamemnon go ahead with the sacrifice. Iphigenia does have a chance to escape the island, but she turns it down, in loyalty to her father. Achilles then finds Iphigenia, and wants her to leave with him. She says that she's determined to fulfill her destiny, and sings him a final goodbye.
Iphigenia's mother Clytemnestra is also determined to save her. But in an emotional solo scene, she has a vision of the sacrifice. As she imagines Agamemnon killing Iphigenia, Clytemnestra calls out a desperate prayer to Jupiter. As the scene ends, she hears a Greek procession, heading for the sacrificial ceremony.
In the final scene, Iphigenia is kneeling at a seaside altar. The high priest Calchas is behind her, praying, and holding the sacred knife.
But as the Greeks sing a ceremonial hymn, they're interrupted by Achilles, who storms in with his men. There's a brief skirmish, halted by dramatic news that relieves the opera's tension and brings it to an end. The goddess Diana has had a change of heart, and the sacrifice is no longer required.