Undeterred, Brothers Follow Each Other To War
A Niagara Falls, N.Y., family with six sons has sacrificed a lot on behalf of the wars in Iraq and Afghanistan. Half of the boys have gone to war.
This Memorial Day, the Dikcis family will spend the holiday without two of them: one is in Iraq — and one died earlier this year.
'He Always Told Me I Was His Hero'
It started four years ago when Stan Dikcis created a new family tradition. He joined the Army and was deployed to Afghanistan. Two years later, Stan was hit by a roadside bomb and nearly killed. He came back home with a brain injury.
But by then, his younger brother Al was already following in his footsteps. Last summer, the Army specialist was deployed to the same region of Afghanistan. Al was killed in early March by a blast from an improvised explosive device.
Al's father, Bob, stoops to clear the doorway going into the oversized garage. Bob says if it had wheels, Al wanted to learn how to ride it and fix it.
In the back corner is Al's old black Pontiac Eagle. Next to it is the brand new Dodge Challenger Al always wanted. Bob bought it as a tribute car after his son died. He rubs calloused hands over his brush-cut hair as he fights back grief.
"He always told me I was his hero, but he was mine," Bob says.
There is no shortage of heroes in this family. Al's stepbrother Tommy Cannuli signed on with the Army soon after Al did. Tommy is serving now in Iraq.
Sitting on the edge of the garage bay, their mother, Gigi Dikcis, wipes a tear away from under a pair of dark sunglasses. But a smile forms as she recounts stories of the lanky boys growing up together playing Army in the fields around the house.
She remembers one time Al and Stan got into a little trouble. The police overheard the boys making up adventures on their new walkie-talkies.
"It turned into this big huge thing — that there are these two small kids in the woods somewhere, and there's some guy with a gun and ..." she says as she trails off. "It's funny now, but back then it wasn't very funny. Not when you have to pay back for the helicopter and the dogs."
'It's Just Sad'
But the price got much higher once the boys grew up and started going off to fight real war.
Al's death left 3-year-old Sophia without her father. Sophia turns to her mom for help with a little cut on her finger. Nikki Brown does a lot of comforting now. But she says her boyfriend made the best career choice he could. There aren't many well-paying jobs in Niagara Falls. Brown says all she and Sophia can do now is pray for him — and his brothers.
"Every night we say our prayers, to Daddy to Jesus, and that Tommy comes home safe and Stan gets better. And it's sad. It's just sad," Brown says.
Tommy came home briefly on leave for Al's funeral. Gigi says it was hard saying goodbye again when he had to go back to Iraq. She pulls her youngest son, 8-year-old Robert, onto her lap and hugs him. Gigi says she and her husband support their boys' decisions.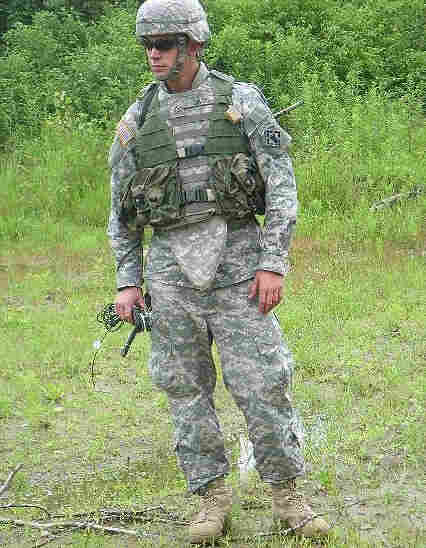 "I would have liked them to be a doctor or a lawyer ... you know, typical, like any other parent would want," she says. "But that's what they chose, and we have to respect them and be proud of what they're doing."
Now, her son Randy Cannuli is choosing the same path. He and his brothers used to go to the recruiter's office together. Randy says losing Al only made him more determined to join.
"Didn't make me want to back down — not one bit. Just made me want to go harder ... just go for it. That's what he would have wanted," Randy says. "We're not a weak family."
A 20-foot flagpole with a giant American flag will soon be installed in the front yard of the Dikcis family home. It will stand in front of the tree where two ribbons are tied: a yellow one for support, and a black one for mourning.