Political Strategist Karl Rove Resigns
Karl Rove, President Bush's close friend and chief political strategist, plans to leave the White House at the end of August. A longtime member of Bush's inner circle, Rove was nicknamed "the architect" by the president for designing the strategy that twice won him the White House.
STEVE INSKEEP, host:
It's MORNING EDITION from NPR News. I'm Steve Inskeep.
On this day that his resignation is becoming known, let's take a moment to note the career of Karl Rove. He's a longtime Republican strategist. He directed the Republican takeover of Texas politics. His biggest star, George W. Bush, went on to the White House. And Rove spoke of a permanent Republican majority in the nation - until the fall of 2006.
He was talking with NPR's ALL THINGS CONSIDERED when he confidently predicted one more victory.
Mr. KARL ROVE (Deputy White House Chief of Staff): I'm looking at all these, Robert, and adding them up, and I add up to a Republican Senate and a Republican House. You may end up with the different math but you're entitled to your math, I'm entitled to the math.
INSKEEP: In this case, though, the Republicans lost.
NPR White House correspondent David Greene has been covering this story. And David, I wanted to play that piece of tape because it just seems - even though his prediction wasn't right that time, it seemed like a classic moment for Karl Rove.
DAVID GREENE: Oh, it's so Rove, Steve. And you know, a lot of people wondered whether he would be right because on the eve of President Bush's re-election in 2004 - I remember covering it - we were talking to Karl Rove and he made this bold prediction that the president was going to pull out the race against John Kerry. He was going to win Ohio and Florida - but that he would lose Pennsylvania. And that's exactly how things shook down and the president came back to the White House.
INSKEEP: He also built this reputation as a guy who would be incredible at studying poll numbers and other kinds of numbers and finding things that other people overlook.
GREENE: Well, exactly. And he would spout out all these statistics and, you know, you always wondered, is this spin or does Karl Rove actually have these numbers that no one else has access to? And time and time again he actually turned out to be right. But as you said, he was certainly not right with this Democratic takeover recently.
INSKEEP: Okay. So why is Rove leaving the White House now?
GREENE: Well, he said in a Wall Street Journal interview that this is now the time to spend, you know, more of his time with his family. He has a son who's in college in Texas and he wants to spend more time with his wife.
But he also said in the interview that he wasn't going to make this decision based on whether it pleases the mob. And it's been quite a mob. Democrats have been subpoenaing him. They want to - you know, Democrats think he was really the one behind the firing of U.S. attorneys last year. It also looked like he was going to be indicted in the investigation of who leaked the identity of CIA operative Valerie Plame, and he was not in the end. He survived that.
So you get the sense that this might be a moment he chose when at least he could say that this was his decision and that he's not being forced out by circumstances.
INSKEEP: Also an extremely difficult time for his boss.
GREENE: Indeed. And Rove, actually, in something of a parting shot in The Wall Street Journal, said, you know what? The war is going to get better in Iraq. The president's poll numbers are going to come up. And so he's making more Rove-style predictions.
INSKEEP: So how close has he been to this president?
GREENE: Really close, Steve. They met, you know, some 30 years ago when Rove was working for Mr. Bush's father at the Republican National Committee and been with Bush in his run for governor. And the president's called him the architect because he really built the strategy that brought George W. Bush to the White House and kept him there.
And one White House official said this morning that the two of them - Mr. Bush and Karl Rove - are going to remain the greatest of friends. And Mr. Bush has stuck by Karl Rove through a lot, through the career. And you know, Rove's been accused by Democrats of dirty political tricks and injecting politics into everything. And President Bush has I don't think ever regretted having him by his side and he stuck by him.
INSKEEP: David, thanks very much.
GREENE:: Thanks, Steve.
INSKEEP: That's NPR White House correspondent David Greene on this morning when the Wall Street Journal first reported and NPR has now confirmed that Karl Rove is leaving his job as political counselor, a close adviser to President Bush at the White House. He says he wants to spend more time with his family.
NPR transcripts are created on a rush deadline by Verb8tm, Inc., an NPR contractor, and produced using a proprietary transcription process developed with NPR. This text may not be in its final form and may be updated or revised in the future. Accuracy and availability may vary. The authoritative record of NPR's programming is the audio record.
Rove to Leave White House at End of August
Rove Chronology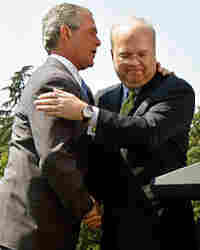 Karl Rove said an emotional goodbye at a White House news conference on Monday, hours after the news broke that he will leave the White House at the end of the month.
"I will miss, deeply miss, my work here," said Rove, President Bush's close friend and chief political strategist. "Mr. President, I'm grateful for the opportunity you gave me to serve our nation. I'm grateful to have been a witness to history."
Rove praised President Bush, saying Mr. Bush's integrity and character had inspired him. He also said Mr. Bush was "farsighted" and that the president has protected the U.S. from a "brutal enemy."
At the news conference, Rove said he would remain close to the president. "I look forward to continuing our friendship of 34 years," Rove said.
Indeed, President Bush said the two would continue their friendship, and noted that he, too, would soon be leaving the White House.
"We've been friends for a long time, and we're still going to be friends," Bush said, standing with Rove. "I would call Karl Rove a dear friend. I thank my friend," Bush said. "I'll be on the road behind you in a bit."
In an interview published in Monday's edition of The Wall Street Journal, Rove said he had first floated the idea of leaving a year ago, but he did not want to depart on a sour note after the Democrats took control of Congress in November.
"There's always something that can keep you here, and as much as I'd like to be here, I've got to do this for the sake of my family," he told the Journal.
A longtime member of Bush's inner circle, Rove was nicknamed "the architect" by the president for designing the strategy that twice captured the White House.
"Obviously, it's a big loss to us," White House deputy press secretary Dana Perino said. "He's a great colleague, a good friend, and a brilliant mind."
Rove "will be greatly missed, but we know he wouldn't be going if he wasn't sure this was the right time to be giving more to his family, his wife, Darby, and their son. He will continue to be one of the president's greatest friends," Perino said.
A criminal investigation put Rove under scrutiny for months during the investigation into the leak of a CIA operative's name, but he was never charged with any crime. In a more recent controversy, Rove, citing executive privilege, has refused to testify before Congress about the firing of U.S. attorneys.
Rove also told the Journal that he believed Mr. Bush would bounce back from historically low public opinion polls, saying Bush would move up from about a 30 percent approval rating to 40 percent, and "higher than Congress."
He predicted Iraq would be "a better place" as the surge continues and that the Democrats would nominate Hillary Clinton for the presidency, a candidate he called "tough, tenacious, fatally flawed." He also said he believes Republicans have a very good chance of winning the White House again in 2008.
Looking back over his White House years, Rove told the Journal that at least two parts of the Bush Doctrine will be carried on by future administrations: The policy that those who harbor terrorists are as culpable as terrorists; and pre-emption.
Since Democrats won control of Congress, some top administration officials have announced their resignations.
Among those who have left are White House counselor Dan Bartlett, budget director Rob Portman, chief White House attorney Harriet Miers, political director Sara Taylor, deputy national security adviser J.D. Crouch and Meghan O'Sullivan, another deputy national security adviser who worked on Iraq.
Defense Secretary Donald Rumsfeld was forced out immediately after the election as the unpopular war in Iraq dragged on.
Rove's decision to leave was not a hasty one, Perino said.
"He's been talking with the president for a long time - about a year - regarding when might be good to go," Perino said. "But there's always a big project to work on, and his strategic abilities - and our need for his support - kept him here. He said there's never a good time to leave, just the `right' time."
Rove became one of Washington's most influential figures during Bush's presidency. He is known as a ruthless political warrior who has an encyclopedic command of political minutiae and a wonkish love of policy.
Rove met Bush in the early 1970s, when both men were in their 20s. Once inside the White House, he grew into Bush's right-hand man.
Rove's resignation is effective Aug. 31. He said the president has encouraged him to write a book about the Bush years – a project he finds appealing.
Rove also said he is finished with political consulting and would eventually like to teach.
From NPR reports and The Associated Press