Karl Rove Leaves, Romney Wins Iowa Straw Poll
Karl Rove Leaves, Romney Wins Iowa Straw Poll
Karl Rove, credited for the rise of President Bush, steps down. Former Massachusetts Gov. Mitt Romney wins the Iowa Straw Poll. Former Gov. Tommy Thompson is dropping out of the race for the Republican presidential nomination after finishing sixth in the poll.
STEVE INSKEEP, host:
It's MORNING EDITION from NPR News. I'm Steve Inskeep.
He was the man who got much of the credit for the rise of George W. Bush. More than that, Karl Rove was credited with managing the Republican Party takeover of Texas and with holding steady through two bitterly fought presidential elections. He spoke of building a permanent Republican majority. He was also accused of dirty politics and ultimately questioned by a special prosecutor. And now, Karl Rove is leaving the White House. He told The Wall Street Journal he's resigning effective August 31st.
We're getting at some analysis this morning from NPR's Cokie Roberts.
Cokie, good morning.
COKIE ROBERTS: Good morning, Steve.
INSKEEP: What does Rove's departure mean?
ROBERTS: Well, it means something we all know, which is that George Bush's political life is over. Karl Rove has been there from the beginning, and the president is in the last days of a second term and he doesn't really need his political guru anymore. And Karl Rove told The Wall Street Journal that he had to do it for his family, which is what people normally say.
But he did say that the White House Chief of Staff Joshua Bolten had said if anybody stayed past Labor Day of this year, that they would have to stay until the end of the term, that it would be - I assume that means there will be just too little time between now and the end of the term to do anything else.
And Rove realized that this was his time to go. He said he didn't want to do it after the 2006 election, that that would have been a sour note. Then there was the immigration debate. And as you just alluded to, he wanted to build the Republican Party. He saw reaching out to Hispanics as a way to do that.
He didn't say this to The Wall Street journal, but obviously he had survived the investigation into the leak of Valerie Plame's name. And he did tell Paul Gigot of The Wall Street Journal that he knew people would say that now he was leaving to avoid congressional scrutiny. But he said, quote, "I'm not going to stay or leave based on whether it pleases the mob." And there will still be congressional subpoenas. Congress will still be after him.
INSKEEP: Well now you mentioned the president's political life can be seen as over. But he's still president, still got some time left, so who replaces his political adviser there in the White House?
ROBERTS: Well, you know, nobody can replace Karl Rove. I mean, he is essentially sui generis. He - you know, there has been a book written called, "Bush's Brain." I mean, he is the chief person behind George Bush, and the Democrats, of course, have demonized him as some sort of devil behind George Bush. But at the end of a presidential term, often you get a young person coming into the White House that you don't know, and that person starts a political career. Think Dick Cheney at the end of the Ford administration or Jim Jones who went on to Congress from Oklahoma at the end of the Johnson administration. So we'll see who that is and then look to that person's future.
INSKEEP: Well now Karl Rove is letting people know about his resignation just shortly after there was an actual vote in the race to replace President Bush.
ROBERTS: An actual vote, the Iowa straw poll. And now the Republicans are down one candidate. Mitt Romney won that straw poll. And now Tommy Thompson, the former governor of Wisconsin, has gotten out of the race. He said he had to come in first or second; he didn't come anywhere near it. And it's interesting, Steve, because, you know, Tommy Thompson's the kind of candidate who on paper looks just right: a successful governor of a Midwestern state, Wisconsin, enacted welfare reform in a way that was highly regarded, came to the cabinet in health care, a subject that people care a great deal about. But just never energized anybody in a political campaign, and so now he's out.
INSKEEP: And Mitt Romney is in. He was the winner of the straw poll over the weekend.
ROBERTS: He was, and he went on Fox News yesterday, the favorite venue of Republican candidates, and really sort of made a point of taking off after Barack Obama. It's interesting, Steve. I think these Republicans all have their campaign plans against Hillary Clinton, whom Karl Rove, by the way, said he thought would be the Democratic nominee. They don't quite know what to do about Barack Obama and they seem to be going after him big time.
INSKEEP: Hmm, okay. Cokie, thanks very much. That's analysis, as we get every Monday morning, from NPR's Cokie Roberts.
NPR transcripts are created on a rush deadline by Verb8tm, Inc., an NPR contractor, and produced using a proprietary transcription process developed with NPR. This text may not be in its final form and may be updated or revised in the future. Accuracy and availability may vary. The authoritative record of NPR's programming is the audio record.
Rove to Leave White House at End of August
Rove Chronology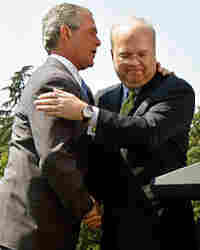 Karl Rove said an emotional goodbye at a White House news conference on Monday, hours after the news broke that he will leave the White House at the end of the month.
"I will miss, deeply miss, my work here," said Rove, President Bush's close friend and chief political strategist. "Mr. President, I'm grateful for the opportunity you gave me to serve our nation. I'm grateful to have been a witness to history."
Rove praised President Bush, saying Mr. Bush's integrity and character had inspired him. He also said Mr. Bush was "farsighted" and that the president has protected the U.S. from a "brutal enemy."
At the news conference, Rove said he would remain close to the president. "I look forward to continuing our friendship of 34 years," Rove said.
Indeed, President Bush said the two would continue their friendship, and noted that he, too, would soon be leaving the White House.
"We've been friends for a long time, and we're still going to be friends," Bush said, standing with Rove. "I would call Karl Rove a dear friend. I thank my friend," Bush said. "I'll be on the road behind you in a bit."
In an interview published in Monday's edition of The Wall Street Journal, Rove said he had first floated the idea of leaving a year ago, but he did not want to depart on a sour note after the Democrats took control of Congress in November.
"There's always something that can keep you here, and as much as I'd like to be here, I've got to do this for the sake of my family," he told the Journal.
A longtime member of Bush's inner circle, Rove was nicknamed "the architect" by the president for designing the strategy that twice captured the White House.
"Obviously, it's a big loss to us," White House deputy press secretary Dana Perino said. "He's a great colleague, a good friend, and a brilliant mind."
Rove "will be greatly missed, but we know he wouldn't be going if he wasn't sure this was the right time to be giving more to his family, his wife, Darby, and their son. He will continue to be one of the president's greatest friends," Perino said.
A criminal investigation put Rove under scrutiny for months during the investigation into the leak of a CIA operative's name, but he was never charged with any crime. In a more recent controversy, Rove, citing executive privilege, has refused to testify before Congress about the firing of U.S. attorneys.
Rove also told the Journal that he believed Mr. Bush would bounce back from historically low public opinion polls, saying Bush would move up from about a 30 percent approval rating to 40 percent, and "higher than Congress."
He predicted Iraq would be "a better place" as the surge continues and that the Democrats would nominate Hillary Clinton for the presidency, a candidate he called "tough, tenacious, fatally flawed." He also said he believes Republicans have a very good chance of winning the White House again in 2008.
Looking back over his White House years, Rove told the Journal that at least two parts of the Bush Doctrine will be carried on by future administrations: The policy that those who harbor terrorists are as culpable as terrorists; and pre-emption.
Since Democrats won control of Congress, some top administration officials have announced their resignations.
Among those who have left are White House counselor Dan Bartlett, budget director Rob Portman, chief White House attorney Harriet Miers, political director Sara Taylor, deputy national security adviser J.D. Crouch and Meghan O'Sullivan, another deputy national security adviser who worked on Iraq.
Defense Secretary Donald Rumsfeld was forced out immediately after the election as the unpopular war in Iraq dragged on.
Rove's decision to leave was not a hasty one, Perino said.
"He's been talking with the president for a long time - about a year - regarding when might be good to go," Perino said. "But there's always a big project to work on, and his strategic abilities - and our need for his support - kept him here. He said there's never a good time to leave, just the `right' time."
Rove became one of Washington's most influential figures during Bush's presidency. He is known as a ruthless political warrior who has an encyclopedic command of political minutiae and a wonkish love of policy.
Rove met Bush in the early 1970s, when both men were in their 20s. Once inside the White House, he grew into Bush's right-hand man.
Rove's resignation is effective Aug. 31. He said the president has encouraged him to write a book about the Bush years – a project he finds appealing.
Rove also said he is finished with political consulting and would eventually like to teach.
From NPR reports and The Associated Press