Afghans Skeptical Peace Talks Will Bring Stability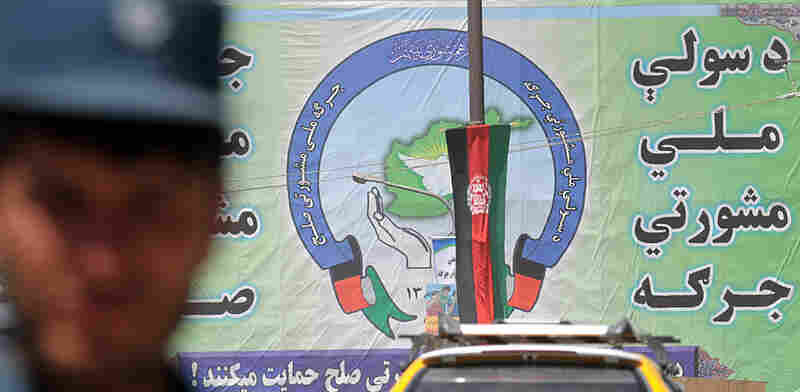 Shah Marai/AFP/Getty Images
Afghanistan's much-delayed peace jirga, or assembly, gets under way in Kabul on Wednesday. Under a large tent at Kabul Polytechnic University, 1,600 delegates — one-fifth of them women — will try to come up with ways to persuade the Taliban and other insurgents to lay down their weapons and reconcile with their countrymen.
But many war-weary Afghans aren't optimistic the conference will produce meaningful results.
The highly touted peace jirga seems anything but organized. On Tuesday the event's planners were still trying to come up with a schedule, and hundreds of delegates had yet to arrive.
And Afghan President Hamid Karzai has not laid out exactly how he plans to reconcile with insurgents.
Uncertainty, Criticism Surround Gathering
All of the uncertainty has many Kabul residents, such as government worker Mohammad Reza Sharifi, questioning whether the jirga can pave the way to badly needed security and stability in the daily lives of Afghans.
He says national jirgas may be a time-honored Afghan tradition, but adds that he doubts recommendations from this one will be put into practice.
Fellow Kabul resident Shekeb Sadat worries the assembly will become a forum for ethnic Pashtuns, like Karzai, to advance their agenda at the expense of other ethnic groups in the country.
Abdullah Abdullah, a Karzai critic and his key rival in last year's Afghan presidential elections, agrees.
"The agenda is unknown to the people of Afghanistan, the aim is not known to the people of Afghanistan, and the people which have been invited — there are many, many questions about the merit of inviting people without clear criteria, because most of the representatives have been introduced through the government channels," Abdullah says.
Assembly spokesman Gul Agha Ahmadi dismisses such criticism, saying that people from each of Afghanistan's 365 districts will gather under the jirga tent this week.
He adds that these people are best able to help the government decide which insurgents can be turned.
"The real fact is how to set up a mechanism to talk to those insurgent people to find a solution, to open the way how to talk to those people, and how to decrease the level of insurgency; this is the real purpose from this," Ahmadi says.
If Karzai has his way, the jirga will approve his plans for reintegrating low- and mid-level insurgents into Afghan society by giving them jobs and vocational training, and teaching them to read and write.
Higher-level Taliban leaders would be courted through political channels by granting some of them amnesty or exile to another country, or removing them from international blacklists.
'Important First Step'
The U.S. government, meanwhile, appears to support the jirga despite Washington's concerns about offering incentives to militants, who believe they are winning the war.
In a recent interview, U.S. Ambassador Karl Eikenberry said Karzai and the U.S. administration are on the same page about "red lines" — for example, which militants can be reconciled and what they must agree to, such as ending violence and accepting the Afghan government and constitution.
"Now, trying to define what a reconciliation program looks like, how it's going to be implemented, that's hard work. But I think that this consultation peace jirga is going to be an important first step," Eikenberry said.
Zarar Ahmad Moqbel, the Afghan government's minister for counternarcotics efforts, adds that it is vital such talks among Afghans continue until they achieve peace and prosperity.
That will likely take a long time, based on how insurgents are reacting to the jirga.
The Taliban e-mailed a statement to reporters Tuesday denouncing the assembly as a means of "securing the interests" of Americans and other foreigners.
And another insurgent group, Hizb-e-Islami, which recently held informal talks with Afghan officials, dismissed the assembly as an unimportant event attended only by Karzai's cronies.
NPR's Quil Lawrence contributed to this report.