Army Recruits Train for Realities of Urban Combat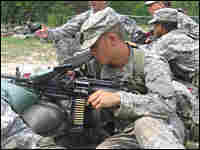 The Army is transforming the way it trains soldiers.
Gone is a lot of the spit and polish that has been a staple of basic training for decades: marching, standing at attention and pressing uniforms.
Instead, the focus is shifting to the skills that recruits will need to stay alive in Iraq and Afghanistan: How to spot a roadside bomb, how to defend a convoy against an ambush, and how to save a wounded comrade.
At Fort Jackson, S.C., trucks filled with Army recruits wind their way around a dirt track. They fire at pop-up targets spread among the abandoned vehicles. It's all meant to simulate a convoy under attack, somewhere along the brutal roads of Iraq.
These recruits will not be what the Army would call "tip of the spear." After nine-weeks of basic training, they will learn to be cooks, mechanics, truck drivers. They are known as support troops.
But in Iraq, there are no front lines. That became clear on a March day in 2003, when a support company that included Pvt. Jessica Lynch came under insurgent fire. Most of those soldiers never fired a shot.
Lt. Gen. Robert Van Antwerp and other top Army leaders came to realize that every soldier, even the cooks, have to be warriors.
"So we went to really a different approach to basic training," Van Antwerp says.
Preparing Support Troops for Combat Conditions
That approach means recruits now begin carrying their M16 assault rifles just three days after arriving at Fort Jackson. In the past, three weeks would pass.
Recruits also spend more time firing their weapons. And Van Antwerp, who recently stepped down as a top training officer, points to other changes.
"For one thing, we cut out 40 hours of drill and ceremony, put in combatives, took them to the field three times," he says.
Combatives refers to hand-to-hand fighting. And "the field" includes what are known as shooting lanes, where recruits walk carefully past upturned cars and concrete walls meant to resemble an urban wasteland. Later, they patrol inside a dense pine forest. Role-playing enemy soldiers wait in ambush.
Pvt. Derek Scheidemental, a 22-year-old recruit from St. Louis, says he would like to see more of this field training.
"We learned a lot. Probably I wish we would have been able to do more of this," he says. "'Cause this is the kind of stuff you're going to be doing more than anything out there."
Scheidemental says carrying a weapon has become second nature: "It's a piece of me now. ... I'm sure when I turn it in, I'm going to be looking for it all the time."
The Reality of IEDs
More than three-quarters of the drill sergeants at Fort Jackson are Iraq veterans. That includes Sgt. Victor Daugherty, who served with the 10th Mountain Division during the run to Baghdad in 2003.
"I tell them it's reality. If you don't learn your warrior skills here, don't rely on no one else," Daugherty says.
At times, Daugherty will pick up his cell phone and call fellow soldiers in Iraq — turning on the speaker phone so that all his recruits can hear.
Sgt. Robert William Thomas says IEDs, or improvised explosive devices, are a constant topic of conversation "because they're the biggest threat in Iraq."
IEDs, or roadside bombs, account for nearly 80 percent of the casualties in Iraq. Thomas says to survive, soldiers have to be aware of their surroundings and of any sudden changes — an abandoned car, an unopened box. Even a dead animal could conceal a bomb.
Molding Soldiers
First Sgt. Chuck Nye is among Iraq veterans who worry about the overall quality of Army recruits. The Army is accepting older recruits. And a growing number of recruits lack high-school diplomas, have received waivers for crimes or medical conditions, or have scored lower on the military's aptitude test than in the past.
But Nye says recruit training is far better than when he joined the Army nearly two decades ago.
"I think the quality of training has increased in the two years I've been here," Nye says. "It's like a 180. I'm putting out a better product than I was two years ago."
One of those "products" is Kaija Juliette Stiehm, a 40-year-old former flight attendant. Stiehm realizes that she may deploy to Iraq. But after spending weeks in the South Carolina woods, she feels ready to be a soldier.
"The training here is good, and our instructors are good, our drill sergeants," she says. "They teach us what to do and how to do it."
More Stories from Ft. Jackson