Inspecting a Los Angeles Bridge
Inspecting a Los Angeles Bridge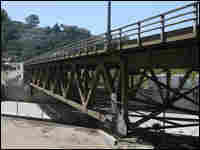 The I-35 bridge collapse in Minnesota has heightened concern about the more than 700 bridges that share the same design.
There are two such spans in Los Angeles, and one crosses the Los Angeles river in the San Fernando Valley at Colfax Avenue. The Colfax bridge sits next to what was once the Republic Pictures Studio and is now CBS Studio Center.
Engineers say that although the bridge's design is obsolete, it is structurally sound. Deputy City Engineer Clark Robins takes Alex Chadwick on an inspection visit.