A Father's Plan For Raising Three Sons: 'Hug Them'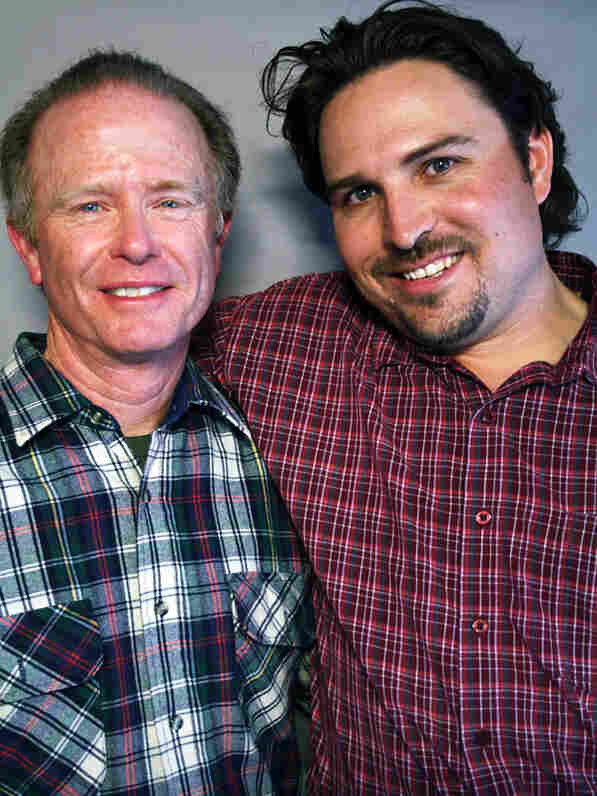 When Jim Colbert began raising three boys on his own after a divorce, it brought a big change in his life. But he'd already decided to raise his sons differently from the way he had been brought up by his own father. As he recently told his oldest son, Elton, the goal was to make them feel special.
Jim and his ex-wife, Barbara, went through a divorce in the late 1980s. Their sons continued to see their mother, but they relied on Jim for everything. When his parents separated, Elton was 13.
Speaking about those days recently, Elton, now 35, asks, "How did it hit you, when you found out that you were going to get sole custody?"
"It was a huge change in my life," Jim says. He'd been spending time with his family, he says, "but not being the sole provider of everything, from cooking to cleaning. It sure gave me a whole new appreciation for single moms."
For one thing, Jim had to figure out how to feed three boys every day -- Joel is three years younger than Elton, and Jonathan is nine years younger.
"I think that first month, I probably hot-dogged and hamburgered you guys to death. I remember one of you saying, 'Please Dad, anything but hot dogs or hamburgers. We'll eat cereal!' And I went, 'Cereal! Jeez, I wish you'd told me that earlier!' "
Jim's parents had also divorced, when he was 3. He lived with his father -- but he was determined to give his sons a different experience than the one he'd had growing up.
"Can you tell me some of the things that lacked in your relationship with your father that you tried to instill in us?" Elton asks.
Jim says, "I don't ever remember my dad telling me he loved me. I don't ever remember my dad giving me a hug."
Instead, Jim recalls his father being critical -- and prone to dole out harsh punishment if things weren't done the way he wanted.
"So I decided that if I ever had kids, I was going to have it differently," Jim says. "I was going to tell them how much I loved them, and I was going to hug them and spend time with them, and make them feel special."
"Wow," Elton says.
"So that's what I tried to do," Jim says.
"You accomplished that. We are a result of that love, so thank you for making that effort."
"Well, thank you," Jim says. "I don't think that there's a higher calling that a man could have than to be a dad."
Produced for Morning Edition by Lily Percy and Nadia Reiman. The senior producer for StoryCorps is Michael Garofalo. Recorded in partnership with KUNR.