High Court Rules Against Beachfront Homeowners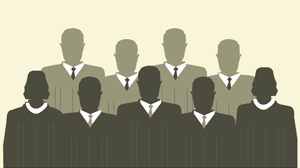 The U.S. Supreme Court has ruled unanimously that Florida can undertake beach-widening programs without paying beachfront property owners who may lose their exclusive access to the water. The decision is expected to speed beach restoration programs in some 35 states that border either the ocean or the Great Lakes.
Florida has among the longest shorelines in the nation — some 2,000 miles, including 820 miles of sandy beach. For the past four decades, the state has poured millions of dollars into restoring beaches eroded by hurricanes and other storms. State and local governments see these programs as essential to preserving private property, coastal roads, utilities, infrastructure and tourism.
With the state spending bundles on these restoration programs, it sets the private property beachfront line where it is when a restoration project begins — at the wet sandy beach. If the addition of new sand at water's edge extends the dry beach farther out toward the water, that new additional dry strip is considered public property.
'A Land Grab'
While these restoration programs have generally been popular, with local and state governments pouring in money, some beachfront homeowners in the panhandle town of Destin have a different view.
"It was simply a land grab," says Slade Lindsey. He is among a handful of homeowners who went to court claiming that the state was unconstitutionally taking their land by creating a strip of new public beach in front of their homes. Lindsey likened the program to putting sand in his backyard and converting it to a public beach. "We were angry that someone could come in and rewrite our deeds without our consent," he says.
The homeowners group lost in the Florida Supreme Court, which cited a long line of precedents and said the private property owners were guaranteed the same unobstructed view and water access under state law.
The U.S. Supreme Court on Thursday unanimously agreed. Writing for the court, Justice Antonin Scalia said that under Florida law and judicial precedents, the state owns the land under the water at the shoreline, and the state continues to own that land even if it adds new sand that interrupts the private property contact with the water. The Supreme Court conceded that such restoration programs may deprive the homeowners' waterfront property of some its value, but the justices said longstanding Florida court precedent balanced the public/private interest this way and thus there was no taking of private property in violation of the federal Constitution that would have required compensation from the state.
Ruling's Implication
Property rights experts said Thursday's ruling would have nationwide impact. Richard Michael Frank, executive director of the Center for Law, Energy & the Environment at the University of California, Berkeley, says that in terms of water-boundary law "the Florida law as interpreted here represents kind of the majority view among coastal states. So to the extent that the court has articulated and for the most part reaffirmed longstanding state coastal boundary law principles, they are likely to have relatively broad application across the country."
The Supreme Court, however, declined to decide the issue pushed by property rights advocates in this case: whether a state judicial decision can ever amount to a violation of the federal Constitution's ban on government taking private property without just compensation. Four justices bought into that theory: Justice Scalia and the court's three other most conservative members. But four is not a majority. Four other justices, including Anthony Kennedy, often the swing vote, declined to decide the question, expressing skepticism about the notion of a judicial taking. Justice John Paul Stevens, who owns Florida beachfront property, did not participate in the decision. But most experts noted that he very likely would have been a forceful voice against deciding the question of a judicial taking.
Judicial Taking
Still, as Harvard Law professor Jody Freeman puts it, "Since you have four votes on the key question of whether there can be a judicial taking, that is a significant victory for the property rights movement and for advocates of more restrictions on what judges can do in terms of their decisions about property rights." Widener Law professor Ben Barros, editor of PropertyProf Blog, agrees. "It's basically an invitation to property owners to litigate this issue in the future, so I would expect to see a lot more litigation in the lower federal courts," he says.
Kent Safriet, attorney for the property owners, takes that very message from the court's decision. "It's a signal to state courts: Don't go too far." Similarly, Shannon Goessling, executive director for Southeastern Legal Foundation, says: "I believe that there are going to be cases coming out of Florida as a direct result of this case."
Professor Barros says Thursday's ruling is, in fact, something of a warning for state courts. "They might be particularly careful in certain types of cases to back up their opinions and to explain their reasoning to try to insulate their opinions from judicial takings litigation."
In Florida, however, the victory was sweet for Secretary of the Department of Environmental Protection Michael Sole. He was elated, especially in view of the crises the state faces — from oil to hurricanes. "These are very challenging times," he said. "But, without question, you do have to make those decisions." Does the court's decision give him more protection for the emergency decisions he is making currently? Yes, says Sole. "Candidly, I think it does."