In Kandahar, A Powerful Brother Frustrates U.S. Aims
In Kandahar, A Powerful Brother Frustrates U.S. Aims
A prominent and powerful figure in the southern Afghan city of Kandahar has become a symbol of corruption. He's the younger half-brother of the country's president, Hamid Karzai. For years Ahmed Wali Karzai has been accused of profiting from the narcotics trade, stealing government land and threatening rivals.
"I know the international community is putting all the focus on me. I know all the cameras are on me," Karzai, chairman of the provincial council in Kandahar, said after a recent conference of top Afghan and American officials at Mandigak palace, where the provincial council holds its meetings.
President Obama was forced Wednesday to change commanders in Afghanistan, replacing Gen. Stanley McChrystal with Gen. David Petraeus, after a flap over insulting published comments about Obama and his national security team.
The U.S. challenge will be staying focused on the mission in Afghanistan. The latest operation in the nearly nine-year-long war is in Kandahar, where thousands of U.S. and allied troops hope to bring stability and drive out the Taliban in an effort gearing up this summer and fall.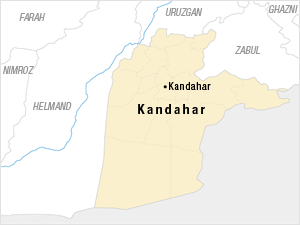 Controversy And Karzai
Ahmed Wali Karzai, a major power broker in southern Afghanistan, reportedly has helped American intelligence officials over the years, but more recently he has been an impediment to U.S. military efforts to clean up the government.
Yet another recent controversy has put Ahmed Wali Karzai in the spotlight: American officials say he expanded his security detail, taking 100 Afghan soldiers for himself, when there is little security for the residents of Kandahar.
Ahmed Wali Karzai, 48, says it wasn't his call. Instead, he says, the troops were assigned to him.
"I am the most wanted person by the Taliban," said Karzai, who on this day was wearing a grayish-white traditional Afghan outfit with a dark oversized vest.
"I have nine suicide attacks against me directly," he told NPR. "Seven suicide attackers once entered my compound. Can you imagine if more than 30 people are blown up to small pieces?"
"I am under a lot of pressure and I am protecting for family and myself," Karzai added.
Rejecting Charges Of Corruption
He flatly refutes claims that he is corrupt and reports that U.S. officials, who increasingly consider him an obstacle to military efforts in Kandahar, are watching him in their efforts to bolster the rule of law in Afghanistan.
"No one threatens me in my own country," Karzai said. "If anyone has any evidence of corruption or whatever you call it please they should bring it over."
U.S. officials say they have plenty of evidence -- though they admit most of it is circumstantial.
But last month there appeared to be harder evidence. Afghanistan's Defense Ministry accused him of profiting from a land-grab scheme. The land was later turned into office parks and housing developments.
Ahmed Wali Karzai says the investigation was one more political attack on him. "It was all based on rumors," he said. "I didn't profit a penny from it."
He added: "This is all politics."
He might be right. Afghanistan's defense minister disavowed his agency's own report this week that ccused Karzai of land-grabbing just last month.
Seeking An Alternative
Still, U.S. officials are looking to find an alternative to the president's brother. They are trying to nudge aside Karzai and build up the political power of Kandahar's provincial governor, Tooryalai Wesa.
Wesa is a onetime professor from Canada who returned to his native Kandahar. One NATO general says the measure of success here will be when the line of Afghans -- to seek favors or lodge complaints -- in front of Wesa's office is longer than the one in front of Karzai's office.
But for now, Ahmed Wali Karzai is simply too powerful.
And at least in part, U.S. officials may have themselves to blame.
They admit that Ahmed Wali Karzai has profited from U.S. contracts in trucking, security and leasing space to U.S. forces.
Karzai denies he has benefited from U.S. contracts.
"I swear on my children ... that I haven't signed a single contract with the Americans," Karzai said. "I have nothing to do with it. Very simple."