A Deal Undone: Smetana's 'The Bartered Bride'
Hear An Introduction To 'The Bartered Bride'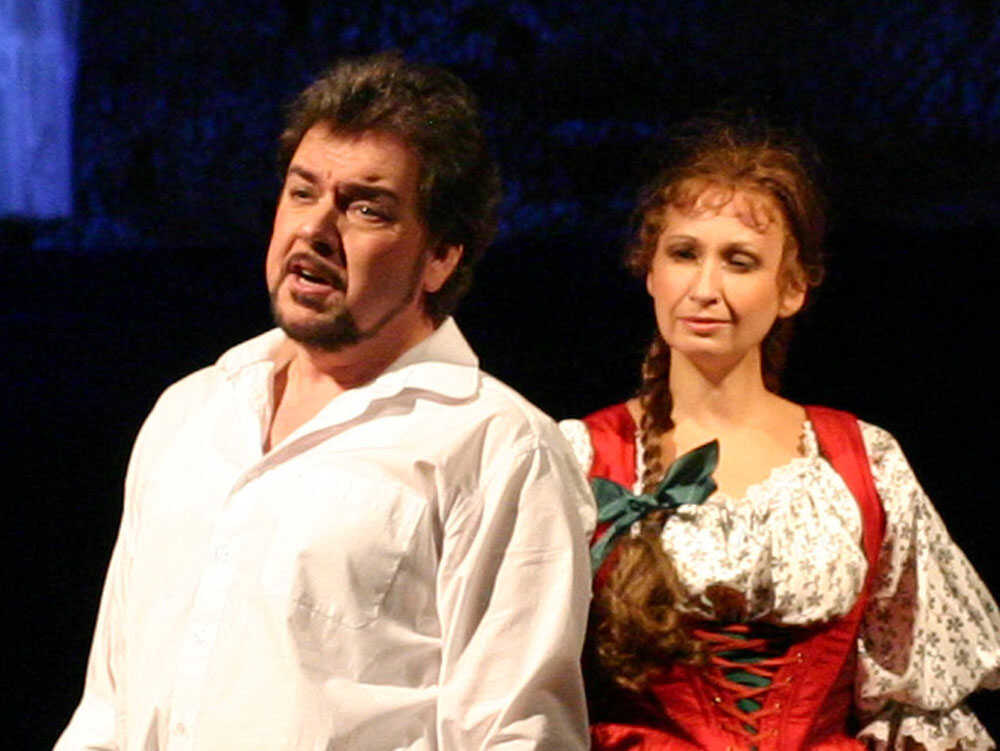 The Hit Single
In an Act One duet, Marenka and Jenik (Pavla Vykopalova and Pavel Cernoch) pledge their love, after learning that Marenka's parents have promised her to someone else.
The B Side
Marenka sings a far different duet in Act Two, seducing the hapless Vasek (Ales Voracek) without letting him know who she really is.
'Would You Like a Girl Like Me?'
Bedrich Smetana wrote music so clearly rooted in his Czech homeland that it would be easy to define him -- narrowly -- as a musical nationalist. But in fact, his achievement goes far deeper than that.
There are plenty of composers whose music provokes waves of national pride when it's played in their homelands but fails to strike the same inspirational chords when it crosses international borders.
Think of John Philip Sousa for example. At home in America, marches such as "The Stars and Stripes Forever" stir deep, patriotic sentiment. Overseas, those same pieces may seem little more than rousing diversions.
Yet, among the many composers whose work is plainly inspired by national traditions, there are a few who also belong to a more exclusive club -- those whose music has deep meaning in their home countries, but has also achieved an undeniable, worldwide appeal.
In America, Aaron Copland wrote music like that. The brash, wide open sound of works like Appalachian Spring and Billy the Kid seems to flow in the blood of American listeners, yet his music has also earned a place in concert halls around the world. From England, the music of Edward Elgar has crossed continents and oceans, but retains an ineffably British nature that has given him a truly special place among his countrymen.
Many other nations can also boast of "favorite sons" whose music has achieved widespread fame -- but few have been as musically blessed as the Czech Republic. Leos Janacek wrote a body of internationally acclaimed operas whose music seems inseparable from the rhythms and inflections of the Czech language itself. Antonin Dvorak wrote some of the world's most popular symphonies, yet even the one called the "New World" is unmistakably bound to Czech musical traditions.
Still, both Dvorak and Janacek owe a clear debt to Smetana, who may have done more than any other composer to establish Czech music both at home and abroad.
Smetana is known to much of the world as the composer of The Moldau, the famous tone poem from his sprawling, orchestral suite called Ma Vlast, or My Country. But Smetana's operas are what truly established him as a founding father of Czech, classical music -- and his brilliant comedy The Bartered Bride has become a mainstay in opera houses around the world.
On World of Opera, host Lisa Simeone presents Smetana's lighthearted masterwork in a performance from Prague, the city where the opera was premiered in 1866. The production, led by conductor Ondrej Lenard, features soprano Pavla Vykopalova as Marenka and tenor Pavel Cernoch as Jeník.
See the previous edition of World of Opera or the full archive.
The Story Of 'The Bartered Bride'
Who's Who
Pavla Vykopalova . . . . . Marenka
Pavel Cernoch . . . . . . . . . . Jenik
Franz Hawlata . . . . . . . . . . Kecal
Ales Voracek . . . . . . . . . . Vasek
Ivan Kusnjer . . . . . . . . Krusina
Yvona Skvarova . . . . . Ludmila
Marie Fajtova . . . . . . Esmerelda
Ales Handrych . . . . . . . . . Micha
Lenda Smidova . . . . . . . . . . Hata
Jan Jezek . . . . . . Circus Master

Prague National Opera Orchestra and Chorus
Ondrej Lenard, conductor

The opera is in three acts, all set in a small Bohemian village, and begins with a well-known overture — a piece that's often heard by itself in the concert hall.
As ACT ONE begins, the village is preparing for a festival, but the young woman Marenka is hardly in a festive mood. She's in love with a young man called Jenik, but she's afraid of what's about to happen. Her father owes a debt to Micha, a wealthy, older man. Micha wants Marenka to marry his son, Vasek, and he's due in town any time now to seal the deal.
Marenka tells Jenik that she'll stay faithful to him, no matter what her father and Micha want. Jenik doesn't seem at all concerned about their future — a casual attitude that Marenka doesn't understand. She also wants to know more about Jenik's past. He says he was born into a wealthy family, but his mother died when he was just a child. Then, when his father remarried, Jenik's stepmother threw him out of the house, and he hasn't seen his family since.
In the next scene, Marenka's parents, Krusina and Ludmila, are talking with the Kecal, the local marriage broker. Kecal knows Micha's son Vasek, and says he'd be a fine husband for Marenka. But when Marenka joins the conversation, she tells them she's in love with someone else. Kecal goes off to find Jenik, hoping to work it all out, while the villagers join in a lively polka.
ACT TWO opens with a drinking song, after which Vasek, the prospective bridegroom, arrives. He comes into the village alone, and he's clearly nervous. Marenka approaches him and she's got the upper hand. He doesn't realize that she's the woman he's supposed to marry — but she knows exactly who he is.
Without introducing herself, she tells him that if he's really the guy who's going to marry Marenka, he'd better watch his back. Marenka, she says, is in love with someone else, and has said she'll see Vasek dead before she marries him. She then flirts with him, and wins his promise that he'll refuse to marry the deadly Marenka, no matter what his father wants.
Meanwhile, Kecal has found Jenik, and wants to make a deal. He offers him 300 gulden to give up his claim on Marenka. Surprisingly, he agrees — but he has very specific conditions. Jenik says he'll take the money, and in return he'll only allow Marenka to marry "the son of Micha."
Satisfied, Kecal announces the deal he's made, and the villagers are angry to learn that Jenik has actually "sold" his bride to someone else.
As ACT THREE begins, Vasek is more than a little bit confused. His father had promised him a beautiful young wife. But now, it seems, his bride wants to kill him.
But for the moment, Vasek is distracted from his troubles as a circus rolls into town. The star attraction is a great American "bear," who will dance with the seductive maiden Esmerelda. But there's a problem. It seems the bear is too drunk to perform. Always willing, Vasek agrees to take his place.
The circus people leave to prepare their show, and Vasek amazes his parents by refusing to marry Marenka. But when they introduce him to her for the first time — and he realizes she's the same woman who flirted with him when he first came to town — he promptly agrees to the wedding.
On top of that, Marenka is told about the deal that Jenik has made with Kecal, the marriage broker — that he's agreed to let Marenka marry "the son of Micha" in return for 300 gulden.
Marenka is furious, and when Jenik tries to explain she refuses to listen. After all, what does she really know about this guy? All he's told her about his past is that his mother died, his wealthy father remarried, and his stepmother threw him out of the house.
Kecal thinks his marriage deal is now good to go, and finally brings all the parties together. But everyone is amazed when Jenik announces that he is Marenka's rightful husband. The deal, he says, was that she could only marry "the son of Micha" — and that's exactly who he is. Jenik explains that he is the son that Micha's new wife drove out of their home. And when Micha sees Jenik, he immediately knows that it's true.
Then there's an uproar, and Micha and his wife get another surprise. The circus "bear" has broken free and is headed their way. When the bear arrives, it turns out to be Vasek. Seeing this, his mother agrees that Vasek is too young and silly to be a husband. At that, Micha blesses the marriage of Marenka and Jenik, and the entire village celebrates.