How To Succeed In Showbiz: The Frank Loesser Story
How To Succeed In Showbiz: The Frank Loesser Story
Gjon Mili/Time Life Pictures/Getty Images
Today marks the centennial of the birth of one of America's great popular songwriters -- Frank Loesser. He wrote hit songs in Hollywood, like "Baby, It's Cold Outside" and "Two Sleepy People," along with some of the most-loved Broadway musicals, including Guys and Dolls and How to Succeed in Business Without Really Trying.
Loesser was the quintessential New Yorker -- fast talking, hard drinking, with an unfiltered Camel cigarette dangling out the side of his mouth. But he was also a poet.
"You know, he had this slang that he picked up -- the way people spoke," says his youngest daughter, Emily. "But he was also able to make it into poetry and worthy of music. And that's what he could do really well."
She says he was also the best interpreter of his own songs.
Frank Loesser Sings
This album is available here.
Beginnings
Frank Henry Loesser was born in New York City on June 29, 1910, to a family of German immigrants. His father was a piano teacher, his older half-brother a concert pianist. But Frank went his own way, says his daughter Susan, who wrote a biography of her father.
"He certainly wanted to be different from the rest of his family, and they were kind of snobbish," she says. "To them, popular music was really low class."
It took a long time for the black sheep to make good. While Loesser tried breaking into Tin Pan Alley, he held a series of odd jobs -- process server, food taster. He even put lids on insecticide cans. His first break came when a Hollywood scout heard him perform in a Greenwich Village nightclub.
Loesser landed at Universal Studios -- and bombed. But the late composer Burton Lane, who was signed with Paramount, heard some of Loesser's songs and marched to the front office.
"And said, 'You've got to hear this lyric writer. This guy's great. He's simply great,' " Lane once recalled. "And they heard him and they signed him, and within a short time Frank and I were working together."
Loesser also worked with composers Hoagy Carmichael and Jule Styne, churning out hit songs.
'You Have The Tune -- You Should Go With It'
When World War II broke out, Loesser joined the Army and worked in a radio production unit.
"I guess like plenty of other people, I can't think of songwriting, or much of anything else, without thinking of the war, too," Loesser once said. "When I hear firsthand accounts of what our fighting men have done, well, being a songwriter, I immediately think of trying to tell their stories in song."
Susan Loesser says that is when he found his own voice as a composer. "He was a lyricist only, for a long time. And his first song that he wrote the music for was 'Praise the Lord and Pass the Ammunition,' " she says.
Audio Extra
Cabaret singer Karen Oberlin performs a Frank Loesser song at the Algonquin Hotel.
'Spring Will Be A Little Late This Year'
"He wrote a dummy tune, which many lyricists did, to set the rhythm. And my mother heard it, and other people heard it and said, 'You know, you have the tune. You should just go with it.' "
In the late 1940s, Loesser and his first wife, Lynn, used to perform "Baby, It's Cold Outside" -- a song Frank wrote for them to sing at parties all over Hollywood and New York.
"My mother used to say it kept them in caviar and truffles for years," says Susan Loesser. "And my mother always considered it 'her song.' "
"And then, one day, he sold it," she says. "And it won the Academy Award! And it was sung by Ricardo Montalban and Esther Williams."
'Luck Be A Lady'
Despite his successes in Hollywood, Loesser always wanted to write for Broadway. He got his first taste with Where's Charley in 1948. Starring Ray Bolger, it was a modest success -- but Loesser hit it big with his next show, a story about New York City gamblers.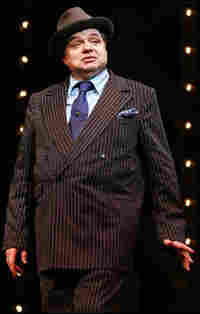 Guys and Dolls is considered by many to be the perfect musical comedy. But during rehearsals, Loesser's legendary temper reared its head. Actress Isabel Bigley was struggling with the song "If I Were A Bell," she recalled in the PBS documentary, Heart and Soul.
"And I got very, very nervous and, um, I started to giggle," she said. "And he just hauled up and smacked me, right across. And there was a dead silence in the room and I think Frank was as shocked as I was."
"That night, I did receive a dozen red roses."
Susan Loesser says one song in Guys And Dolls -- "My Time of Day" -- was very personal.
"He would get up at 4 and write. And you know, probably start drinking coffee then. And by, oh, 9 or 10, he'd be back in bed for a couple of hours," she recalls. "And then he'd get up, you know, noonish and write some more. And pretty much his whole 24 hours would be [punctuated by] two- to three-hour naps."
Loesser followed Guys and Dolls with another hit: The Most Happy Fella, a 1956 show that many people called operatic. Greenwillow, in 1960, was Loesser's only Broadway flop, but in 1961, he won the Pulitzer Prize with How to Succeed in Business Without Really Trying.
Audio Extra
Susan Loesser On Her Father Signing Notes As God
Loesser never really hit it big again, though he kept working until his death from lung cancer in 1969.
"Generally, I think of my father as a comet that just burned very brightly and burned out too fast," Susan Loesser says. "I mean, he really was a phenomenon."
The phenomenon continues. Next season, Daniel Radcliffe (the Harry Potter star) comes to Broadway in a revival of How to Succeed in Business.