Haitians Press On Amid Slow Pace Of Quake Recovery
Haitians Press On Amid Slow Pace Of Quake Recovery
Comparing Post-Disaster Giving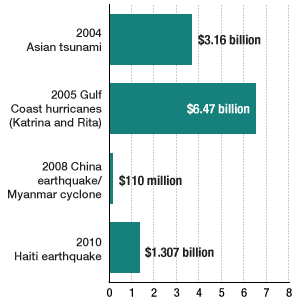 In the six months since Haiti's devastating earthquake killed more than 200,000 people, Port-au-Prince's Petionville Club has been home to more than 5,000 quake survivors. They live in difficult conditions in makeshift tents on the grounds of the country club.
Kids run and play on dirt paths, women gather water from potable stations set up by aid agencies, and hammers pound away as residents continually repair tattered tarps and wobbly scrap-wood frames.
The makeshift dwellings are taking a beating now that the rainy season is in full force. Many people have set up small businesses, like barbershops and beauty salons, while others sell anything from used shoes and phones to rum, candy and cigarettes.
More than 1.5 million people still live in more than 1,000 encampments that sprouted up after the Jan. 12 quake. Americans have donated more than $1.3 billion for Haiti, and thousands of charities are helping the recovery effort.
But plans to move survivors into more suitable housing seem months, or even years, away.
'There Was No Tent'
Marie Jules St. Julius, a 33-year-old mother of two teens, sits by the side of the road in Petionville camp selling snacks like cookies and chips.
She lives in the camp alone and shows visitors what is left of her shanty. She says she lost her tarp to a recent windstorm. She is sleeping with a neighbor now, but she had to send her two children to live with relatives in the countryside.
"Life without them is unbearable," St. Julius says.
At the Fraternal Mobilization for Development camp, known as MFD, off a main thoroughfare in Haiti's capital, Foufoun Cherie and her six children share a shanty with a neighbor. She was left a widow by the quake.
The petite Cherie, 44, bends her frail frame and pulls out a burlap sack from under one of two beds in the tiny tent. She says she sleeps on it with her children.
Speaking through an interpreter, she says in Creole that aid groups have come by to help out, but she hasn't eaten in three days. With tears rolling down her cheeks, she says: "There was one time one of them came, and I asked them for a tent, but there was no tent."
Bottlenecks In Aid Distribution
Despite the billions of dollars pledged to Haiti since the quake by donor countries and aid agencies, it's not hard to find earthquake survivors struggling to find food and shelter.
The Haitian government asked aid groups at the end of April to stop food distribution, saying the free handouts were undercutting local markets. Meanwhile, charity organizations say Haiti's notoriously inefficient customs office is delaying the release of material to build sturdier homes.
Julie Sell, spokeswoman for the American Red Cross, says aid groups have made progress in the past six months despite the challenges. She points to the lack of major disease outbreaks or mass hunger.
Marisa Penaloza/NPR

Marisa Penaloza/NPR

Marisa Penaloza/NPR

Marisa Penaloza/NPR

Marisa Penaloza/NPR

Marisa Penaloza/NPR

Carrie Kahn/NPR

Marisa Penaloza/NPR
But, she adds, "I know as you look around you feel like there are all sorts of things that money could be spent on."
Sell says the money must be spent wisely. The American Red Cross received the lion's share of donations from U.S. residents -- about half a billion dollars. One-third was used for emergency relief and Sell says the rest will be put to good use, too.
"We have said that we will be in Haiti until every dollar donated for Haiti is spent," she says, estimating that will be at least three to five more years.
Criticism Mounting Over Slow Recovery
Some are concerned about the lack of accountability and transparency of the humanitarian community working in Haiti.
"Looking back over the last six months, the lack of transparency by relief groups has caused much of the coordination problems that continue to plague the response," says Ben Smilowitz, executive director of the Disaster Accountability Project, a nonprofit watchdog group.
This week, the Disaster Accountability Project released a report on the transparency of aid groups working in Haiti.
Criticism of the slow pace of recovery in Haiti is mounting. The U.S. Senate Foreign Relations Committee recently released a report, "Haiti At A Crossroads," blasting aid groups for not coordinating recovery efforts better. Massachusetts Democrat John Kerry criticized Haiti's leaders for not making the difficult decisions needed to move forward faster.
Clearing The Rubble, Finding The Space
The most critical need, aid groups say, is finding suitable relocation sites to build housing for the homeless.
"I am not going to take the property of the government, of the state, just to give to people that just tell me that they need land," says Haiti's prime minister, Jean-Max Bellerive. "I have to understand better what is your plan," he says, adding that it can't be done at the whim of every foreign aid group.
Earthquake debris is a major obstacle in Haiti to progress. With only one official debris dump site identified in the country and not enough heavy machinery, the U.N. estimates that at the current rate it will take more than a decade to clear Port-au-Prince of rubble.
Still, the capital's streets are a hive of activity, with people armed with shovels and picks breaking and cleaning sites left in shambles from the quake.
At MFD camp in Port-au-Prince, much of the debris is being removed by hand. The American Red Cross pays camp residents about $4 a day to clear rubble from a storm drainage channel.
Before the quake, most Haitians lived on less than $2 a day. And these days, there are few jobs.
With brand new gardening gloves and tools, a couple of dozen workers sing songs as they sweep and shovel cement blocks, boulders and dirt into wheelbarrows.
While the work gives residents much needed money for food, the government says the work-for-cash programs are drawing even more people into the congested capital and overcrowded camps.
"You can always criticize everyone; you can criticize us. Criticism is easy. Finding a solution is far more difficult," says Timo Luege, who works for a U.N. agency coordinating shelter issues among foreign aid groups in Haiti.
He says solutions are coming. His group is working to help recover lost land titles and is even drawing up rental agreements for displaced renters. Some residents complain they've been asked to pay six months' back rent when trying to re-inhabit their former homes.
Complex Solutions Slow In Coming
But even when land issues are worked out, delays continue.
At Corail-Cesselesse, a relocation site nine miles north of Port-au-Prince, rows of blue tents house more than 5,000 earthquake survivors. Foreign aid groups, including World Vision and Oxfam, built latrines, showers, and water stations atop the rocky, windswept ground.
The charities had hoped to move some families out of tents by now and into sturdier homes.
Mary Kate MacIsaac of World Vision knocks on the wooden wall of a transitional home. "This wall here, some donors consider that permanent housing. They say, 'Oops, you are building with plywood. We don't want you to do that with our funds.' "
MacIsaac said it took a few weeks to convince donors that wood and steel were vital if the houses were going to withstand hurricane-strength winds.
Corail-Cesselesse residents were not thrilled with the first prototype either.
Abekay Robert, a quake survivor, wanted to see a new home with more windows and, most important, a back door. "If my house didn't have two doors when the earthquake hit I could have died. I was going to go to the front door and saw that it collapsed, so I ran to the back," Robert says through an interpreter.
At MFD camp, the days of quake survivors -- like those of hundreds of thousands of people across the city -- are filled with mundane tasks like washing clothes and a lot of waiting. Inside a tiny cinder block church, residents sing psalms and try to escape the intense summer heat.
"You can have a lot of money and a lot of skill and a lot of resources standing by ready to help," says Sell of the American Red Cross. "But sorting out a solution can be a very complex thing to do."
MARY LOUISE KELLY, Host:
NPR's Carrie Kahn reports.