Ticket Sales Down, Live Nation Faces Investors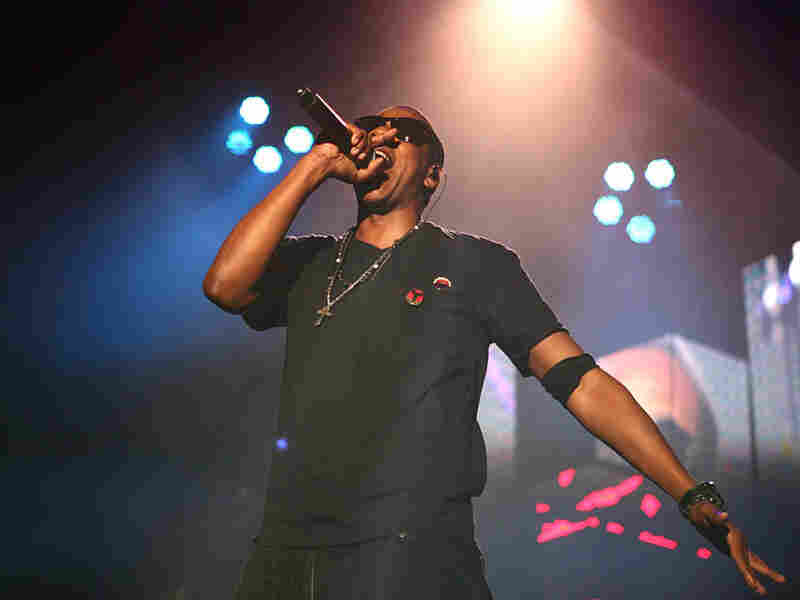 This week, the giant concert promoter Live Nation confirmed what most industry observers already knew: Ticket sales in 2010 have been lousy. The company's representatives have suggested that this could lead to lower ticket prices, but it may not be that simple.
Hundreds of investors packed into a New York rock club or logged on to Live Nation's website Thursday to watch a presentation on the company's financial condition. Live Nation CEO Michael Rapino tried to downplay the impact of declining ticket sales on the company's bottom line.
"This industry gets one paintbrush that says ticket sales are down," Rapino said. "There's pieces of our business that are doing fabulous. Jay-Z and Eminem sold out two stadiums in New York within hours. Lady Gaga, Justin Bieber. There are bands that are just selling out instantly."
Still, most shows aren't selling out. So far this year, Live Nation's ticket sales are down 9 percent. Rapino tried to convince Wall Street that 2010 is a blip, not the beginning of a trend, but many investors in the audience at Irving Plaza didn't seem convinced. Stock trader Elvis Cordova says he doesn't think ticket sales are going to rebound anytime soon.
"The economy's doing terrible," Cordova says. "I don't think they're where our money is to be made in this business at all. I think you'll see worse to come."
Company officials say this year's "correction" could be good for the business in the long run, because it could lead to lower ticket prices.
Jason Garner, Live Nation's CEO of global music, says the company has heard the consumer loud and clear, adding that Live Nation has a pricing issue with some of its shows. He says the company can survive lower ticket revenues, because it actually makes most of its money on things like parking and beer.
"We've now reached a point that everybody has seen some kind of press about the economy, some kind of press about canceled tours," Garner says. "And we now have data to sit with the artists for next year and say, 'Hey, ticket price needs to come down. Your guarantee needs to come down.' "
A Not-So-Simple Solution
Billboard editorial analyst Glenn Peoples says he doesn't think it's that simple, thanks to Live Nation's recent merger with TicketMaster. He says Live Nation also controls the nation's biggest artist management company, Front Line.
"It is a conflict of interest, at least on paper," he says. "Front Line's business is to get the most revenue it can out of the promoter; the promoter wants to keep talent costs down. How do these two things work together? We'll have to see."
Investors did ask questions about this arrangement after Live Nation's presentation at Irving Plaza. But Live Nation chairman Irving Azoff — who also runs Front Line Management — says there is no conflict of interest.
"We're going out to all our clients, and we are as heavy-handed as we can, telling everybody you are going to reduce your ticket pricing, or you're going to lose audience," Irving said. "And I've yet to meet one artist that doesn't want to lower ticket prices."
Artists aren't the only ones responsible for high ticket prices; the service charges and other fees tacked on by promoters like Live Nation contribute, too. Veteran independent promoter and manager John Scher says artists know that, and that most aren't going to lower their fees without a fight.
"The acts rightfully might [tell promoters to] cut [their] service charges a little bit, too," he says.
Scher says Live Nation has long overpaid for talent in order to shut out its competitors. That strategy seemed to work, as long as audiences were willing to pay rising ticket prices. Now, the company may need to come up with a new act.