A Uniquely Indian Perspective On Gay Marriage
A Uniquely Indian Perspective On Gay Marriage
Commentator Sandip Roy is an editor with New America Media and host of New America Now on member station KALW in San Francisco.
The other day I watched two friends, both Indian, get married in a beautiful garden in Santa Cruz. One is Christian, the other Hindu, so they had two ceremonies. There was a three-tiered wedding cake and a sacred fire. But the really amazing part of the ceremony was that one of their fathers had flown in from India to bless them. It was amazing because my friends are both men.
And watching them touch the father's feet during their unofficial ceremony, I realized that the fight over gay marriage is ending. Coming out in India is really about marriage. In fact, the standard coming-out line is, "Mom, Dad, I don't think I am going to get married."
For my immigrant friends, being gay in California is not much of an issue. Being unmarried in their 30s and 40s is the conversation-stopper at Indian potlucks.
One friend said that when an unmarried Chinese friend told his parents that at least he wasn't gay, they retorted, "We'd rather you were gay with kids."
When I left India for America, my aunts worried about who I might end up marrying. "I hope it's another Bengali," one told me. Over the years, that relaxed to, "I hope she's a Hindu." Then it became, "At least another Indian," until finally we reached, "I hope you'll get married before we all die."
The pressure for marriage leads to acts of desperation. I've seen ads for marriages of convenience:
"A 29-year-old professional Indian, gay, 5-foot-9, good job, looking for Indian lesbian facing similar family pressures."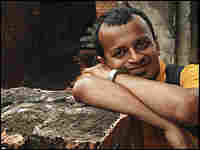 So at my friends' wedding in Santa Cruz, I got a lump in my throat. Not when they said their vows, or when the minister pronounced them spouses for life. I teared up when the father blessed them both.
And I remembered that old coming-out line: "Mom, Dad, I am not going to get married." The next generation of immigrant gays and lesbians might have to come up with some other coming-out line.
In fact, I can imagine this ad in the local Indian weekly:
"Hindu very well-established Los Angeles family invites professional match for daughter, 25, 5-foot-3, slim, fair complexion, U.S. born, senior executive in Fortune 500 company. Loves music and dancing. Prospective lesbians encouraged to reply in confidence with complete bio data and returnable photo. Must be professional, under 30, caste no bar."
It might just be time for the gay arranged marriage.