Disasters In Reel Life: It's About Time (And Suspense)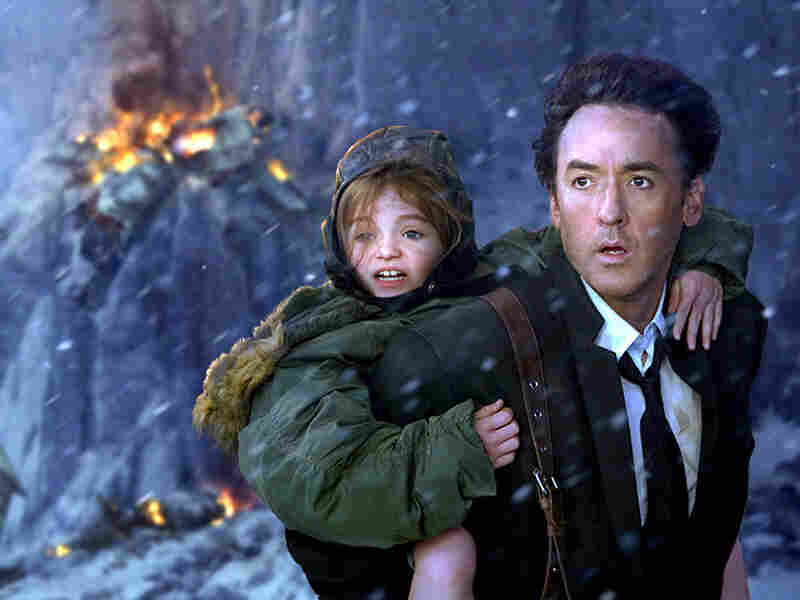 We've been through a lot in the past year or so. We've been shaken by earthquakes, pummeled by boulders the size of houses, chased by lava, smothered by ash clouds, battered by tidal waves -- and that was all in the movie 2012. Let's not even talk about The Road or The Book of Eli.
Now, all those cataclysms were perfectly persuasive; in fact, Hollywood's gotten so good at making them persuasive that disaster movies are almost always cited these days for their "realism."
So how come when a real disaster strikes, it feels so different?
The most obvious disconnect is how long it takes. If the Gulf oil spill were happening in a film, you'd see oil-covered polar bears within hours of the Deepwater Horizon's demise. Never mind that in real life, disasters mostly roll out slowly and with scattered effects: In films, they obey the classic Aristotelian unities -- one big catastrophe, taking place really quickly. No thousands of years for global warming to create an ice age; in The Day After Tomorrow, it takes 48 hours.
There are lots of other differences, of course. Disaster movies have characters; real disasters have casualties. Disaster movies are exciting; real disasters are agonizing.
And things happen in a different order -- something else you can blame on Aristotle. His rules for effective drama call for rising action leading to a climax, and across two millennia we've gotten so used to that formula that now we see it in real life. Election cycles, sports tournaments, childbirth, Thanksgiving dinners -- they all feature slow buildups to a climactic event.
Disasters are disasters, in fact, because they don't follow that dramatic arc. Disasters happen, and then we have to deal with them -- sometimes for decades.
20th Century Fox/The Kobal Collection
Disaster fiction won't work that way: If you start with your catastrophe, you've got nowhere to go except cleanup, and where's the fun in that? So directors start by introducing victims we'd normally meet only after they've been dodging tidal waves or meteors or whatever. Screenwriters put warning signs everywhere -- temperature dials, radiation meters, whatever's appropriate to the coming apocalypse, anything that can be ignored or misjudged or gazed at uncomprehendingly by the folks on screen.
This has to do with what Alfred Hitchcock said about how suspense is the audience knowing something the characters don't. In real life, nobody knows anything, so suspense isn't really the issue.
Prior to 9/11, if you'd asked most people what would happen if a jumbo jet crashed into a skyscraper, they'd have guessed the building would either stay standing or get knocked over sideways. The reality, now seared into a generation's consciousness, seems obvious after the fact. Even as it happened, you understood why it was happening -- how each floor's collapse was putting more weight on the floor below -- but the building's vertical fall wasn't what you expected. Nor was that enormous cloud of ash -- a visual that now shows up in all sorts of movies, but one that no one had considered until we were all horrified by it in real life.
And that points to the biggest difference between disasters cinematic and disasters authentic: In real life, catastrophes are just catastrophes. In films, something good almost always comes of them -- a last-minute rescue, a family unified, a disgraced scientist vindicated -- some kind of light at the end of the tunnel.
The movie doesn't have to show you how long the tunnel is. You see the light, the credits roll, and you know that either the hero or whoever the hero was trying to save will be OK.
And the next 30, 50 or 100 years? That's left for the sequel that never gets made.