Jazz World Mourns Loss of Max Roach
Jazz World Mourns Loss of Max Roach
Legendary jazz percussionist Max Roach is dead at 83. Having been associated with greats such as Duke Ellington and Dizzy Gillespie, the self-taught musician wowed audiences throughout the world.
CALLIE CROSSLEY, host:
Master percussionist and composer Max Roach died yesterday after a long illness. He was 83 years old. Roach was born in North Carolina, January 10, 1924. He moved to Brooklyn with his family four years later. Max Roach's father gave him his first set of drums when he was an eighth grader. He was a natural. In 1940, the self-taught Roach debuted with Duke Ellington's band at just 16. His remarkable career spanned some 60 years.
He created music that connected the jazz of the pre-World War II era with the rhyme and rhythm of the hip-hop generation. His music reverberates with today's musicians like Terence Blanchard.
Mr. TERENCE BLANCHARD (Musician): Well, Max Roach for me was probably one of the most melodic drummers on the planet. I remember when I would listen to his group with Clifford Brown and he would take a drum solo, the first thing I would think of was, wow, he's not just banging on the drums. He's not just playing the latest hip or the hippest poly-rhythmic phrase. He's actually playing melodies.
CROSSLEY: Now, what about his fast hands that everybody talked about? He played so fast.
Mr. BLANCHARD: Oh, well, yeah. I mean, some people always used to say he played - the tempos that he played were so fast it was basically like a vibration.
(Soundbite of laughter)
Mr. BLANCHARD: You know? I mean, he's a pioneer. I mean, he came along with Bird, Dizzy and all of those guys. Those guys were visionaries. And I've always been eternally thankful to those guys. And the thing that I loved about Max is that he's always remained true to his art, because even in his later years, he was still pushing the envelope. He was trying different configurations with his groups, always trying to write new music, always trying to find new avenues, never just rested on the fact that he was a jazz legend. He was always trying to find something new and new ways to express himself.
CROSSLEY: Did you ever meet him? Do you have any favorite memories about him?
Mr. BLANCHARD: Oh, man.
(Soundbite of laughter)
Mr. BLANCHARD: I met Max Roach, you know, when I first started playing with Art Blakey. I was 19 years old, and we were playing at a club in New York called Fat Tuesdays. And these are the people who were sitting at the table - it was Roy Haynes, Jack DeJohnette and Max Roach.
CROSSLEY: Wow.
Mr. BLANCHARD: And I walked over and Art had - he was already over there by this time and he was talking to the guys. And he goes, he says, hey, Max, this is the trumpet player in the band. And Max turned around and he grabbed me by my calf, and I just remember this guy was so strong I couldn't move. And I went, oh, okay.
(Soundbite of laughter)
CROSSLEY: And what will his legacy be, do you think?
Mr. BLANCHARD: He was one of the forerunners of the modern jazz movement. He inspired so many other musicians, not only drummers, to try to reach those levels of mastery and artistry. And that's the thing I think that's the most interesting about him as an artist. I mean, he was a technician, obviously, but he was a technician who was an artist first. You know, and sometimes those things don't necessarily come together. But this guy here, he was a true visionary and he will be sorely missed.
CROSSLEY: Thank you so much for joining us.
Mr. BLANCHARD: Thank you for having me.
CROSSLEY: Terence Blanchard is a trumpeter and music composer. He has a new CD called "A Tale of God's Will: A Requiem for Katrina".
NPR transcripts are created on a rush deadline by an NPR contractor. This text may not be in its final form and may be updated or revised in the future. Accuracy and availability may vary. The authoritative record of NPR's programming is the audio record.
Pioneering Jazz Drummer Max Roach Dies at 83
Pioneering Jazz Drummer Max Roach Dies at 83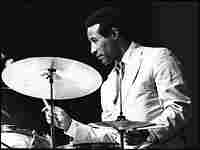 Roach on Record
'Ko Ko' (1945, with Miles Davis and Charlie Parker)
'Salt Peanuts' (1953, with Dizzy Gillespie and Charlie Parker)
'Epistrophy' (1979 with Group M'Boom)
Roach on YouTube
See Roach's remarkable technique
Celebrating Max Roach
From NPR's 'Jazz Profiles' radio series, hear an entire program on Max Roach, hosted by Nancy Wilson.
Max Roach: 75th Birthday Tribute
Max Roach was the hottest drummer in New York by the time he was 20 years old. By the time he died at age 83, he was truly one of the giants of jazz.
Roach died early Thursday morning in hospice care in New York after a long illness.
In addition to being a drummer, Roach was also a composer, a bandleader, an activist and a teacher.
He redefined what it meant to be a drummer. Before he arrived, the drum functioned basically as a timepiece. Roach says he made his drums sing solos.
"I felt that the instrument itself could be just as vital as any of the others I could think of," Roach said. "And by virtue of the fact that you deal with that instrument with all four limbs, you have four voices you deal with when you think like that."
In 1989, Roach described the drum kit as an American invention that combines cymbals from the Middle East, tom-toms from Africa and snares from Europe. His band mate Cecil Bridgewater says Roach's genius was in putting those parts together.
"Max doesn't play fundamental drumbeats behind you just to keep the time going," Bridgewater says. "He's making musical statements at all times."
Max Roach was born in a North Carolina town founded by freed slaves, and grew up in a rough Brooklyn neighborhood. His mom gave him drums to keep him off the street. But it was on Manhattan's 52nd Street that Roach started experimenting with harmony and melody alongside Miles Davis, Thelonious Monk and Charlie Parker.
"We hated to sleep," Roach said. "We'd work 9 'til 9 in two different clubs. We'd spend the day looking for places, working out arrangements on things like [Thelonius Monk's] 'Around Midnight.'"
Before his death in 1993, Dizzy Gillespie commented that Roach was a remarkable innovator.
"He had terrific ideas," Gillespie said. "And he developed them as we went along. He had the lick for the shtick."
Roach founded a seminal quintet in 1953 with trumpeter Clifford Brown. But after just three years, Brown was killed in a late-night car accident. He was only 25. Shocked and grieving, Max Roach buried himself in music, and in the blossoming civil rights movement.
In 1960, he recorded an album called "We Insist--The Freedom Now Suite" that featured, among others, singer Abbey Lincoln. It was Roach's answer to the turmoil of the time.
Roach continued to speak out for social justice and helped launch the field of jazz studies. His magnet for talent led him into lifelong collaborations with dancers, playwrights, filmmakers and musicians of practically every genre and every country.
What seemed to happen whenever Max Roach was around was fearlessness—on the bandstand, in the classroom, and on the streets.
Related NPR Stories