Colorado GOP Rivals Debate Over 'Real Insider'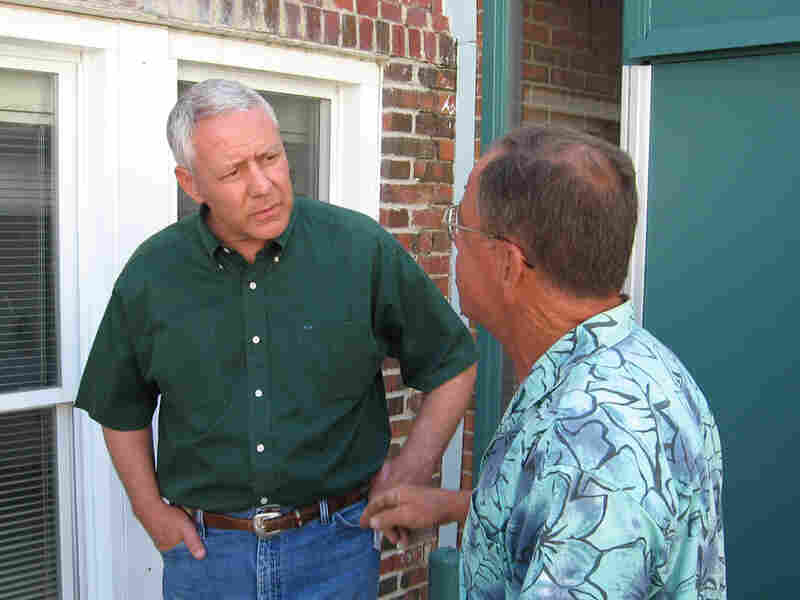 If this were any other year, you could say Jane Norton, Republican candidate for U.S. Senate in Colorado, did just about everything right. She launched her campaign early, raised a lot of money and lined up big endorsements. But this is not any other year.
In recent months, another candidate without Norton's advantages is making a strong showing. Weld County District Attorney Ken Buck is appealing to the GOP faithful, often at Tea Party events.
Tea Party Reception
At one such event, in Elizabeth, Colo., southeast of Denver, Buck received vigorous applause when he said congressional bills should be posted on the Internet three days before they're voted on so constituents can comment. And he said legislation should be limited to 100 pages. He pointed to President Obama's health care overhaul as an example.
"People distrust 2,900-page bills," Buck says. "They think there are things being hidden and they're right! There are things being hidden in 2,900-page bills!"
Buck knows how to talk to Tea Party activists. Home-school mom Debbie Chaves says she's voting for Buck because he seems honest.
"That's what people want — they want somebody that's one of us," Chaves says. "Not somebody that is chosen by an establishment that is trained to behave a certain way."
But for Norton, the state's former lieutenant governor, it's clearly difficult to accept Buck as an outsider. He worked for the U.S. Attorney's Office in Colorado before he was a D.A.
"He has been a government attorney since 1988," Norton recently said on Colorado Public Radio. "He's been in the system — his wife was a vice chairman of the [state] Republican Party for eight years."
Where The Candidates Differ
As Norton and Buck fight over who's the real insider, it's worth noting that on policy issues they're nearly identical. Both oppose abortion, illegal immigration and big government.
They do have one difference — five years ago they took opposing sides on Referendum C. It gave the state permission to take a time-out from a tax limitation measure passed in 1992, meaning the state was able to use about $3.6 billion that otherwise would have been refunded to taxpayers.
The conservative group Americans for Job Security took note of Norton's support for the referendum and is airing TV ads that claim she backed the "largest tax hike in Colorado history."
Referendum C supporters would dispute that it was a tax hike. Still, the issue remains a hot-button topic for conservative Republicans. Norton responded with an ad that demonstrates just how nasty this race has become.
"Seen those TV ads attacking me?" Norton says in the ad. "They're paid for by a shady interest group doing the bidding of Ken Buck. You'd think Ken would be man enough to do it himself."
Her latest ad, released Thursday, shows Buck speaking at an event and being asked why Coloradoans should vote for him: "Because I do not wear high heels," Buck says as the crowd laughs.
Buck says he was trying to be funny and was referring to earlier comments made in April by Norton's campaign manager. Josh Penry was quoted in papers and blogs saying that Norton would go to Washington and kick Senate Majority Leader Harry Reid in the shin with her high heels.
A Tight Race
Polls show the race between Norton and Buck is close. Pollster Floyd Ciruli warns it could be difficult to get an accurate picture of the electorate before the Aug. 10 primary, though.
"Most people are on vacation, they're distracted — including partisans," Ciruli says, "so that a few hundred thousand Republicans out of more than a million registered Republicans will turn out and decide this issue."
Ciruli says one thing is certain: Whoever wins, Colorado will have one of the most conservative Republican Senate nominees in the country, especially on taxes. Any other year, trending that far to the right might hurt a candidate in the general election. But, again, this is not any other year.