Iraqi Prime Minister Pushes to Broaden Coalition
Related Interview
Ayad Allawi, Iraq's first prime minister after the overthrow of Saddam Hussein, calls for a nonsectarian government. Listen to that interview.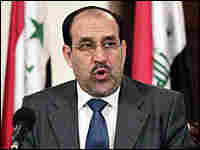 Khalid Mohammed/AFP/Getty Images
In Iraq this week, Prime Minister Nouri al-Maliki announced the formation of a new alliance of Shiite and Kurdish parties in an attempt to break the long-running political impasse in Baghdad.
But the alliance includes no Sunni political leaders and key Shiite groups are also not participating, and Maliki acknowledges the challenges he faces.
"You would have to be delusional to think it's easy to rule Iraq," the prime minister tells NPR in an interview Friday in his office in Baghdad's Green Zone.
"I know how difficult it is, and I know it will be like this for a long time, but the important thing is we're succeeding."
The prime minister says he will continue efforts to broaden his coalition, but warns that there is no more room left in his Cabinet for people who won't support him.
"Whoever wants to be a real partner has to share in the burden and the duty. He cannot be in government and oppose it, be in the political process and want it to fail," Maliki says.
One of the key holdouts is Iraq's Sunni Vice President Tariq al-Hashemi, a member of the largest Sunni alliance in the Iraqi parliament. Maliki says he will meet with Hashemi on Saturday to talk about how the Sunnis can be involved.
Hashemi's fellow Cabinet members resigned from government over claims that Prime Minister Maliki was ignoring their demands. Maliki says the door is open to Hashemi's party to return, but also notes that his government can survive without them.
"If they refuse to take part in the government, we'll be forced to select from the other Sunni Arabs in order to have the Sunnis represented in the government," Maliki says.
And the prime minister is looking elsewhere. Maliki on Friday visited Saddam Hussein's hometown of Tikrit north of Baghdad, where he met with Sunni tribal leaders. He also has sent out feelers to local leaders in Anbar province, where Sunni tribesmen are now in an alliance with U.S. forces fighting the Islamist militants of al-Qaida. So far, there is no sign that the tribal leaders would be willing to join Maliki's government.
One of the Sunnis' main complaints is about Baghdad, where over the past 18 months, Shiite militias have expelled thousands of Sunnis from formerly mixed neighborhoods. Maliki says he has already begun to crack down on those militias.
"We've declared war on them. It's almost over, even though they do still attack, kidnap and shoot, but their operations have decreased significantly," Maliki says.
In less than a month, top U.S. military and diplomatic officials in Iraq are due to present a critical assessment of the situation in the country to Congress. The so-called surge of American forces that began in February was designed to give Maliki and other Iraqi political leaders an opportunity to work out their differences and promote national reconciliation.
The prime minister acknowledges that the politicians are far from achieving that goal, but he appeals for patience, saying "Here in Iraq, everything takes time." Talk of deadlines or U.S. troop withdrawals will only help Iraq's enemies, he says.
"Our enemies — al-Qaida, the outlaws and militias — they want an end to the political process," Maliki explains. "If they know there is a time frame or deadline, they will only intensify their efforts, and regional countries that support them will increase their sabotage."
In response to politicians who are calling for U.S. troops to pull out now, Maliki says "Withdrawing is futile, especially when there are signs of victory, the coalition troops have achieved a lot and sacrificed a lot.
"A sudden pullout, an uncoordinated pullout, will cause setbacks. If the aim is to reduce the number of troops, let that be done in an organized way."
Maliki's next big test will come in September when parliament reconvenes. The prime minister says his new political alliance has enough votes in the assembly to ensure passage of key legislation on the distribution of Iraq's oil revenues. But Maliki's opponents are confident they can block that move.
Former Iraqi PM Calls for Nonsectarian Government
Karim Jaafar/AFP/Getty Images
Essam Al-Sudani/AFP/Getty Images
Ayad Allawi, the first Iraqi prime minister following the overthrow of Saddam Hussein, has warned in recent weeks of coming disaster in Iraq.
His warnings come as current Iraqi Prime Minister Nouri al-Maliki is planning a crisis conference aimed at achieving a compromise among the major ethnic, religious and political factions that sit in the parliament.
Seventeen Cabinet ministers have made steps against Maliki's government : 12 twelve have withdrawn from the government, including six from the Sunni Accordance Front and six from Moqtada al Sadr's Shiite group; and five ministers from Allawi's group, including both Sunnis and Shiites, are boycotting the Cabinet.
Allawi, now in Jordan, is a one-time Baathist who turned against the old regime, went into exile and became an ally of the United States.
In an interview with Robert Siegel, Allawi discusses the prospects for reconciliation, and the Iraqi government's future.
When people read things that you have said, such as "Iraq is slipping into more chaos" or "The country is on the verge of a big disaster," they've got to ask themselves, how much more chaotic and disastrous can things get in Iraq? What's your answer?
Unfortunately, there are things yet to come. The country is on a slipping road towards more and more chaos and violence. And we cannot see the end of the tunnel, the light to bring Iraq out of this mess. Sectarianism still prevails. Terrorism is still rife in the country and infiltrating the country all the time. The army, the police are riddled with militias, and every day there are a hundred, almost just over a hundred people killed.
Can Prime Minister al-Maliki actually achieve the grand political compromise he's looking for in his crisis conference, or do you regard him and the fact that he is the prime minister as part of the problem?
Well, in fact, the whole situation is based on sectarianism and is anti-reconciliation. And that's why he is part of this system. I think the whole system ought to be changed, and a nonsectarian regime should prevail.
You're saying, if I understand you — and you're speaking as a Shiite Muslim yourself — but you're saying that Prime Minister al-Maliki, by representing a Shiite party that's allied to other Shiite voices, you're saying that's part of the problem, that's what's creating this?
...Absolutely. It is part of the problem. We have two problems currently prevailing in Iraq. We have sectarianism, including terrorism, and we have the negative intervention and interferences from Iran.
Well, is the current political crisis in Baghdad, then, something that Prime Minister al-Maliki can even conceivably resolve or is the solution an entirely new government?
I think the system ought to be re-examined. I think, unfortunately, Maliki is part of a sectarian system which is influencing and affecting the country negatively. And we cannot see recovery — political recovery, that is to say — if this sectarian system remains operational in the country.
You've expressed your concern about growing influence of Iran in Iraq. First of all, I'd like you to give an example of what is a sign of that, as you would see it, negative influence, and what are you hearing, say, in Jordan from Jordanians about that?
No, the negative influence you are witnessing, for example, a veto on myself in the most recent Sharm el-Sheik meeting, saying that Allawi is not acceptable, this is gross interference. [Iranian President Mahmoud] Ahmadinejad yesterday called all the — the day before yesterday, in fact — all those democratically opposing Maliki and the system as evil forces in Iraq, and this is again in the presence of Maliki. It's unacceptable, it's degrading to Iraq, it's insulting to the region and it's insulting to all democratic and peace-loving countries.
You say you've been effectively blacklisted by the Iranians from being part of the government.
Yes, that is correct.
In the meantime, have you been invited to the crisis conference and will you attend?
Unfortunately, no, I haven't received an invitation from the government of Iraq, and that's why I don't think I'll be going.
And looking ahead to September, when we expect reports from Gen. [David] Petraeus and Ambassador [Ryan] Crocker in Washington — reports on what progress has been made — do you regard that as an important milestone ahead for the U.S. involvement in Iraq?
Well, I think it's an important milestone ... definitely. I have a lot of faith in Gen. Petraeus. But as I've said, the problem in Iraq is not military, it's political. Without political solutions, nothing is going to happen.
A cynic, though, hearing what you're suggesting, might say, "Yes, if only Iraq had the political culture of Denmark, everything would be OK. You'd be able to negotiate a different kind of political system." You don't. That's not your country.
No. ... You know, the process of reconciliation, this is part of the benchmarks, and we hope now with the expanded role of the United Nations that such a reconciliation will take place. It has been overdue, but we look to the future ... All of us Iraqis should take advantage of the surge, of the presence of the United States and the international community to bring about genuine reconciliation in the country. Without this, nothing is going to happen, no security will prevail and violence will remain.
This transcript includes minor edits for clarity.