Genetically Modified Canola 'Escapes' Farm Fields
Genetically Modified Canola 'Escapes' Farm Fields
Bill Kingsbury/North Dakota Tourism
Genetically modified crops are commonplace in fields across the United States, but a new study suggests that some plants have spread into the wild. A survey of North Dakota has turned up hundreds of genetically modified canola plants growing along roads across the state.
The results, presented Friday at the annual meeting of the Ecological Society of America in Pittsburgh, show that the vast majority of feral canola plants in the state contain artificial genes that make them resistant to herbicides. Researchers also found two plants that contained traits from multiple genetically modified varieties, suggesting that genetically modified plants are breeding in the wild.
"What we've demonstrated in this study is a large-scale escape of a genetically modified crop in the United States," says Cindy Sagers, an ecologist at the University of Arkansas, who led the study.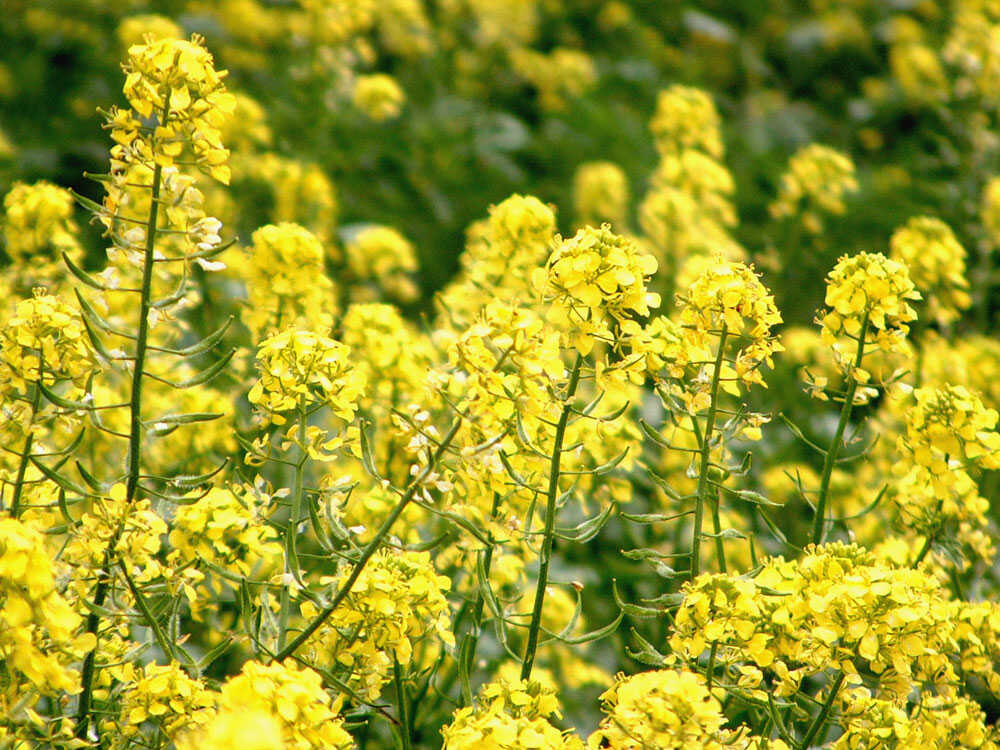 Heather LeMoine/North Dakota Tourism
Few scientists believe that the canola plants pose an environmental risk, but the study highlights the ease with which some genetically modified plants can spread beyond their fields.
Canola plants are used in cooking oil and animal feed, as well as some forms of biodiesel, and nearly all of America's canola is grown in North Dakota. This year alone, the state will plant over 1 million acres of canola.
Roughly 90 percent of the plants are genetically modified varieties that can resist two types of herbicides, glufosinate and glyphosate. Sagers and graduate student Meredith Schafer originally traveled to North Dakota to study the very weeds that the herbicides were designed to control. But, perhaps because of widespread spraying, they were having difficulty finding any.
It was during a pit stop in Cavalier County that the two had an idea. "We looked through the windshield and there were these beautiful yellow flowers blooming," Sagers recalled. They recognized the plant as canola, and wondered if it was a genetically modified variety.
The duo had test strips that would detect proteins present in genetically modified canola. They walked across the parking lot, documented the plant and then tested it. Sure enough, it was a genetically modified variety resistant to herbicides.
"On the lawn before us was clear evidence of the escape of these genetically modified plants," Sagers recalls. "Almost immediately we headed west on the highway and started sampling every five miles."
More on Genetically Modified Crops
One year and 3,000 miles later, the group has clear evidence that genetically modified, feral canola is growing across much of North Dakota. Of the 406 samples collected, 86 percent were genetically altered versions of the plant.
Moreover, two samples contained multiple genes from different species of genetically modified plants. "It indicates that these things are probably self-perpetuating outside of cultivation and have been there for a couple of generations at least," Sagers says.
"I wouldn't lose any sleep over it," says Mike Wilkinson, a researcher at Aberystwyth University in the U.K. Wilkinson has studied the spread of conventional canola in the U.K., and says that while it's common for the seedlings to spread, they don't fare well in the wild.
Wilkinson says that just because the plants are genetically modified, doesn't mean they'll be more successful than wild plants. In this particular case, herbicide resistance will provide little edge to plants growing in areas that, almost by definition, don't receive many herbicides. "It's very difficult for either of these transgene types to give much of an advantage, if any, in the habitats that they're in," he says, referring to the genetically modified canola.
Linda Hall, a researcher at the University of Alberta in Canada, agrees. She's studied colonies of genetically modified canola in that country for years, but says that they haven't spread far beyond the roads. "It's pretty spoiled -- it's used to growing in well-fertilized, clean seedbeds without competition, so it does not do well if it is having to compete with other plants," she says.
Sagers agrees that the canola won't take over. But she says her work highlights an important issue: Future varieties of genetically modified crops will escape into the environment. Studying North Dakota's canola should teach researchers exactly how that spreading occurs, and what the potential impacts could be.